As you know, I have rejoined the workforce. After several blissful months pursuing other endeavors, I am back in cube-dwelling, commute-related-griping, business-casual-wearing mode. Yet, despite all those realities, I am quite enthusiastic about the prospects of a new job. For me, starting a new job brings with it all the excitement and challenges with which any working person is familiar, but around here it also signals the return of my kitchen partner-in-crime.
After a brief hiatus, F is back in the kitchen. And, and for the first time, he is responsible for the dinner you see before you. His absence from our kitchen in recent months was not because he doesn't cook. In fact, he is a great cook who wooed me with such homemade things as butternut squash risotto and savory Bulgarian pastries. Back when we were dating we cooked dinner together a couple times a week. In the past few months F's busy job (plus the not insignificant fact that yours truly took up the habit of photographing every step of everything she cooks) has meant that it just made sense for me to be our little household's primary chef.
The ingredients were straightforward, but the outcome was nothing short of fantastic. One of these items was not purchased in my Thai grocery store. Can you spot which one?
Last Sunday night, Frank proudly reclaimed his rightful spot in the kitchen and did his Midwestern wife proud with a load of pulled pork that sent savory goodness wafting out into the Bangkok afternoon. I also discovered the joys of taking photos while observing rather than implementing. As I've learned, photographing while cooking results in messy hands and even messier camera lenses.
This pulled pork was a perfect Sunday afternoon undertaking, not only because, when combined with Kansas City's Jack Stack barbecue sauce and coleslaw it made the best barbecue sliders this side of the International Date Line, but because the leftovers kept us fed all week. Monday night's pulled pork tacos came in a close second to the original sliders we made with the pork.
Frank – I and the kitchen welcome you back. We'll gladly embrace you and a boatload of pulled pork any day of the week.
(By the way, is it just me or does the pork totally look like a roasted chicken in the shot above?)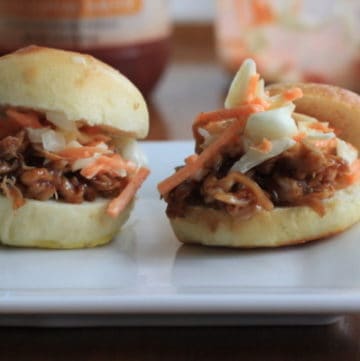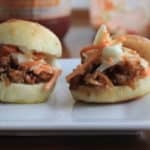 Print Recipe
Frank's Pulled Pork
Ingredients
4

pound

shoulder pork roast

¼

cup

barbecue rub (we used a Kansas City favorite, but Paula Deen has a tasty-sounding homemade version at the link above)

2

cup

apple juice

1

cup

apple cider vinegar

2

tablespoons

Worcestershire

2

cloves

garlic, minced

barbecue sauce
Instructions
Place the roast on a cutting board and liberally coat on all sides with the rub. Using your hands, rub the "rub" into the roast. Place the roast into a large dutch oven and refrigerate, covered, for at least 2 hours.

Preheat oven to 325 degrees F.

Combine liquid ingredients and the garlic powder in a medium bowl and pour into the dutch oven with the roast. Top the dutch oven first with a sheet of foil, tucking it tightly around the rim. Cover with the lid to the dutch oven to form a tight seal.

Roast for 4 hours or until fork tender and shreds easily.

Remove from oven and place on a baking sheet. Allow to rest until cool enough to handle. Shred the pork with a fork or tongs. Serve immediately or refrigerate to use within a couple days.