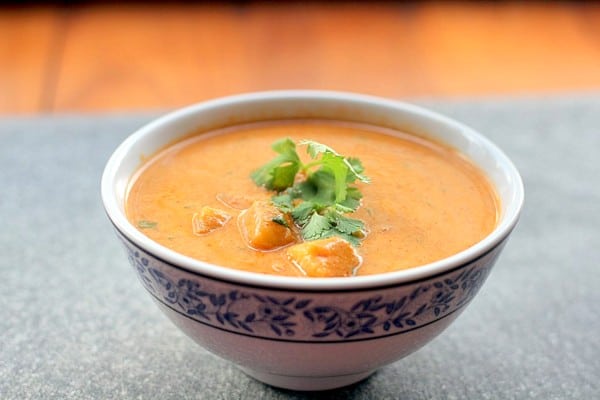 I realized this morning that my freezer is (literally, as in, houses only 2 trays of ice cubes) bare – a state that makes me a bit uneasy. There is something satisfying about knowing that there is enough in the freezer to throw together something homemade and healthy in a pinch. And, although I live in Bangkok and it is just as easy to run out and grab something quick and cheap to eat, having some soup in the freezer never seems like a bad idea.
Panang curry is one of the few Thai curries that I made before moving to Bangkok. It is also so flavorful it lends itself well to a soup. This one gets an added boost from sweet potato – a beautiful local white sweet potato to be precise. After seeing these in markets in both the US and Thailand, I have been anxious to cook with one.
How could I resist this beautiful vegetable?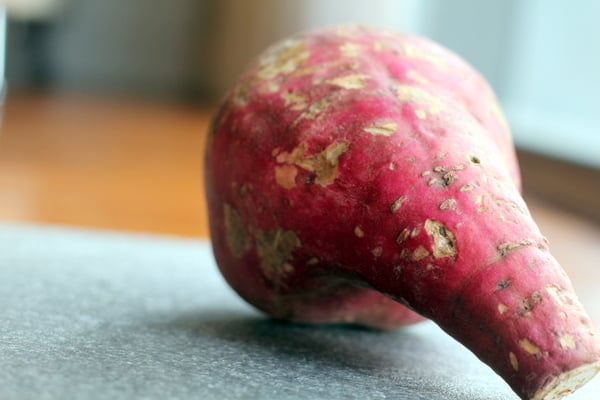 If you can find a white sweet potato, this is a great use for it. I saw them in my local farmers market in the US right before I left, so I suspect they're around. The flavor is subtly earthy and has a mild sweetness that beautifully compliments the spice in this recipe. (A regular white baking potato or an orange sweet potato would be excellent as well.)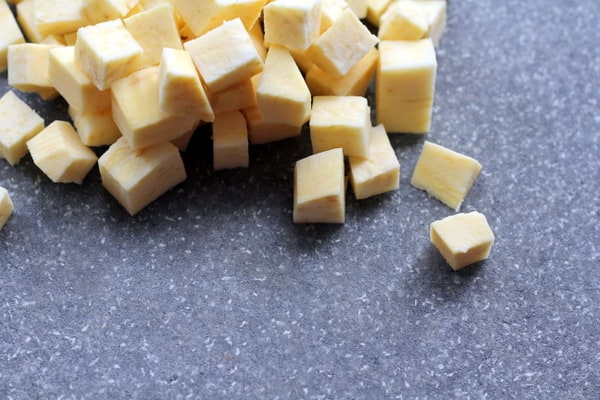 The remaining ingredients are packed with flavor, so adjust according to your preference. As always, taste the curry paste before adding it and use only as much as is to your taste in spice. Keep in mind that although it is spicy on its own, the sweetness of the coconut milk and potato serve to soften it in the final dish.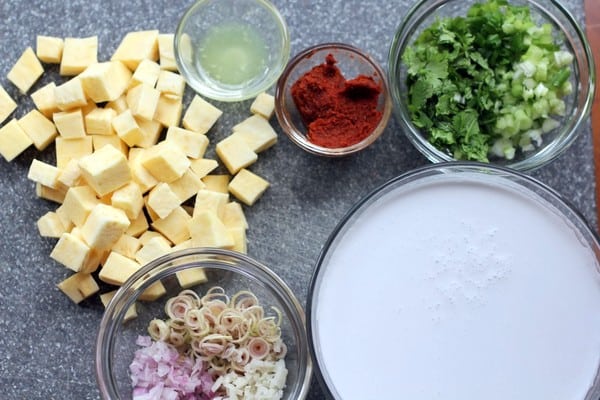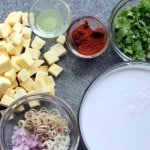 Print Recipe
Potato Panang Soup
Ingredients
3

cups

light coconut milk

2

cups

water

1

large potato (or white sweet potato, as described above), cut into 1 inch cubes

1

teaspoon

oil

2

small shallots, minced

½

tablespoon

lemongrass, minced

1

teaspoon

galangal (or ginger), minced

juice and zest from 1 lime

2-4

tablespoons

panang curry paste (adjust to your taste)

¼

cup

cilantro, chopped

¼

cup

scallions (both white and green parts), thinly sliced
Instructions
Heat wok or large saucepan over medium-high heat. Add coconut milk to pan and allow to cook, without stirring, until oils are released and milk is boiling. Add water and potato and bring to a boil. Turn temperature down and leave at a low simmer.

In a small sauce pan, heat oil and add shallots, lemongrass and galangal. Stir constantly until ingredients soften (2-3 minutes) and turn off heat. Add lime juice, zest and curry paste and mix until combined.

When potato is fork-tender (about 15 minutes), add curry paste mixture to coconut milk/potato mixture and stir until completely incorporated. Simmer for 5 minutes more.

Turn heat off and add cilantro and scallions.

Garnish with cilantro leaves and serve.
Notes
Optional: This soup is excellent with the addition of slices of cooked chicken during step 3. If you want to make it into a more traditional curry to serve over rice, you can easily use this recipe for that too. Just omit the water and allow the coconut milk to cook down until it reaches a creamy serving consistency.