As one would expect there are certain things that are tricky to find for an expat in Thailand. However, the things that are tricky to find are not the usual peanut butter types of things that you often hear about not being able to find in new countries. Peanut butter is a piece of cake. But we've spent a sort of shocking amount of time looking for things like mouthwash that tastes decent, potting soil, and the ukulele that now sits in our living room.
We are fortunate because Bangkok is a huge international city, so it's not usually food-related things that we have a hard time tracking down. When we want a burrito or a hamburger we can find a place that makes one. They even sell Greek yogurt at our local grocery store. We don't often have a food craving that we can't satisfy. Unfortunately, many of these items are not quite the same here in Bangkok as we remember them being back at home. Lots of familiar things tend to be a bit more…well…over the top. Donuts for example. They are frequently drowning in a pound of M&Ms, six kinds of icing, and a scattering of mini cookies.
And then there's the pizza. It seems like the pizza companies in Bangkok are constantly trying to out-do one another with crazier dough, cheese, and meat laden items which, I would argue, really don't resemble pizza at all. For further evidence of this fact see this post in Not the Nation. In fact, the odd creation featured in this article (what appears to be pizza surrounded by pigs in a blanket dripping with cheese) is so popular that it caused a proprietary battle between Pizza Hut and The Pizza Company (both of which have their own version of this odd combination).
Most of the pizza is so terrible that we find it best to take matters into our own hands. Ever since we figured out that our pizza stone will fit in the oven if wedged in at the very bottom, we've wanted to have people over for pizza. On Friday we made it happen and had a great time with friends and an easy dinner for a crowd that was great fun and produced so few dishes that even our dishwasher-free kitchen could handle the mess. Not to mention that our friends brought tasty drinks and desserts to round out the meal. We're already planning the next one.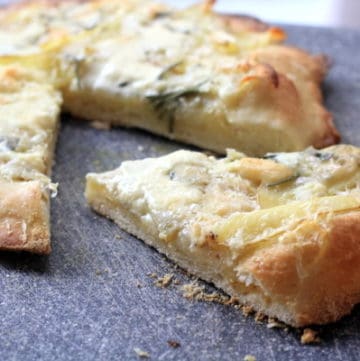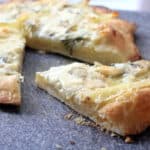 Print Recipe
Potato and Blue Cheese Pizza
Ingredients
for the dough:

4

cups

all-purpose flour

1

tablespoon

sugar

1

teaspoon

active dry yeast

1 ¼

cups

warm water, divided

3

tablespoons

extra-virgin olive oil

1

teaspoon

salt
for the pizza:

4

Tbsp.

olive oil, divided

4

tsp.

roughly chopped fresh rosemary

1

potato (Yukon gold works great), halved lengthwise and cut into very thin slices

¾

cup

crumbled blue cheese

½

cup

heavy cream

¼

cup

grated Parmesan cheese
Instructions
For the dough. Using a standing mixer fitted with the dough hook, combine the flour, sugar and yeast. Turn the mixer on at low speed and slowly add half of the warm water, the olive oil and the salt. Add the remaining water gradually until the dough forms a ball (I ended up using only about 1 cup of water total). Mix the dough for 2 minutes at low speed. Increase the mixer to medium speed and mix for 2 minutes more. Turn the mixer back to low and continue to mix for 2 minutes longer. Transfer the dough to a bowl or gallon-sized plastic bag coated with about 1 Tablespoon of olive oil. Cover the bowl with plastic wrap or close the plastic bag, leaving a small opening in the seal so that air can still get in and out. Let dough stand at room temperature until doubled in size, about 1 and ½ hours (or under an hour in my freakishly warm Bangkok apartment).

At this point the dough is ready to be shaped into pizzas or can be punched down and refrigerated for up to three days. Allow it to come to room temperature before forming pizzas.

Making the pizzas. 30 minutes before baking the pizzas, put a pizza stone in the oven and preheat the oven to 500 degrees. Divide the dough into four equal-sized balls. Working with one portion at a time, roll the dough out into an 8-inch circle on a lightly floured surface. Drizzle ½ Tablespoon of olive oil over the pizza and top with 1 tsp. rosemary, a fourth of the sliced potato, 2 Tablespoons blue cheese, and finally, another ½ Tablespoon of olive oil. Bake the pizza until the blue cheese is melted and the crust is golden, about 8 minutes. Take the pizza out of the oven and drizzle lightly with cream and a light sprinkling of parmesan cheese. Return the pizza to the oven until the parmesan cheese is melted, about 2 minutes. Serve immediately.
Notes
I like to make the dough two or three days before making pizzas. As noted below, after the dough rises it can be punched down and refrigerated for up to three days. Just bring it out and allow it to come to room temperature before rolling it out into pizzas.
the pizza dough in this recipe is adapted from this Food and Wine recipe