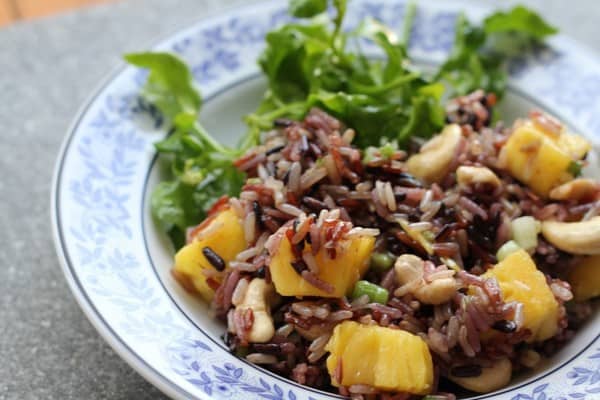 I realized over the past few weeks that it is possible that I have never had fresh pineapple that tasted the way pineapple is meant to taste. I've certainly had good fresh pineapple – and have had pineapple desserts that were truly out of this world. But the pineapple I've had in Thailand…it's a revelation. So much so that I spent the morning browsing my favorite sites for ideas for savory and sweet things to make with this beauty. Heidi's post on Pineapple Rice at 101 Cookbooks caught my eye. It seemed like a great place to start a) because it uses many ingredients that are common in Thai cooking and are therefore locally produced and b) because it's so quick that I can enjoy it for lunch today.
This came out with a good combination of flavors – crunchy from the cashews, sweet from the pineapple, tangy and a bit spicy from the vinaigrette. It was also so quick to prepare that it would make Rachel Ray proud.
It starts with this lovely five grain rice that I picked up at the market. You can see (in the photo above) that after it cooked it took on an even more lovely slightly purple color.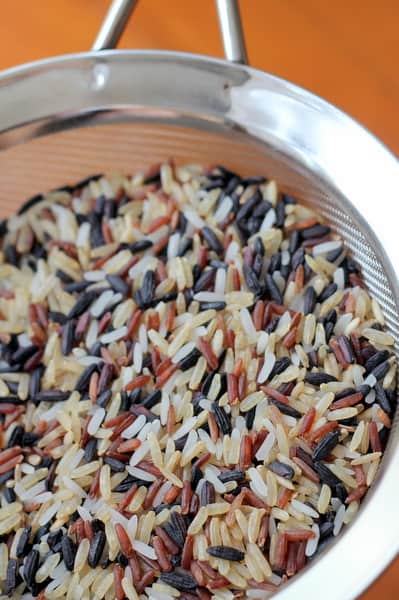 Next is the pineapple that was the real star. Although pieces of pineapple really make the dish, the vinaigrette has pineapple juice in it and gives the whole dish a hint of the flavor, so it would be tasty even without the pineapple pieces.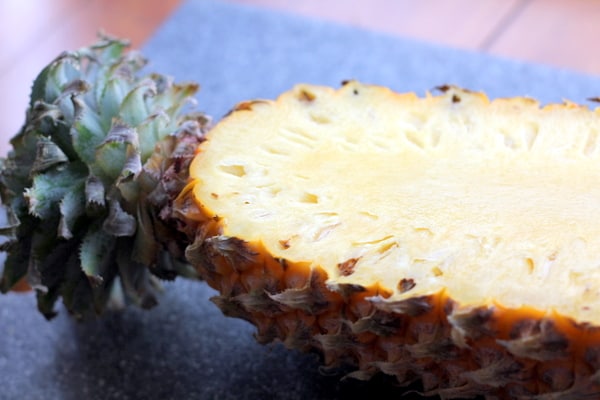 And here are the ingredients all chopped and ready to be thrown together. Note that there are two versions of the dish in the recipe below. In the first you just toss all the ingredients (except the egg) together and serve the rice over arugula or watercress. This is the way it is featured in the picture at the beginning of the post. However, should you want to make this into an easy fried pineapple rice, you'll want that egg.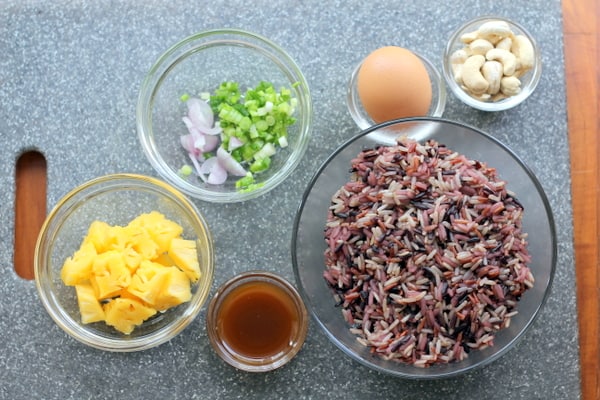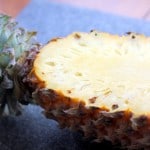 Print Recipe
Pineapple Rice
Ingredients
⅓

cup

olive oil

2

teaspsoons toasted sesame oil

¼

cup

pineapple juice

1

garlic clove, minced

¼

teaspoon

red pepper flakes

2

tablespoons

soy sauce

2

teaspoons

fresh ginger or galangal (minced)

½

teaspoon

salt

4

handfuls of watercress or arugula (if serving as a salad – Option 1)

1

cup

fresh pineapple cut into chunks

4

green onions (green and white parts), thinly sliced

1

shallot, thinly sliced

½

cup

roasted cashews

2 ½

cups

cooked brown rice

2

eggs (if serving as fried rice – Option 2)
Instructions
For the dressing mix the olive oil, sesame oil, pineapple juice, garlic, red pepper flakes, soy sauce, ginger, and salt in a small bowl. Mix until combined. Set aside.
Option 1 – Salad (served room temperature over greens):
Toss the greens (watercress or arugula) in a tablespoon of the dressing. Arrange on plates so that rice can be served over top.

Add remaining vinaigrette, pineapple chunks, shallots, green onions and cashews to rice and toss until evenly combined.

Pour rice over greens and serve.
Option 2 – Fried Rice (served warm with an egg):
Heat 1 tablespoon of oil in a wok at medium-high heat. Add green onions and shallots and saute until shallots begin to soften. Add eggs and scramble.

Working quickly, add rice, pineapple chunks and cashews to the wok and stir until the mixture is heated through. Remove from heat. Add vinaigrette and toss until evenly combined. Serve warm.