Pesto Flatbread with Shaved Asparagus and Bacon
Published May 26, 2017•Updated Apr 04, 2022

This Pesto Flatbread with Shaved Asparagus and Bacon is seriously easy but feels fancy enough for a celebration. It can be made in 30 minutes with just a handful of simple ingredients.
Sliced into wedges and paired with a great glass of wine, this is a fresh, fun appetizer or dinner.
And a quick dish like this one is a great excuse to pour yourself a crisp, fresh glass of white wine to celebrate the long weekend ahead and National Pinot Grigio Day which just happens to be today (Friday, May 26)!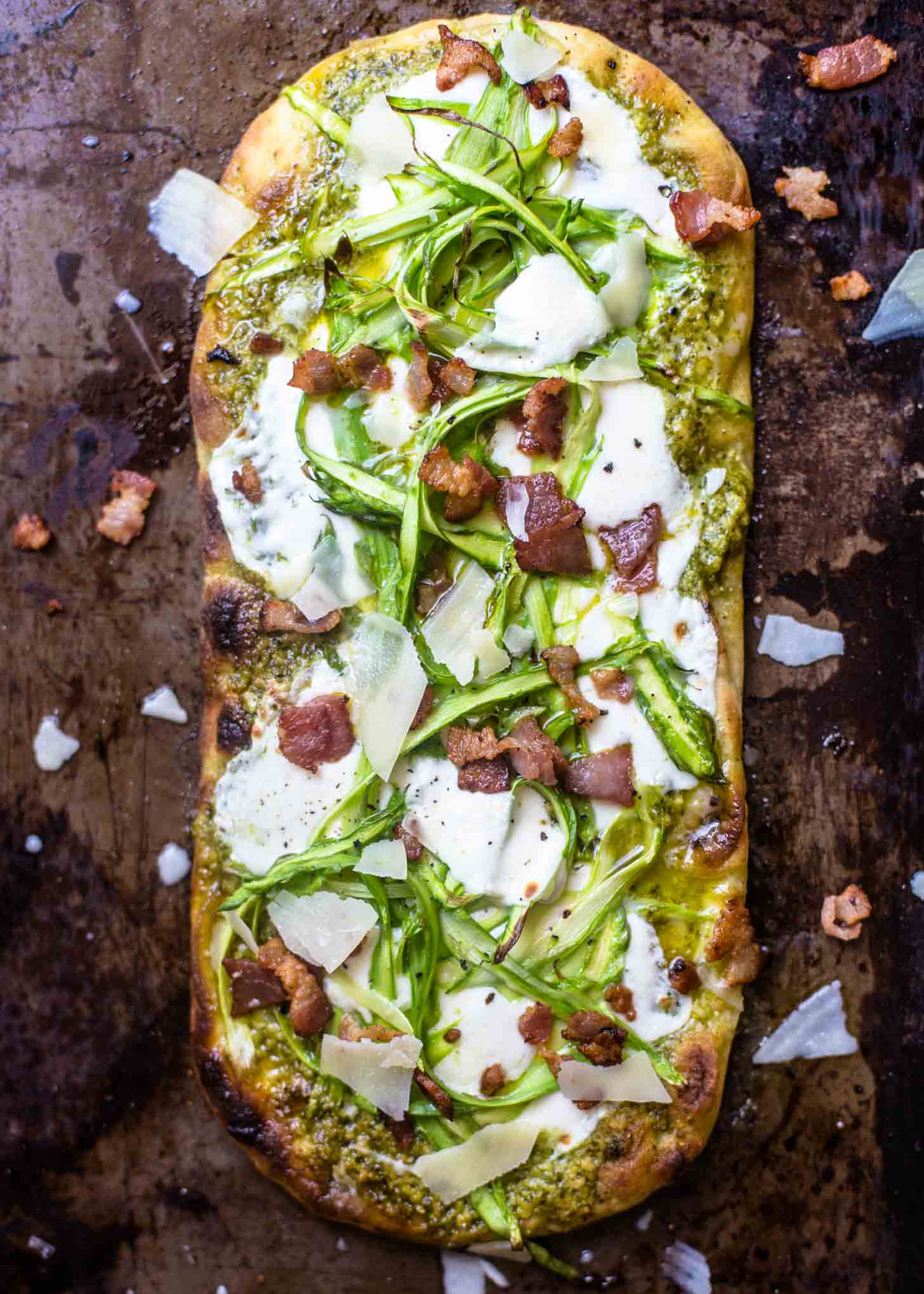 As you may already know, we don't need much of an excuse to pour ourselves a crisp glass of wine on a Friday evening around here. We're also not ones to miss out on a wine-themed holiday, and Cavit's Pinot Grigio hits the spot this time of year. It's fresh, lightly fruity, pleasantly tart and just right for the warmer months ahead.
My sister-in-law (hi Ellen!) and I recently realized our shared love of Cavit Pinot Grigio when I walked into the kitchen to find that she had brought a chilled bottle of it to dinner!
It has a refreshing quality that feels made for barefoot evenings on back decks.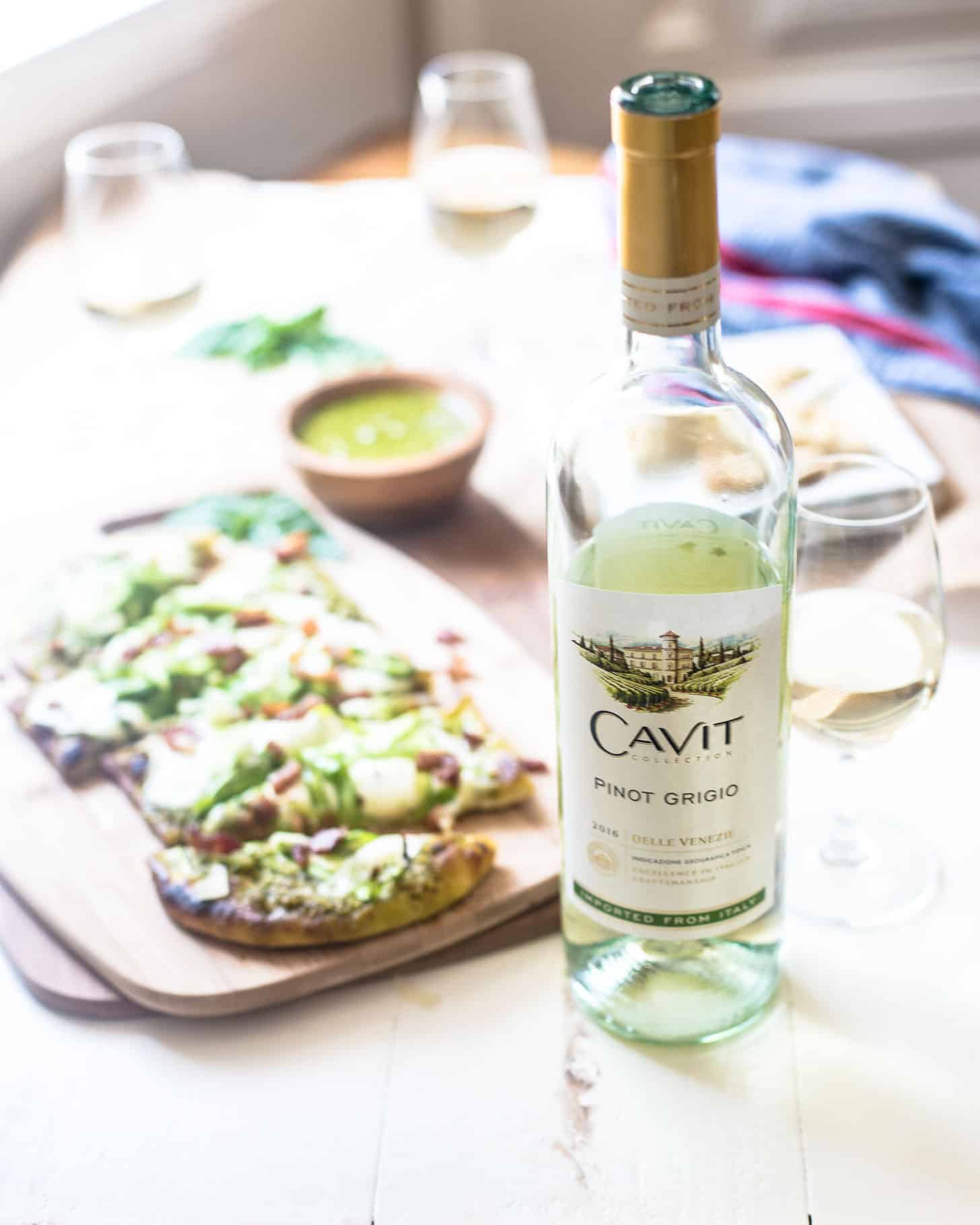 Shaved Asparagus
The quiet star of this Pesto Flatbread is the shaved asparagus on top. Even people who are dubious about asparagus (I know there are some) can get behind thinly sliced asparagus combined with crisp bread and melty cheese, right?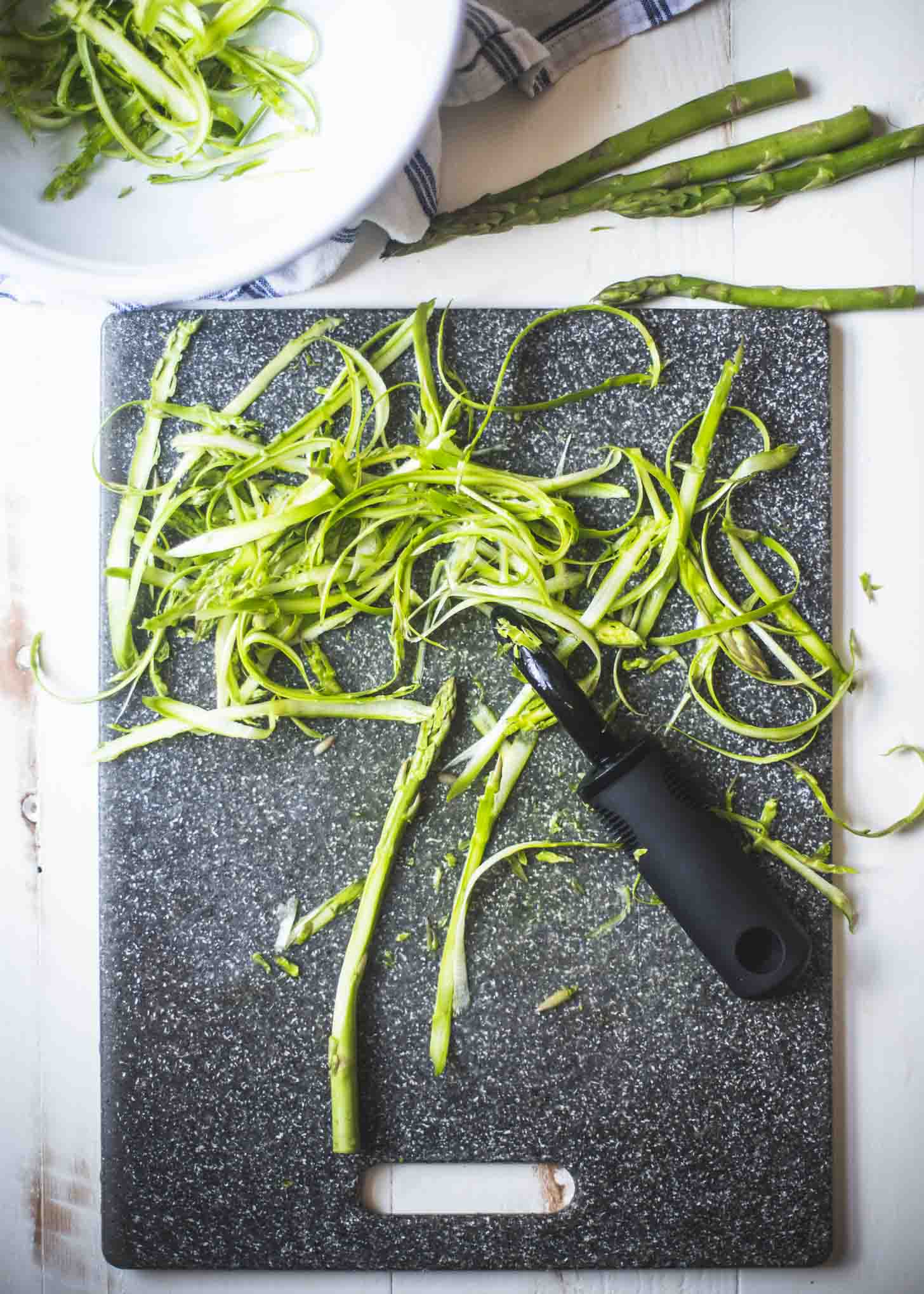 Thinly sliced asparagus somehow tastes different from its whole-stalk counterpart. Slicing it super thin insures it doesn't turn tough. When piled on top of this flatbread it quickly roasts under the broiler which brings out its natural sweet nuttiness.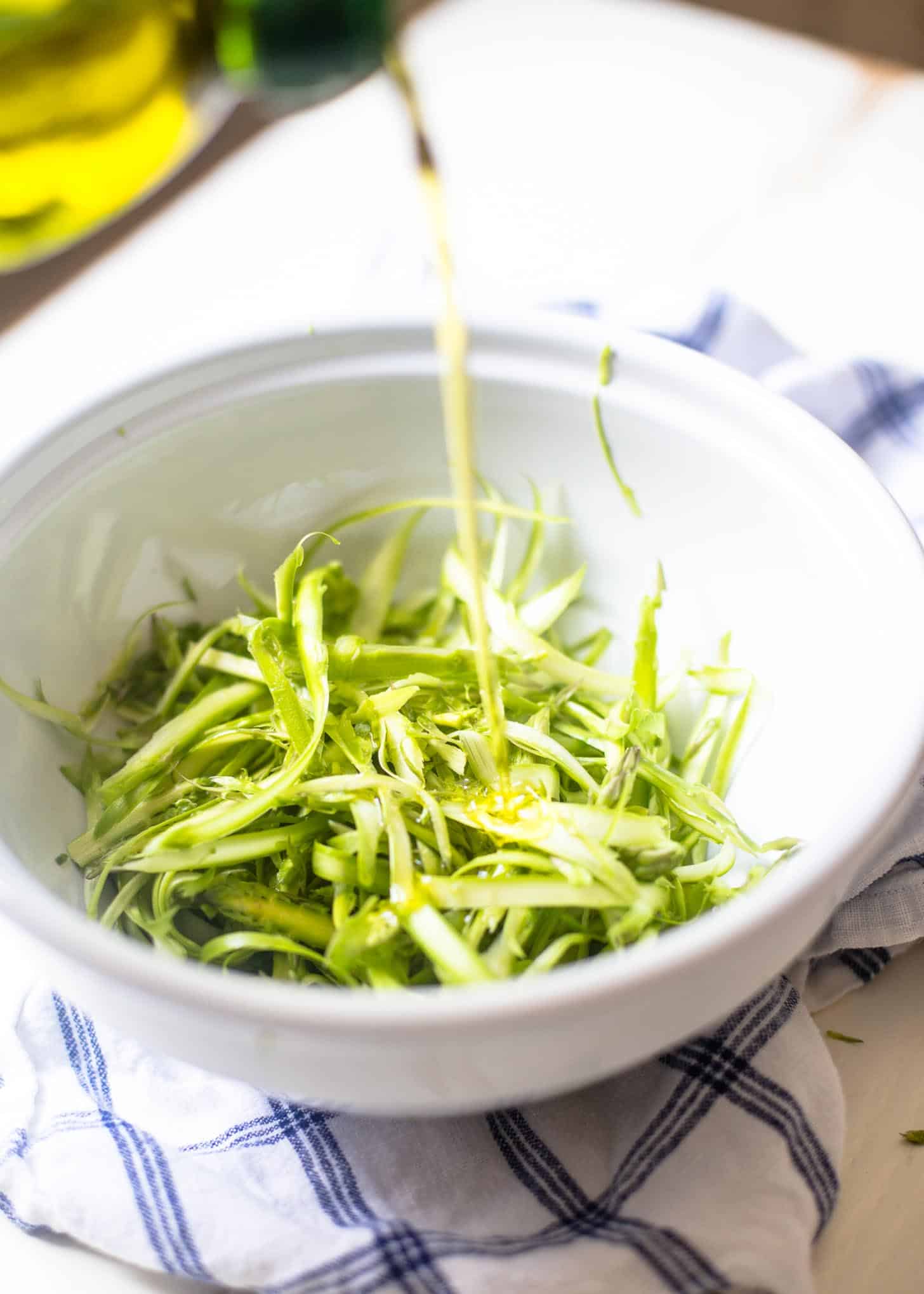 The light, fresh fruit notes of Cavit Pinot Grigio are a great balance to the savory notes of this flatbread. We have worked with Cavit wines in the past and love their commitment to honoring the northern Italian region in which they're produced. We also love the great price point and approachable flavors that make these a great choice for serving to guests!
What better way to kick off the summer than with an easy dish, a glass of crisp wine and perhaps a slice of chocolate pie for dessert. Check out Cavit's Instagram page for more great pairing ideas!
Have a wonderful Memorial Day Weekend sweet friends! Catch you next week!
More Pizza Recipes
Favorite Tools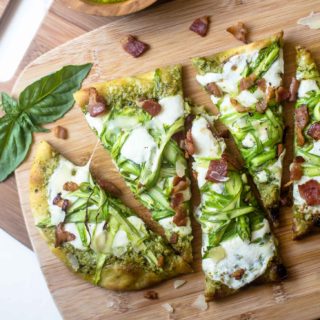 Pesto Flatbread with Shaved Asparagus and Bacon
This Pesto Flatbread with Shaved Asparagus and Bacon is seriously easy but feels fancy enough for a celebration. It can be made in 30 minutes with just a handful of simple ingredients.
Equipment
Skillet

Half Sheet Pan

Vegetable Peeler

Mixing Bowl
Ingredients
6

strips

Bacon

8

oz

Asparagus, shaved with a peeler

1

Tbsp

Olive Oil

4

small or 2 large

Flatbreads

(use any store-bought variety; we love to large store-bought naan for these)

1

cup

Pesto

5

oz

Mozzarella, thinly sliced

Parmesan cheese, for serving
Instructions
Fry the bacon in a skillet until crisp. Set aside on a paper-towel lined plate. When cool enough to handle, crumble.

While bacon is cooling, use a vegetable peeler to shave the asparagus into thin strips. (The best way to do this is to place the asparagus flat on a cutting board and run the peeler over the top, rotating the asparagus as you peel. If you have a spiralizer, you can also use that to spiralize the asparagus.) Toss the asparagus with olive oil and a pinch of salt.

Turn on the oven's broiler (set it to its lowest setting if possible). Place an oven rack about 6 inches from the broiler.

Spray a sheet pan with nonstick cooking spray or line it with parchment paper.

Set the flatbreads face-down on the sheet pan and broil until they are lightly toasted on the bottom. (Toasting the bottom will help prevent the flatbread from turning soggy when you pile it with the other ingredients.)

Flip the flatbreads face-up and spread with pesto. Top with the mozzarella and then the asparagus (don't worry if every inch of the flatbreads aren't covered with mozzarella; these are much more beautiful if some of the asparagus is peeking out).

Place the flatbreads under the broiler and broil until the cheese is melted and the asparagus is starting to brown in spots. Keep a close eye on them to prevent burning.

Remove flatbreads from the oven and slice into wedges. Transfer to a serving platter and top with crumbled bacon and parmesan cheese.
Nutrition information is automatically calculated, so should only be used as an approximation.
*This post contains affiliate links*