A good burger is not easy to come by in Bangkok. I have no complaints about this, since we can get nearly everything else. There's even a spot with a decent margarita, so I'm willing to make a sacrifice on the burger front. Several of our friends in Bangkok have fantastic grills and have cooked up some mean burgers over the past few months, since outdoor grilling is a year-round activity.
F and I have only once given in to the temptation to make our own burgers at home, and the result was nothing short of fantastic. Although, if you ask me, the real star of the dinner was the pile of onion "strings".
This dinner was my attempt to recreate the slider feast at one of our very favorite DC spots. The line at Matchbox always poured out onto the sidewalk in front, and eating required a willingness to wait for a table or the ability to at bizarrely early or late hours. It never seemed to deter us.
And although Matchbox's menu offered all kinds of delicious things to eat, our standard order there could not reasonably be labeled as a "balanced" dinner. Without fail we always ordered tall icy beers, and an overwhelmed plate of sliders and onion strings. It was indulgent and indescribably good.
It was so good, that when Frank would have to travel overseas for work, his request for a last meal before departing the US was always a Matchbox feast of sliders and onion strings. I think that to him, a dinner like this, will always be a taste of home.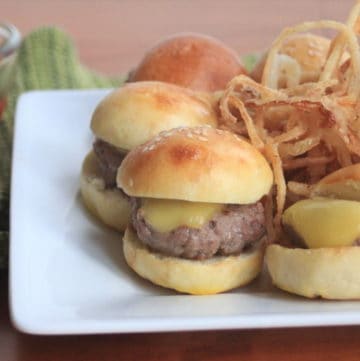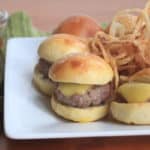 Print Recipe
Sliders and Onion Straws
Ingredients
For the Onion Straws:
5

onions, thinly sliced into rounds

5

cups

buttermilk

3

cups

all purpose flour

1

Tablespoon

paprika

vegetable or canola oil, for frying
For the Burgers:
3

pounds

ground sirloin

2

tsp.

salt

2

tsp.

pepper
For Serving:
cheese, optional (I used gouda)

24

mini slider-size buns (I made my own by dividing one recipe of the NYT Light Brioche Buns into 24 small buns)

ketchup

mustard

pickles
Instructions
Prepare the onions. Place the sliced onions into a deep bowl or baking sheet. Pour buttermilk over the onions so that the onions are covered in buttermilk. Allow to sit at room temperature for 30 minutes. Meanwhile, toss together the flour, paprika, and 2 teaspoons of salt in a large bowl.

Shape the burger patties. Place a sheet of wax paper or foil over a large baking sheet. Combine the sirloin, salt, and pepper in a large bowl. Press the meat down into the bowl to form a flat surface. Using a knife, divide the meat in the bowl into four sections. Working with one quarter of the meat at a time, remove the meat from the bowl and divide it into six even balls. Gently shape each small ball into a patty. (Aim to make them a bit more wide than the slider buns as the patties will shrink up as they cook.) Place the patties on the prepared baking sheet, cover with plastic rap and refrigerate until ready to cook. These can be prepared a day in advance.

Cook the onion straws. Fill a large, deep pot with oil and heat it to 375 degrees. When the oil is hot, drain the buttermilk from the onions (do not rinse them with water). Working in batches, use thongs to transfer a pile of onion slices to the flour mixture. Turn the onions to coat generously in flour. Gently place the coated onions in hot oil. Fry the onions until golden brown. Transfer to a plate topped with a paper towel or cloth napkin to drain. While still hot, sprinkle with a generous pinch of salt.

Cook the burgers. Place a large pan over medium-high heat. Drizzle the pan with oil or spray with nonstick cooking spray. When the pan is hot, place the burger patties in the hot pan, cooking to the desired doneness, about 3 minutes each side. If making with cheese, place a small slice of cheese on top of the patty about 1 minute before it is done cooking. Transfer to a serving plate.

Serve the burgers and onion straws immediately, with your favorite burger fixins on the side.