It has taken a few months, but living in Thailand is making me reconsider the pace of my life. It could be the heat. It's difficult to move fast when it's this hot. Even more so after it rains, when it becomes so thick with humidity that walking down the street feels more like a sluggish swim. Perhaps, too, a slower pace is taking hold due to the influence of the culture and people. Things in Bangkok often move slowly. Traffic is slow. Lines are slow. People tend to, for the most part, move slowly. More slowly, at least, than people in any other big city in which I've lived.
Walking around, it is impossible not to feel that people here do a better job of taking time to enjoy one another and to catch their breath than in other places I've been. Buddhism teaches people to enjoy the activity at hand rather than always thinking of the next thing. I get a sense of that in people I encounter in Thailand. At any hour of the day, they find time to sit outside and enjoy a drink or a light meal. I often see people who appear to be on a commute to or from work, stop on an overhead walkway to look out at the street below or pause mid-step for no apparent reason at all. People seem, on the whole, content to be headed wherever they are headed at a slow gait, and often I am the one rushing past them, battling with my natural inclination to always be 5 minutes late.
In part, I realize that there may only be so much that will ever really change about my tendency to cram as much as possible into every minute of the day. In college I worked three jobs, jumped at every activity, served on committees, volunteered, felt like I was moving a hundred miles an hour all the time. Years later I started graduate school. I looked at the course schedule and realized that I could continue working full time while taking a full load of classes (and maybe squeeze in a couple hours of sleep a night, if I was lucky).
Sometimes it takes a profound shift to make us slow down. Back when I was taking that full load of graduate courses and working full time, the man who eventually became my husband asked me out on a Tuesday night. It was our first date. It also became the first time I ever intentionally skipped a class in graduate school. I slowed down, changed direction, and went to a baseball game instead of a class. And while I do not advocate skipping classes, one missed class in two years was not the end of the world. At the end of the day I did well in school and had the patient and supportive baseball-game-first-date guy standing next to me at graduation.
In the years that followed I found ways to fill every waking minute with a variety of activities that I look back and realize could have been done with a better sense of balance. I took on professional challenges and stretched my work days out to fill every hour that I wasn't sleeping. I am a constant to-do-er. I make lists, I run around, I invent activities that I determine must be accomplished right here, right now.
And it's not just the activities that fill my life to capacity. It's noise as well. I find myself admonishing the generation below me for their constant need to have internet in-hand and earbuds blasting sound. However, I too find ways to fill my life with sound and noise. As if the sounds that we encounter in the world (and particularly in downtown Bangkok) are not enough stimulation, I struggle against the urge to have NPR podcasts playing in the background while I cook or the jabber of my favorite radio show following me on my commute around the city.
When I arrived in Bangkok a few months ago, the newness of the place and the sheer magnitude of figuring it out helped me to slow down. The day-to-day challenges of life took all of my attention and thus, I could enjoy the quiet peace of walking down my street, folding laundry, sipping coffee. Now, after a few months, I feel that old beast of movement and activity chasing me once again. Opportunities arise, the to-do lists tempt me, and I feel myself settling back into the routine of squeezing the cacophony of life into every available minute. I am doing everything I can to keep it away, and to allow myself to find a new route without so much traffic.
I my life the kitchen is one of the very best places to seek out peace and a slower pace. No matter how convenient the recipes that go from the cutting board to the dinner table in 30 minutes may be, the most satisfying things are sometimes those that emerge slowly. Chicken stock is one of those things. And every aspect of making it reminds me that there is a simpler mindset that I can and should create for myself. As it bubbles quietly on the stove, the apartment takes on a smell that can be described as nothing other than comforting, and it is hard to feel as if I should be rushing through the rest of the day.
The lesson of the importance of slowing down is one that has, in the past few months, come to me with a surprising and profound intensity. In my first couple decades of life I was never without pen and paper. I wrote short stories, poems, and a lengthy adventure epic with no clear beginning or end that wove its plot out over many years. I kept journals and majored in English. The act of writing was never far from my mind. When real life hit, I lost this part of my life. In recent years, it has been incredibly rare that I wrote anything other than speedily punched out emails, often failing to even proof them before urgency forced me to press "send". Since my arrival in Bangkok, the chance to slow down the pace of my life has helped me to find my way back to this thing that was so much a part of me for so long. It still feels hesitant and scattered, but has been liberating just the same. I now realize that it should not have taken a move halfway around the world to bring the act of writing back into my life. My life was too full with things that were far less important than this one thing that I so enjoy.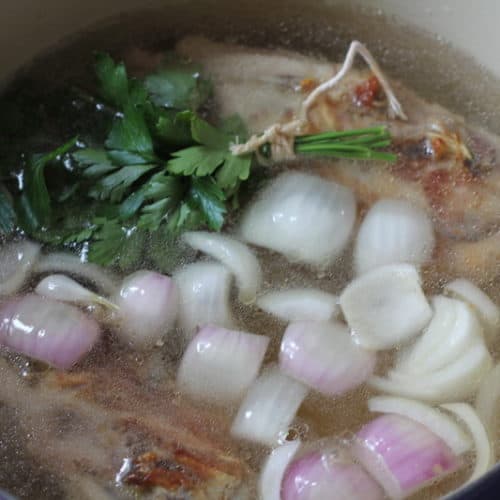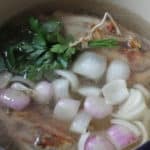 Print Recipe
On Making Stock and Slowing Down
Ingredients
4

lbs.

chicken carcasses (from about 2 small chickens)

3

Tbsp.

olive oil

2

shallots, cut in half

1

onion, cut into quarters

small bunch of fresh Italian parsley
Instructions
In a large dutch oven, brown chickens on all sides in olive oil. I find that this takes about 15 minutes, turning the chickens when each side is finished browning. The olive oil will sputter and spit all over the counter while this is going on, so it's a good idea to leave the lid on but ajar, minimizing the amount of counter cleaning you'll have to do later.

When the chickens are thoroughly browned on all sides, carefully pour off the liquid and oil that resulted from the browning process. (This helps to insure that the finished product will be rich and chickeny rather than greasy.) Put the pot back on the heat. Push the chickens to one side and cook the shallot and onion on the bottom of the pot until they begin to brown lightly in spots. Pour enough water into the pot to come to about 2 inches over the top of the chicken. Tie the parsely with a piece of kitchen twine and add it to the pot. Bring the liquid to a low simmer and then reduce the heat a bit so that the liquid is barely bubbling. (To minimize the amount of fat in the finished stock, the liquid should bubble only slightly and should stay at a temperature that keeps it at an extremely low simmer.) Return the lid to the pan and leave it slightly ajar while the stock cooks at this temperature for 3 hours. Check the liquid about halfway through to insure it has not reduced more than an inch or so. If it has, add just enough water to cover the top of the chicken.

After 3 hours of gentle cooking, remove the pan from the heat and allow to cool to room temperature. Line a colandar with several layers of cheesecloth and place over a large bowl. Gently pour the liquid through the cheesecloth, straining out all of the solids. Discard solids. Allow the resulting liquid to rest in the refrigerator overnight. Skim off any fat that rose to the top overnight. Use broth within a couple days or store in small batches in the freezer.
Notes
Note on chicken: I make this stock out of raw chicken carcasses that I buy from my local grocer. These are inexpensive and still have some of the more flavorful pieces of meat on them after the butcher has cut off the more commonly-used pieces. I find that I like the stock better this way because it gets flavor from all of the browning you can do to the raw carcass rather than the more mild flavor I find comes from using the remains of a roasted chicken.
Note on salt: You may notice that I do not add salt to my stock. This is a relatively new twist that I've picked up in my cooking classes in Thailand, and I find that I now prefer this method. Many of my Thai instructors (who, like most Thai cooks I've come across, are gifted at the art of seasoning food) prefer to add salt only after the stock has been added to a dish. This strikes me as profoundly reasonable. Using an un-salted stock allows for flexibility in cooking. Even with a brothy soup, I love starting out with this un-salted stock, seasoning the soup only after tasting all of its components together. The broth below tastes fairly bland and purely chicken-y when it's done, but all the flavor comes pouring out once I season it in whatever I'm cooking.