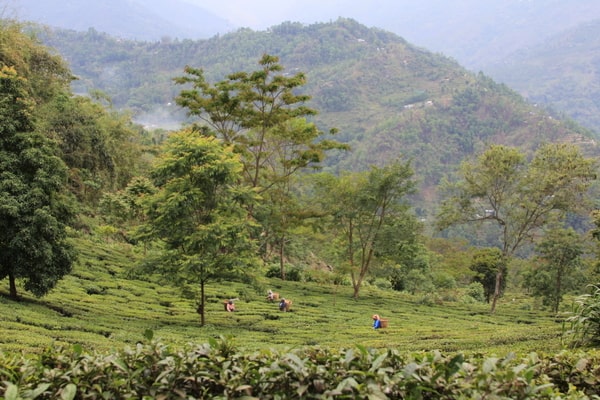 Saturday, May 5 - Darjeeling
Sigh. That pretty much sums it up.
Of course, our trip to Darjeeling would not be complete without a train (at least in Frank's opinion). But we couldn't just do one train...no, that just wouldn't do. So there are two trains in our Darjeeling excursion. One is the overnight on the Darjeeling Himalayan Railway that brought here. The second is a skinny, historic, "toy train" that does a short run up the side of the mountain.
Darjeeling also appealed to us because of the glimpse of the Himalayas it offers, the crisp mountain air, and the chance to be outside, surrounded by open skies and green countryside.
There was one thing I thought surprisingly little about before we departed for India. Yoga. Which is strange because yoga has been on my mind a lot lately.
***
I've been moving fast lately. The uptick in speed means I've been running faster than I have in years – woot woot, I'm flying on the treadmill.
But yoga. I've been moving way too fast for yoga. Since we moved to Bangkok I've been buying 2 month passes to my yoga studio, and taking a week or so of a break between each. When I took my "break" at the end of February, I sped right on past renewing my studio pass. A week passed, and then two, and before I knew it, it had been more than a month since I had been in the studio.
I was doing fine, running along at an ever-quickening pace, until last week I started feeling particularly overwhelmed. I realized that, like my feet, everything in my life was moving too fast. I needed to slow down. Yoga is the best way I've found to help myself do that.
Three weeks ago, in my first class back after a month, my muscles ached and I had all sorts of thoughts going on that I was trying to beat back with a mental stick ("Jess - stop thinking about work...about what to write in the blog... about that chicken you smell sizzling on a grill 23 floors down…about how badly you need a pedicure…"; not very yoga-ish).
By last week, though, I was back in my yoga groove and feeling focused. When my feet hit the mat, I was so glad just to be there. By the time the orange sun wavered in the heat over the skyline and dipped into darkness, everything was quiet....just the sound of steady movement in the hot room.
I wish I hadn't stayed away so long.