Before this week I had never made pesto. I'm not even sure why that is. I love pesto. I'm always reading about how people make it in the summer and freeze it in ice cubes. And I always think to myself that it is such an inspired thing to do. But somehow I never got around to doing it for myself. Let me tell you – I am definitely a convert.
I think that lately I imagined that the basil plant I've been growing in my living room might take off and grow into a wild basil bush from which I could make pesto. That has not happened, although a tiny little inchworm did take up residence in its wimpy leaves.
But it suddenly struck me that instead of waiting for the basil in my house to grow (at this rate, I've got a couple years before there's enough basil for pesto), I should just walk across the street and buy a huge bunch of the stuff fresh for about 10 baht (30 cents).
Instant gratification.
The sun-dried tomatoes in this recipe strike me as an important element. I couldn't taste the tomatoes themselves in the finished pesto, but they gave it a hint of sweetness, and distinct layer of flavor beyond the typical olive oil and basil that jump right out. And if you are debating about pine nuts versus walnuts in your pesto…well, this strange syndrome might make you lean towards the latter.
For the dinner above, I just sauteed a few mushrooms in olive oil, and tossed them with pasta in pesto and a few extra, sliced sun-dried tomatoes.
The dish was bright and fresh, while still earthy and comforting. I highly recommend it. And the real joy is that I have leftover pesto in my freezer waiting for another round.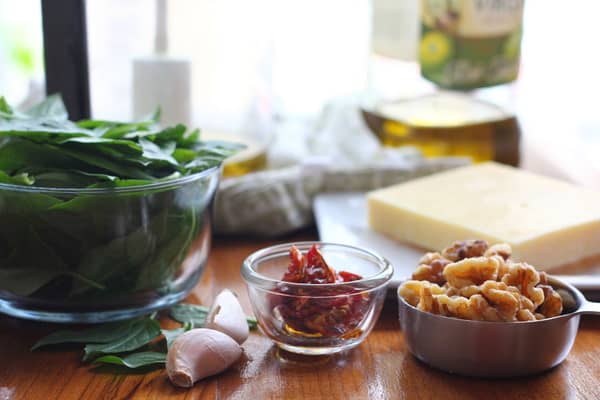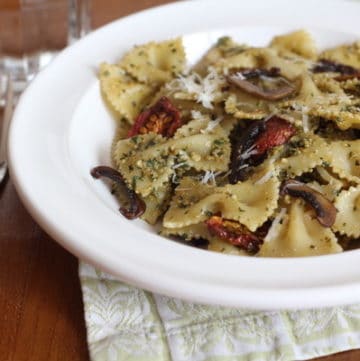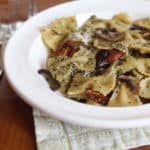 Print Recipe
Walnut Pesto
Ingredients
1 ½

cups

packed basil

½

cup

olive oil

⅓

cup

toasted walnuts

¼

cup

finely grated pecorino

¼

cup

finely grated parmesan

2

sun-dried tomatoes in oil, chopped

2

cloves

garlic

Kosher salt and freshly ground black pepper, to taste
Instructions
Process basil, oil, walnuts, pecorino, parmesan, tomatoes, and garlic in a food processor until finely chopped; season with salt and pepper.