Tonight I am planning on black bean quesadillas for dinner. This is a standard inquiring-chef-kitchen dinner that I could make with my eyes closed after all these years. Until today, when I put raw black beans in a pot of boiling water and proceed to prance around the house, find miscellaneous things to do, and generally just twiddle my thumbs, only to remember the pot of beans when I smell them 90 minutes later -gooey, black bean-water burning on the stovetop.
And so, I will not be blogging about black bean quesadillas today. Insead, I bring you…lunch.
I heard from lots of you after writing about Som Tum (which requires green papayas) and then about Green Mango Salad (which requires green mangos) because you happen to live in places where these things are difficult to find. Oh how quickly one forgets what it is like to step out the front door and not be confronted with piles of green papayas and mangos!
The great news is that there is an alternative option that I've been playing around with in the kitchen, and I think you'll find it to be nearly as satisfactory as the original. This dish was one that we tasted on our recent trip to Chiang Mai. Here's the original – pretty, isn't it?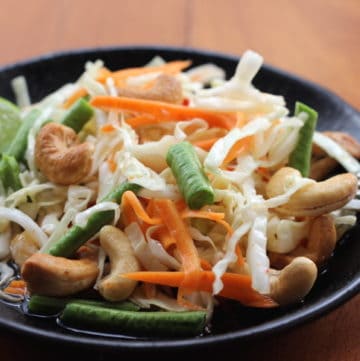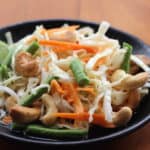 Print Recipe
Som Tum with Cabbage and Cashews
Ingredients
2

cups

whole, unsalted cashews (you can buy these roasted or raw, but I recommend doing an extra roast as outlined below even if they are labeled "roasted" so that they get a nice, toasty flavor)

2

Tbsp.

fresh squeezed lime juice

1

Tbsp.

thai chili paste (store-bought or using this nam prik pao recipe)

3

Tbsp.

fish sauce

3

tsp.

palm sugar (substitute: 3 tsp. light brown sugar)

1

clove

garlic

1-3

red or green small bird's eye chilis, to taste

2

cups

shredded carrot

1

cup

green snake beans or regular green beans, cut into 1-inch lengths

1

small head white cabbage (very thinly sliced, as would be used in a slaw)

extra slices of lime, for garnish
Instructions
In a small pan, dry roast cashews over medium high heat, tossing frequently. Roast until nuts are nearly blackened in small spots, about 4 minutes.

Combine the lime juice, chili paste, fish sauce and sugar in a small bowl. Whisk to combine evenly. Taste and adjust, if desired. Set aside.

Using a mortar and pestle set, gently pound the garlic and bird's eye chili until both crushed and broken into small pieces. Add carrot and beans to the mortar and pound until carrots are moist and beans are crushed. Pour contents of mortar into a small bowl. Add cabbage and cashews. Add liquid into the bowl a bit at a time until vegetables are heavily dressed, stirring to combine. Serve immediately or refrigerate and serve within a couple hours, garnished with lime wedges.
Notes
Make sure to mix up the sauce first, and adjust to your taste. If you like spice, most Thai people would be happy to hear that you've tossed some extra chilis into the mix.