The shrimp in Thailand are amazing. I mean, these shrimp put any other shrimp I've ever tasted to shame. The good ones taste not the slightest bit fishy – they are plump, juicy, and super tender. The unfortunate thing is that the good ones must be purchased fully intact, heads on, looking as if they might swim away at any moment.
This shrimp situation is one that I wish I could embrace more easily. I wholeheartedly believe in the value of buying whole fresh fish, understanding where food actually comes from, and shopping at markets where proteins are not processed beyond resembling the creature from which they originally came. I believe in those things…but putting them into practice in my own kitchen sometimes is simply more challenging than I would like to admit. When confronted with the reality of whole, head on shrimp, I find myself overwhelmed by the urge to buy the non-scary (although tasteless and freezer-burned) variety that come in a neat plastic bag.
For whatever reason, I decided that today I would not wimp out midway through my shopping. That I would tackle the whole, head-on shrimp at home. Although I had never dealt with the whole shrimp by myself, I did tackle it once in one of my Thai cooking classes. Somehow, it seemed more manageable with a cheerful instructor leaning over my shoulder and cheering me on.
As you will see (below), I picked a recipe in which shrimp is merely a garnish. I figured that as long as I could make it through shelling and de-veining a few of them, we'd still have plenty to eat for dinner.
I gathered myself, walked over to the fish man, and purchased myself about 15 giant, fresh, head-on shrimp. I took the neatly packaged bag home, popped it into the fridge and went on about my day.
I was feeling great..right up until the time that I entered the kitchen to start dinner and remembered that they were waiting for me. Lurking on the bottom shelf.
Things got off to a slow start, as I could only bring myself to rinse the shrimp excessively under cold water while strategizing, and trying my best to avoid their creepy antennae (is that what they're called?).
And just when I was about certain that Frank would come home from work to find me in a teary heap on the kitchen floor, surrounded by uncooked shrimp, still staring up at us with their heads intact, I grabbed one of the little guys and yanked the head right off. And then I did another, and another. (And quietly begged forgiveness from each of them as their time came.)
And you know what? After the first few, it wasn't so bad at all. And as scary as it was to get there, they turned out to look totally familiar and sort of mundane after all my work.
When the deed was done, the shells discarded, and everything thrown together in this easy summer recipe from Cooking Light, the shrimp we ate tonight was a vibrant, tender, sweet addition that practically sang with flavor.
Mission accomplished. And I might even do it again.
And by the way, this gazpacho was absolutely delicious. Any dinner which simply asks that I throw all the ingredients in a blender and hit "puree" is an easy sell.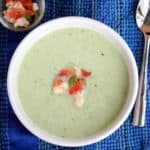 Print Recipe
Cucumber Gazpacho with Shrimp Relish
Ingredients
for the soup:

2

and ½ cups chopped English cucumber

1

cup

low-sodium vegetable broth

1

cup

whole-milk plain Greek yogurt

¼

of a large onion

juice from ½ a lime

1

clove

garlic, peeled

salt and pepper, to taste

for the shrimp relish:

2

tsp.

olive oil

½

pound

shrimp, peeled, deveined, and roughly chopped

½

tsp.

ground cumin

1

cup

grape tomatoes, roughly chopped

⅓

cup

fresh cilantro, chopped
Instructions
For the soup. Combine cucumber, vegetable broth, yogurt, onion, lime juice and garlic in a food processor. Pulse until smooth. Season with salt and pepper, if needed. Chill the soup in the refrigerator for 30 minutes or up to a day before serving. Top soup with a serving of shrimp relish (below).

For the shrimp relish. In a medium pan heat olive oil and cook shrimp until pink, about 2 minutes. Remove pan from heat and toss shrimp with cumin, tomatoes and cilantro.