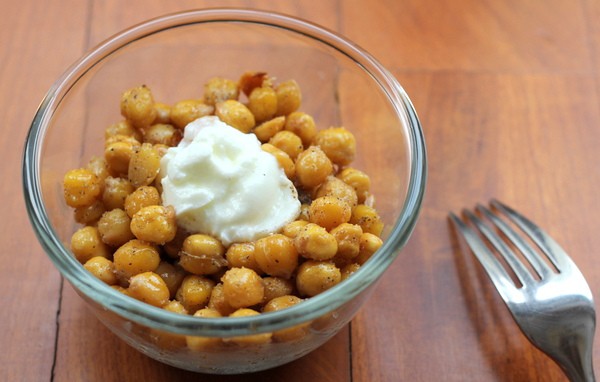 A few years ago I was at a wine bar in DC that served great and sort of unexpected small plates of things, all of which were simple but unique and seasoned in a way that made them perfect accompaniments to a great glass of wine. One of the dishes that most stands out in my mind was a plate of chickpeas seasoned with a salty, sweet, spiced mixture. The chickpeas were so addictive that it was difficult to tear myself away and move onto the rest of the dishes. I had high hopes of stumbling across something that would at least come close to what I remember of those chickpeas, and this little dish did the trick. These chickpeas came out of the oven crisp and fantastic and, once they got a boost from the seasoning, they were so irresistible that it was hard not to pluck them one by one off the pan before they were cool.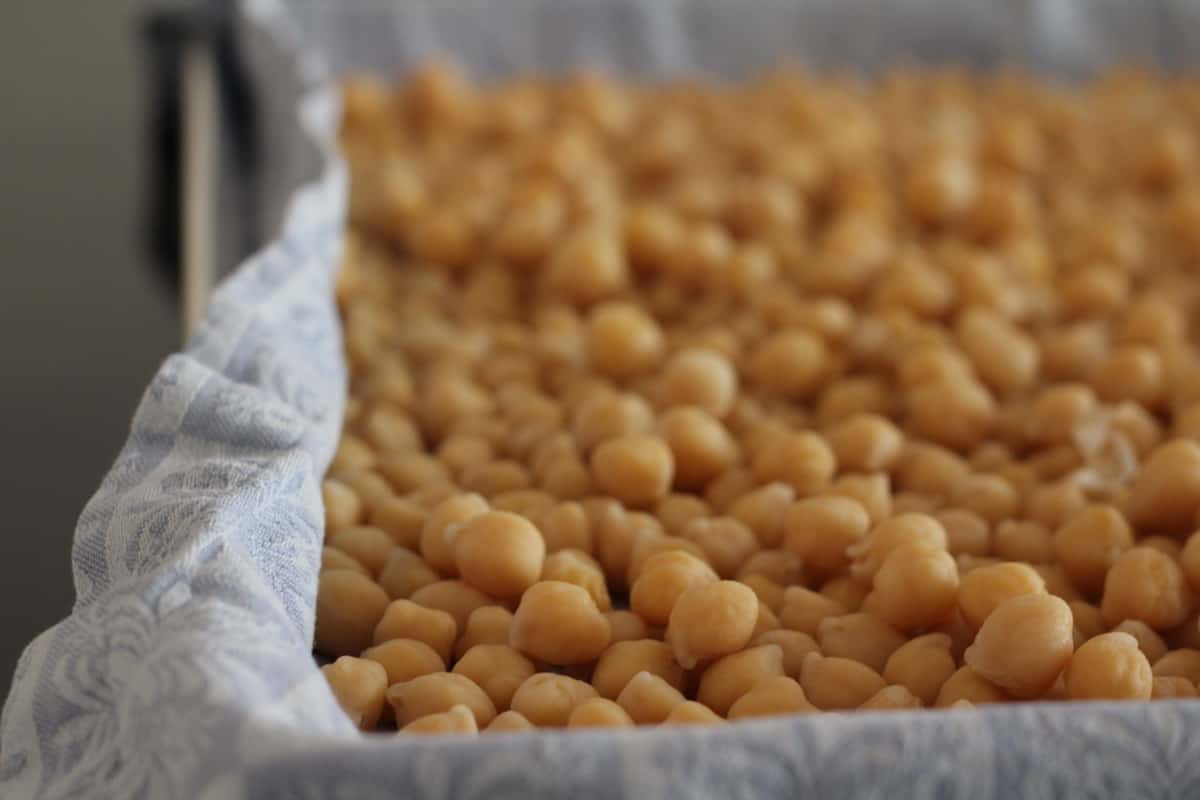 The key to great chickpeas, I've found, is that I have to start with the dried version. After years of disappointment in using canned chickpeas, I've finally come around. There is no way to get this delightful crisp crunch with canned chickpeas (plus I find that I can't ever totally rinse off the flavor of the goo that surrounds them in the can).
My only disappointment at the end of this chickpea endeavor was that I was listening to the Splendid Table at the gym later in the day and Lynn happened to recommend to a caller that he save the water that the chickpeas are boiled in because it can be used as a broth. Who knew? Guess I'll have to make another batch….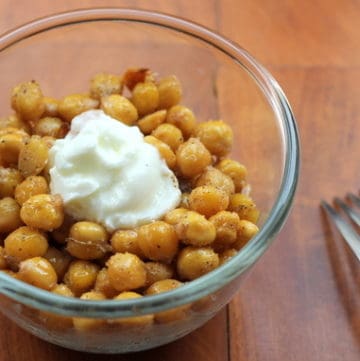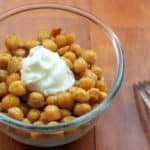 Print Recipe
My New Favorite Thing...Spiced Chickpeas
Servings:
6
as a side dish
Ingredients
3

cups

dried chickpeas (garbanzo beans)

1

Tbsp.

vegetable oil

4

tsp.

garam masala

2

tsp.

sugar

3

tsp.

salt

pinch

cayenne pepper

plain yogurt, for topping (optional)
Instructions
Soak the chickpeas in water overnight. Drain the water, toss the chickpeas back into the pot and fill it with fresh water to at least a couple inches over the top of the chickpeas. Turn on the heat and bring the water to a low boil. Continue boiling the chickpeas, adding additional water to the pot if necessary, until they are tender but still have a bit of give (similar to the elusive "al dente" with pasta). I find this takes about 2 hours.

Preheat oven to 400 degrees. Drain chickpeas, rinse in cool water and spread them out on a towel to dry. (I recommend rubbing them gently with paper towels to remove excess moisture.) Toss chickpeas in oil. Spread chickpeas evenly on a large baking sheet. Bake until chickpeas are golden brown, about 15 minutes, shaking the pan once or twice to insure that they cook evenly. Combine garam masala, sugar, salt and cayenne in a small bowl and gradually sprinkle over chickpeas, tossing to combine (I find that I like to use the full amount of seasoning listed, but you may prefer not to use all of the seasoning mix). Serve immediately, topped with plain yogurt.
Notes
I highly recommend starting with dried chickpeas in this recipe. It takes a bit of planning because they need to soak overnight and then simmer for a couple hours to soften. However, you can prepare a big batch of chickpeas up to a week in advance and store them in the fridge before baking. You can also freeze chickpeas after they have been soaked and simmered. Just be sure to bring them back to room temperature and get them very dry before baking them.