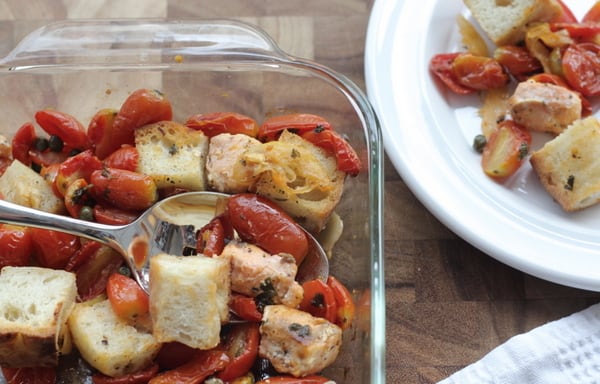 The moment that tonight's dinner started coming together, I knew it was going to be good. I could barely wait for it to come out of the oven and dinner concluded with both of us plucking the last bites of crusty, flavorful bread straight out of the baking dish.
The recipe begins with ciabatta – already good.
Next there are roasted tomatoes. Nothing out of the ordinary here. That is, unless your Thai grocery store sells them with a little packet of pink salty, sweet flavoring (one presumes, to eat with the tomatoes?). The Thai grocery story always surprises me. Don't worry, no pink powder required for this delicious dinner.
Then come thinly sliced lemons, capers, garlic and a touch of fresh parsley…
Which, when mixed with the tomatoes made me, literally, swoon.
It was good that this recipe was not only incredible, but relatively easy. Because for this no-meat Lenten Friday, I am tackling eggplant parmesan. It will be a first for me. I'll let you know how it goes.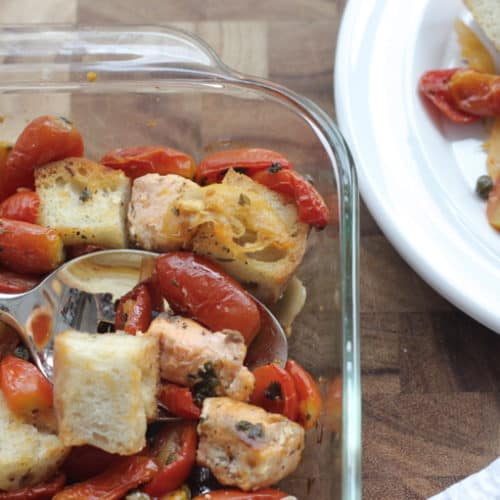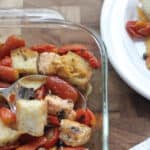 Print Recipe
Pan Roasted Salmon and Bread Salad
Ingredients
2

pints

grape tomatoes, halved

3

Tbsp.

olive oil, divided

1

clove

garlic, minced

2

tablespoons

capers, rinsed and drained

1

lemon, halved lengthwise and cut into very thin slices

¼

cup

chopped parsley

½

teaspoon

crushed red pepper

10

oz.

fresh ciabatta, cut into 1-inch pieces

10

oz.

salmon, skin removed, cut into 1 inch pieces, seasoned with salt and pepper
Instructions
Preheat oven to 300 degrees. Toss grape tomatoes in 1 Tbsp. olive oil and season with salt and pepper. Spread tomatoes out in a single layer on a baking sheet. Bake until tomatoes start to break down and caramelize, about 40 minutes.

Meanwhile, combine 1 Tbsp. olive oil, garlic, capers, lemon, parsley and red pepper in a bowl. When tomatoes finish roasting, add them (still warm) to the bowl. Stir to combine.

Increase oven temperature to 450 degrees. Toss ciabatta pieces in 1 Tbsp. olive oil and season with salt and pepper. Roast ciabatta in 9x13 inch baking dish until slightly golden, about 5 minutes. Remove ciabatta from oven and add tomato mixture to the baking dish, stirring to combine. Roast for another 10 minutes. Remove from oven and scatter salmon pieces over the top of the bread. Return baking dish to oven and continue roasting until salmon is cooked through, about 5 minutes. Serve immediately.