Molly and Clara – 11 Months
Published Mar 31, 2015•Updated Feb 24, 2021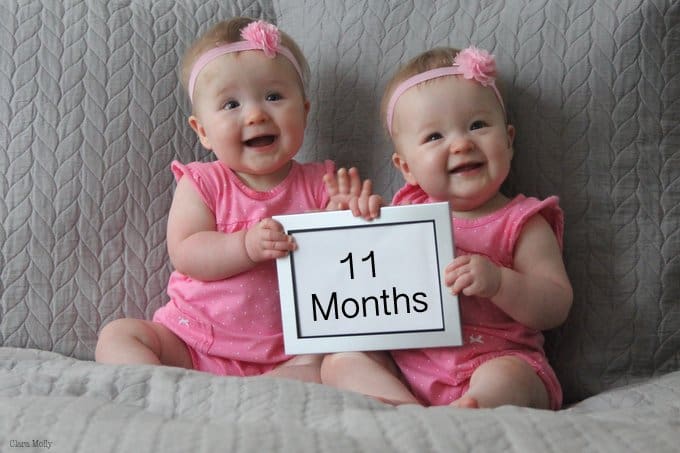 Our babies are 11 months old. And while I get a bit sentimental about it from time to time (like when I watch 400 videos of them on a flight to Italy), I'm loving all the fun ways in which they are growing and changing.
I had so much fun sharing a day-in-the-life last month that I thought I'd do it again when Frank was home to spend it with us. So here we go, what we did the Saturday that Molly and Clara turned 11 months old. The biggest change between this month and last is crawling. Both girls went from being adorably stationary, to constantly on the move. Clara needs a little extra motivation to get those crawling gears in motion, so she often hangs back to watch Molly's handiwork.
7am on a Saturday, the girls are in action. Here they are first thing in the morning…Clara watching as Molly punches the ever-popular giant power button on the TV. Fortunately there's no actual TV to be seen since we don't have cable, so they're quickly moving on to other shenanigans throughout the apartment.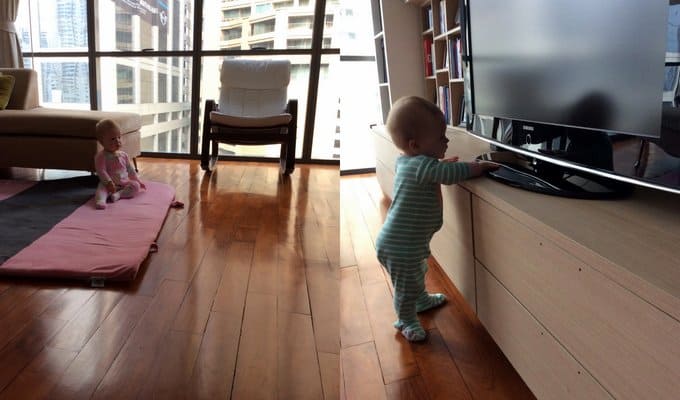 There have been a few bumps and tears in these first few days of self-propelled movement, particularly as they figure out how to get back to a seated position from standing, but they mastered that skill fast as a result. The mornings at home with the girls are one of my favorite parts of the day. Especially on the weekends, we get to slow down a bit, play with their toys and "read" books in pjs.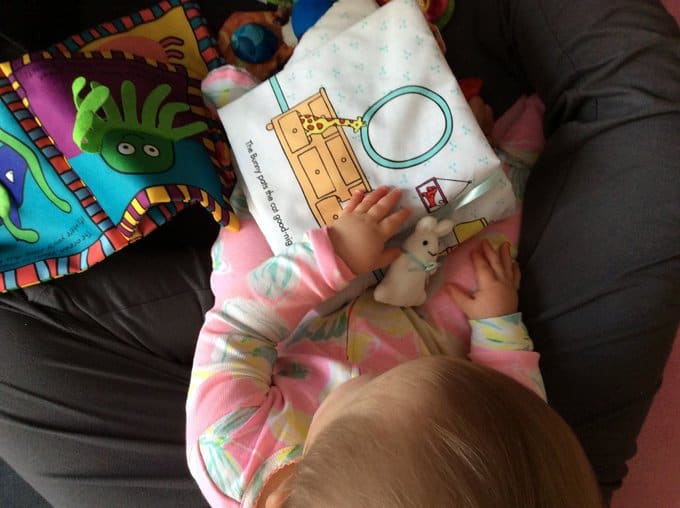 8am, and time for breakfast – a typical random assortment of what they're eating these days. Plain Greek yogurt, avocados, roasted curried cauliflower, an egg scrambled in coconut oil, and leftover whole wheat pancakes.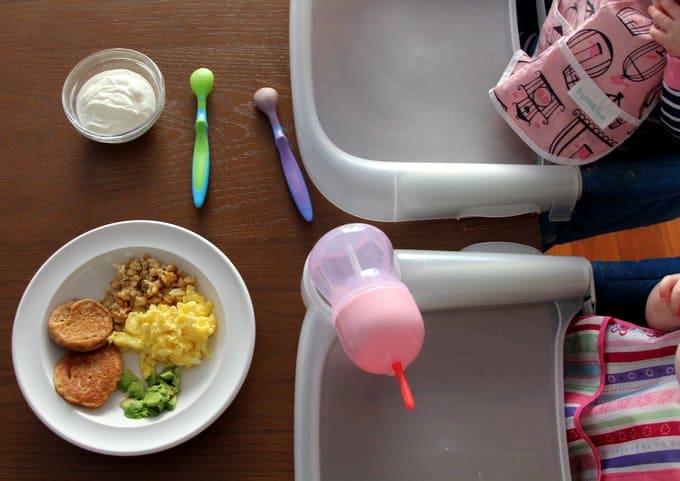 9am, and everyone is fussy (plus the adults need a coffee-break), so off to naps they go. Frank and I both work out (I've been a lap-swimming addict since the weather is so hot here at the moment), shower, make a half-hearted attempt to clean the kitchen and by 10:15 the ladies are calling us. We get them dressed and ready to go for the day, and take a quick 11-month pic.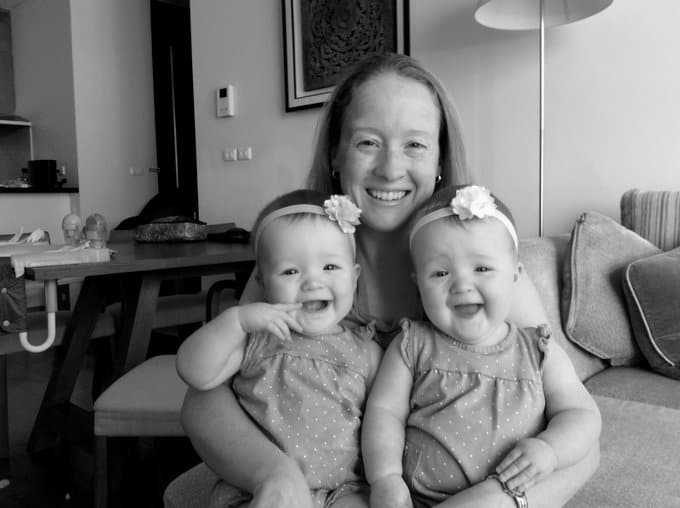 And Clara shows off her pulling-up-to-stand trick while we load the stroller up with sippy cups and snacks…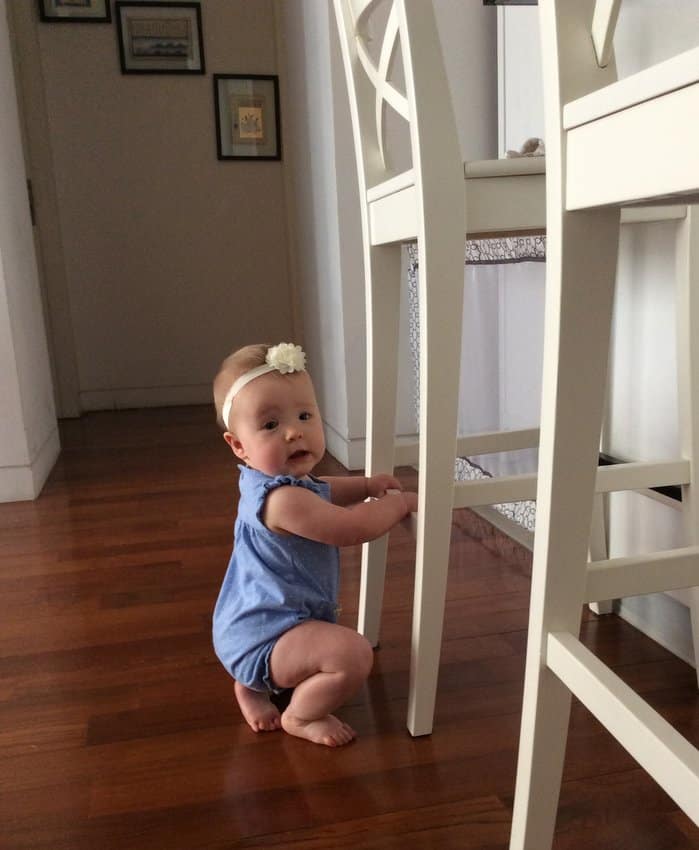 With hot season fully upon us, we've been taking advantage of indoor activities in the middle of the day, so we pack the girls up for a trip to the aquarium.
They get very serious when we ride public transportation, like they know it calls for grown-up behavior.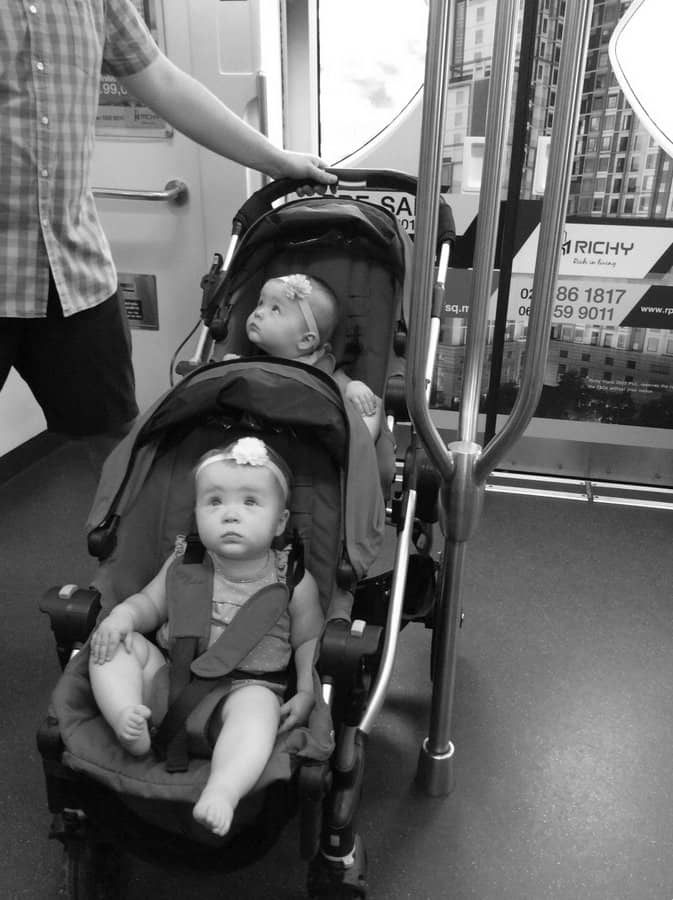 11am and Clara's chatting with her buddy the giant octopus while Molly is patting on all the glass (against aquarium regulations) in an effort to get the attention of every last fish. The aquarium is dark and cool and has a soothing, jazzy soundtrack playing at all times. Happy babies / happy parents.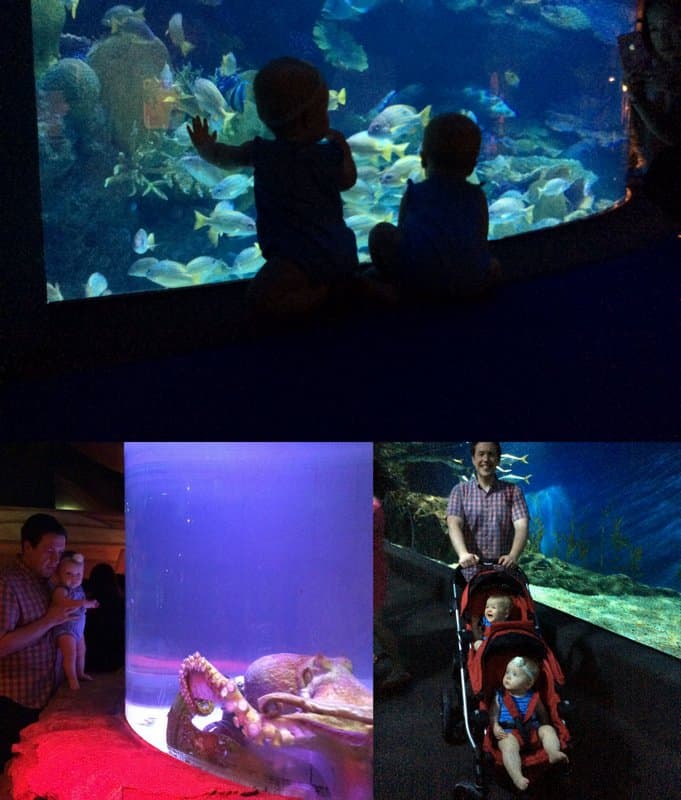 By the time we make our way through the maze of fish, it's 12:30 and everyone is hungry and sleepy, so the girls munch on veggie pouches on the way home (thus breaking Bangkok's cardinal no-food-on-the-train rule). Those rebels.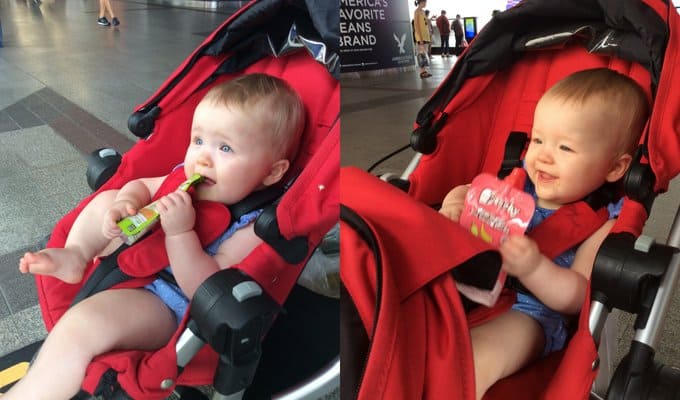 Back at home and down for a nap, Frank and I make a quick lunch and do really riveting things like finish our taxes until the girls start babbling with one another around 2:30. We head outside for a few minutes on the swings and hang out with other parents that live in our building. Clara and Molly know everyone better than we do since their babysitter takes them to the playground every afternoon.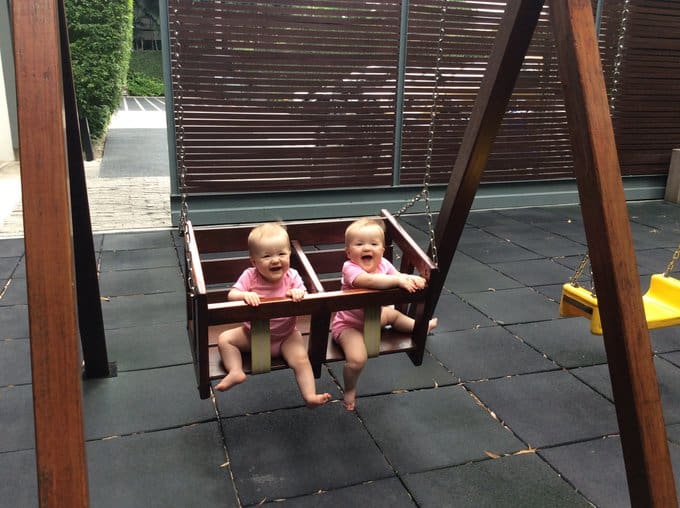 Back inside, we have an early (and very messy) dinner. Tonight's dinner includes lots of zucchini – they are loving zucchini these days. Clara had two bottom teeth pop out just days before their 11-month birthday, and Molly's got a couple coming. Next up…steak dinners. 😉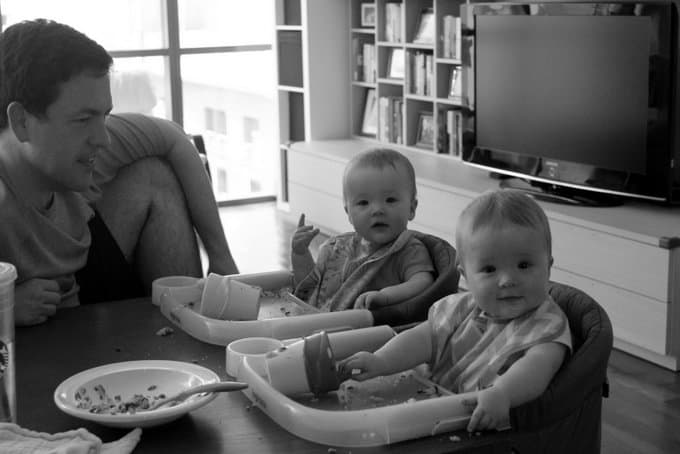 We put shorts on the girls as some approximation of hot-season, baby-appropriate church attire.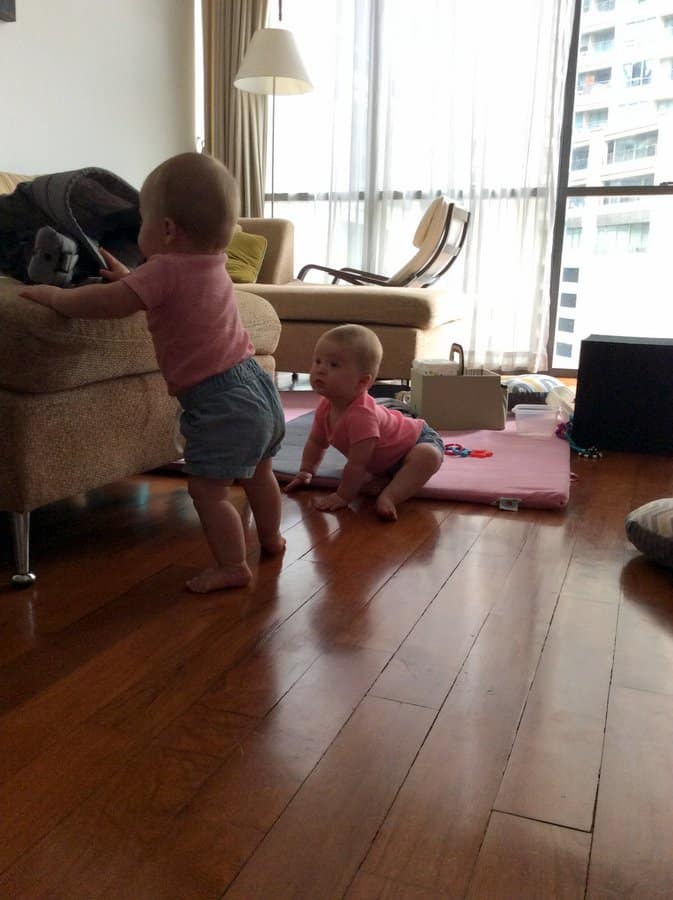 And head off to church, with the girls in Ergos, where Molly takes selfies during offering.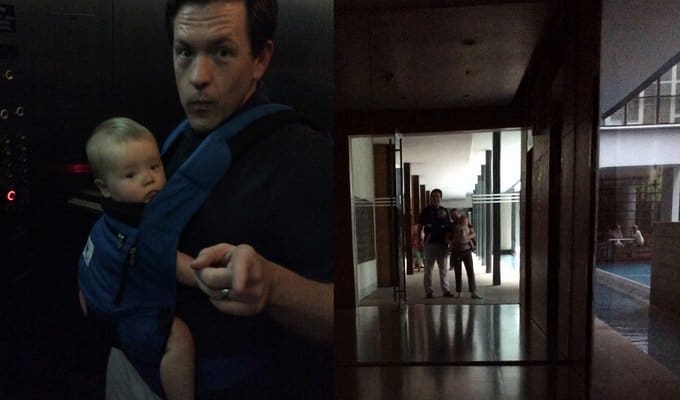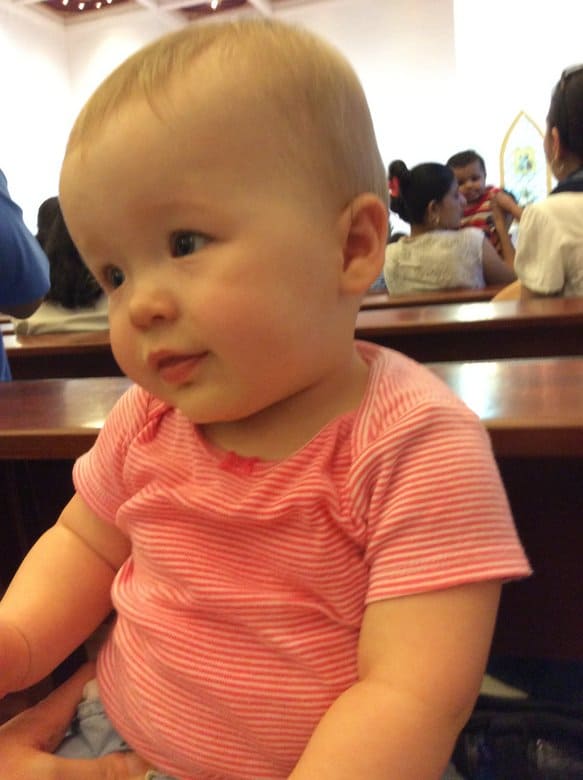 And sprint home to get the little ones tucked into bed by 7pm. And a glass of wine poured for Frank and I by 7:05.
A couple of years ago, I never would have imagined that this extensive line-up of activities would constitute a "relaxing" Saturday, but knowing what I know now, I wouldn't have it any other way.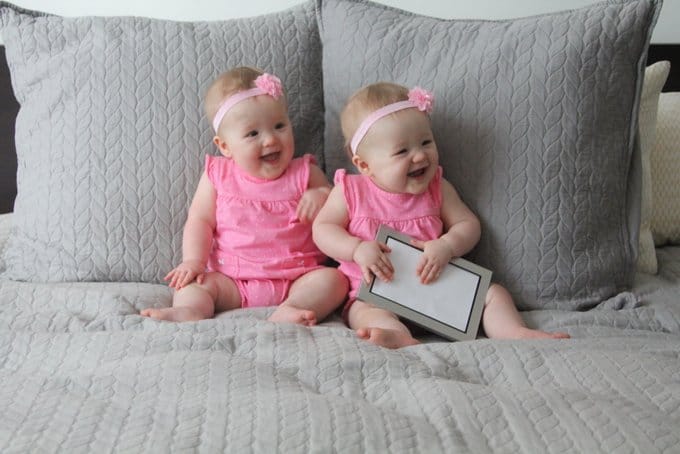 For More Updates on Molly and Clara:
SaveSave