Just before the weekend started, I mentioned a cake with a vegetable in it that you might not expect. When I wrote that, I was in the middle of a patient delay to break out a slice as I waited a full day (to attend yoga and eat a giant healthy salad), as David Lebovitz wrote I could. As promised, by the time I sliced into it, this was a deep, moist cake that broached the constancy of a brownie. It also had the slightest hint of a deep red color from that very special ingredient. Beets.
I soak up every word that David Lebovitz writes. His tone is casual and sincere, but his desserts…they are serious stuff. Although Nigel Slater's much-praised book, Tender is sitting on my Amazon Wishlist just waiting for someone to bite (okay, so the only person who ever sees my Amazon Wishlist is my husband (hint, hint, F)), I jumped at the chance to make Nigel Slater's beet cake when I saw the pictures of it on David Lebovitz' site. Even in the pictures, its rare deep red tone was enchanting. Not to mention that I'm a sucker for a roasted beet.
I've had beets on the brain since hearing a story on NPR called "A Year That Was Good To Beets". Turns out that beets have been getting a bad rap in the U.S. So much so that, according to NPR, "the federal government doesn't bother to keep track of how many are grown and sold, even though it does keep track of just about every other crop, including turnip greens and horseradish". This would be news to my mother who, for as long as I can remember, has been known to roast up a couple beets for a Saturday lunch. The good news for the little ole' beet is that in 2011 it appears to be coming into style in the U.S. This will be no surprise to my Australian friends out there – every Aussie cooking magazine I read features beets ("beet root") in abundance.
If you happen to be hesitant about beets, I suspect that this cake might still be an easy sell. This cake, in which finely ground beets fold themselves gently into a light, rich chocolate base, is as delicious as it is unexpected. It is the sort of cake that might be served in tiny slivers as a winter afternoon pick-me-up. If beets have been getting a bad rap, I'm happy to contribute to their come-back. And I'm all the more happy to do so when I can sing their praises in the form of a moist chocolate cake.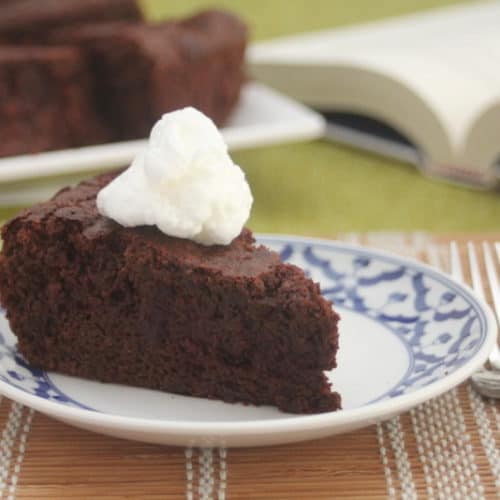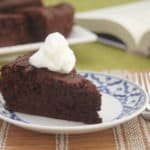 Print Recipe
Moist Chocolate Beet Cake
Beets are the secret ingredient in this tender, sweet, chocolate cake with color that hints at the vegetable's deep red.
Ingredients
8

ounces

(240 g) beets, unpeeled, rinsed and scrubbed free of dirt (I needed 3 small beets for this)

7

ounces

(200 g) bittersweet or semisweet chocolate (70% cacao solids), chopped

¼

cup

(60 ml) hot espresso (or water)

7

ounces

(200 g) butter, at room temperature, cubed

1

cup

(135 g) flour

3

tablespoons

unsweetened cocoa powder (the darkest you can find, natural or Dutch-process)

1 ¼

teaspoon

baking powder

5

large eggs, separated, at room temperature

pinch

of salt

1

cup

(200 g) superfine sugar
Instructions
Prepare the beets. Boil the beets in salted water with the lid askew until they're very tender when you stick a knife in them about 45 minutes. Drain then rinse the beets with cold water. When cool enough to handle, slip off the peels, cut the beets into chunks, and grind them in a food processor until you get a coarse, yet cohesive, puree. (If you don't have a food processor, use a cheese grater.)

Butter an 8- or 8 ½ inch (20 cm) springform pan and line the bottom with parchment paper.

Preheat the oven to 350ºF (180ºC).

Melt and prepare chocolate. In a large bowl set over a pan of barely simmering water, melt the chocolate, stirring as little as possible. Once it's nearly all melted, turn off the heat (but leave the bowl over the warm water), pour in the hot espresso and stir it once. Then add the butter. Press the butter pieces into the chocolate and allow them to soften without stirring.

Prepare dry ingredients. Meanwhile, sift together the flour, cocoa powder, and baking powder in a separate bowl.

Mix liquids. Remove the bowl of chocolate from the heat and stir until the butter is melted. Let sit for a few minutes to cool, then stir the egg yolks together and briskly stir them into the melted chocolate mixture. Fold in the beets.

Beat eggs. In a stand mixer, or by hand, whip the egg whites until stiff.

Combine ingredients. Gradually fold the sugar into the whipped egg whites with a spatula, then fold them into the melted chocolate mixture, being careful not to over mix. Fold in the flour and cocoa powder.

Scrape the batter into the prepared cake pan and reduce the heat of the oven to 325ºF (160ºC), and bake the cake for 40 minutes, or until the sides are just set but the center is still is just a bit wobbly. Do not overbake.

Let cake cool completely, then remove it from the pan. Serve immediate, or per David Lebovitz's recommendation, allow to rest for a day before serving.
Notes
original recipe posted as Moist Chocolate-Beet Cake by David Lebovitz and adapted from Tender by Nigel Slater.
This cake was delicious on its own, but only got better with a tiny dollop of whipped cream piled on top.


_____
Moist Chocolate-Beet Cake