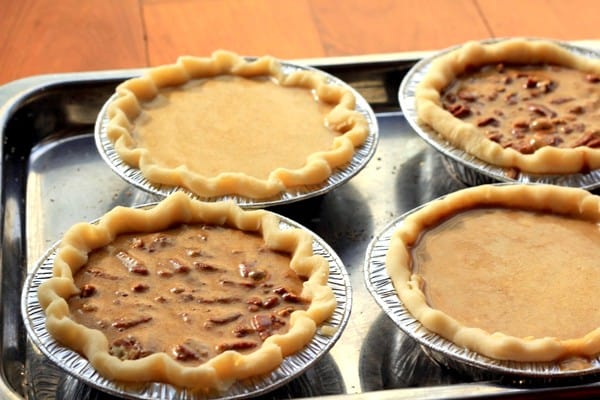 The great mystery of the holidays is that no matter what we do, so many of us spend the season feeling endlessly behind, trying to get to the bottom of a never-ending list of to-dos. I had planned to discover the mirage of Christmas seasons this year – one in which I would be relaxed and spend hours reading novels by the tree and contemplating all that has happened over the past year. If anyone could do it, it would be me. Here I am, having just moved to Thailand and not yet having started a job (I know, I'm winning a lot of sympathy points), and yet – I still have been buzzing around, feeling rushed and lamenting that there is "never enough time".
Without even noticing it, Christmas Eve came, and I woke up that morning resolved to close the door on the buzzing and to-do lists. This weekend I relaxed with my husband, enjoyed the awkward beauty of our tiny, lopsided tree with its Thai blue lights, ate delicious food and drank some really delicious wine. If you, too, found yourself buzzing around over the past couple weeks, I hope that you were able to take a few days to slow down. I hope that, however you spend these few days, they are filled with joy and peace.
Although the holiday is technically over here in Thailand, I did want to share one treat from our holiday feast. We had an entirely traditional holiday dinner for two – mashed potatoes, stuffing, roasted brussels sprouts, sweet potato and kale gratin and to top it all off we had these great little pies for dessert. I looked everywhere for a pecan pie recipe that would cook through even without the addition of corn syrup, and stumbled upon the one below. I highly recommend this if you are without corn syrup or would prefer not to use it – the resulting pie was everything that pecan pie should be. Note that my cooking times are designed for individual pies, so you will need to cook these longer (and probably keep them covered in the beginning to prevent burning) if you opt for large pies.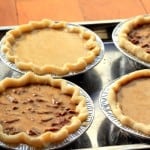 Print Recipe
Mini Pecan Pies
Ingredients
1

recipe easy pie crust

2

eggs, lightly beaten

1/2

cup

butter, melted and allowed to cool for 1-2 minutes

1

cup

dark brown sugar

1/4

cup

white sugar

1

tbsp.

all-purpose flour

1

tbsp.

milk

1

tsp.

vanilla extract

2

cups

roasted, chopped pecans
Instructions
Pre-heat oven to 350 degrees.

Line 4 individual pie tins with pie crust, rolling any rough edges inward so that edges of the crust are even. Refrigerate until ready to fill.

Beat eggs on high until light and foamy. Stir in melted butter until combined. Add both sugars and flour and mix well. Add milk and vanilla and mix until fully combined.

Sprinkle pecans evenly over pie crusts. Mix filling with a fork just before pouring to insure that brown sugar has not gathered in the bottom of the bowl. Pour filling over pecans until about 1/4 inch remains from the top of the crust. Tap each pie tin lightly on the counter to remove air bubbles.

Bake pies for 15 minutes covered with foil to prevent burning. Remove foil and continue to bake until cooked through – 20-25 minutes. Keep a close eye on the pies towards the end of baking to insure that they do not burn – you will know they pies are done if the surface of the filling begins to crack. Cool pies completely and serve at room temperature.
Mini Pumpkin Cheesecake Pies
Author:
Serves:
Makes 4 mini pies (using individual pie tins, 4-inches in diameter)
Ingredients
1 recipe [url href="https://www.inquiringchef.com/2010/12/05/easy-pie-crust/" target="_blank"]easy pie crust[/url]
6 ounces cream cheese, room temperature
1/2 cup sugar
1/2 cup (packed) golden brown sugar
2 large eggs
1 large egg yolk
1 cup canned pumpkin
3/4 cup half and half
2 tsp. pumpkin pie spice
1/4 teaspoon salt
Instructions
Pre-heat oven to 350 degrees.
Line 4 individual pie tins with pie crust, rolling any rough edges inward so that edges of the crust are even. Refrigerate until ready to fill.
Beat cream cheese in a large mixing bowl until light and fluffy. Add both sugars and beat on high until fully encorporated. Beat in eggs and yolk. Add remaining ingredients and mix on low until fully combined. Pour filling over prepared pie crusts.
Bake until filling is set in the center and slightly puffy and golden brown on the top, 25-30 minutes. Cool pies completely and chill in refrigerator at least an hour, preferably overnight. Remove from refrigerator about an hour before serving and allow to come to room temperature.
Notes
Adapted from Pumpkin Cheesecake Pie with Cornmeal Crust, Bon Appetit, November 1999