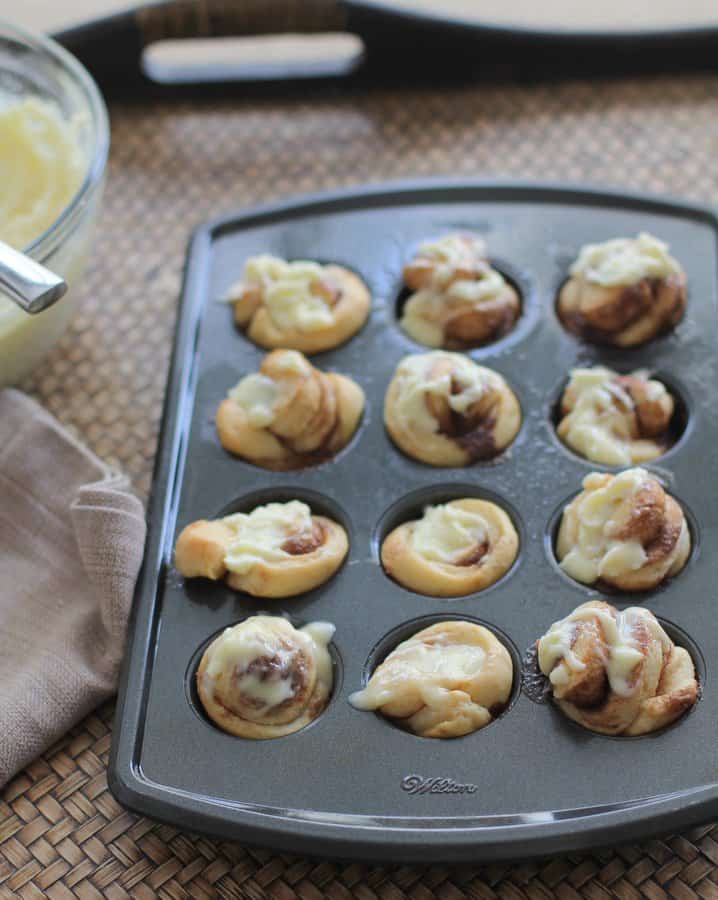 Mini Cinnamon Rolls are a miniature version of a well-loved recipe with gooey cream cheese frosting.
I always want to walk in the door now and scoop up both my girls, but it's surprisingly difficult to hold two wriggly 3-month-olds at one time. Fortunately, after 3 months of practice, I've learned to hold one girl while doing a variety of other tasks, including folding laundry, putting on make-up, and reading Squishy Turtle (a current household favorite) to the other baby. Fortunately, it's also totally manageable to hold one baby while stuffing mini cinnamon rolls in your mouth.
But the baking…that has to happen during nap time…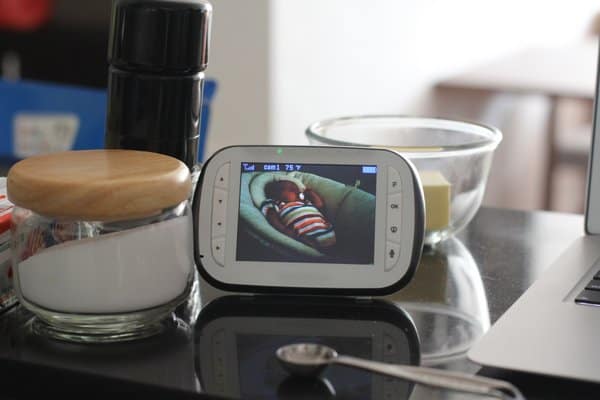 Probably you've already heard about these amazing cinnamon rolls and I'm just late to the party. I've seen this infamous recipe, originally called "Clone of a Cinnabon" mentioned on blogs, Facebook, and Pinterest for a long time, and they are totally worthy of all the hype. Soft and packed full of cinnamon, it's the cream cheese frosting – spread on while the rolls are still warm – that put these over the top.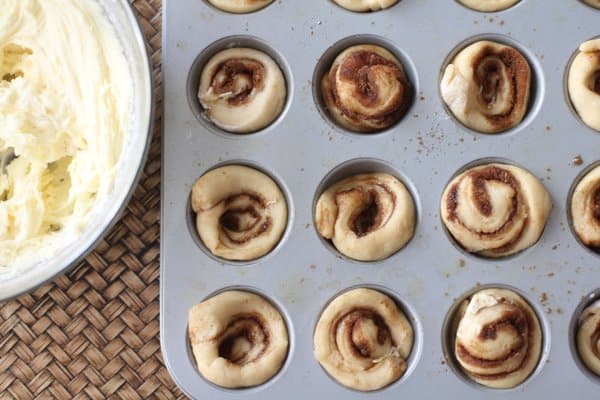 I put my own twist on the original, making them bite-sized for a buffet brunch by baking them in a mini muffin tin and adding the secret ingredient – Saigon Cinnamon. My family took a cinnamon roll baking class (I was jealous I missed that one) and came away with this seriously amazing secret. Saigon Cinnamon has so much more punch than regular cinnamon and is WELL worth tracking down (it's usually available in any well-stocked spice section at the grocery store) even if you only make these rolls once a year. It makes homemade taste like something you would get at a super fancy bakery.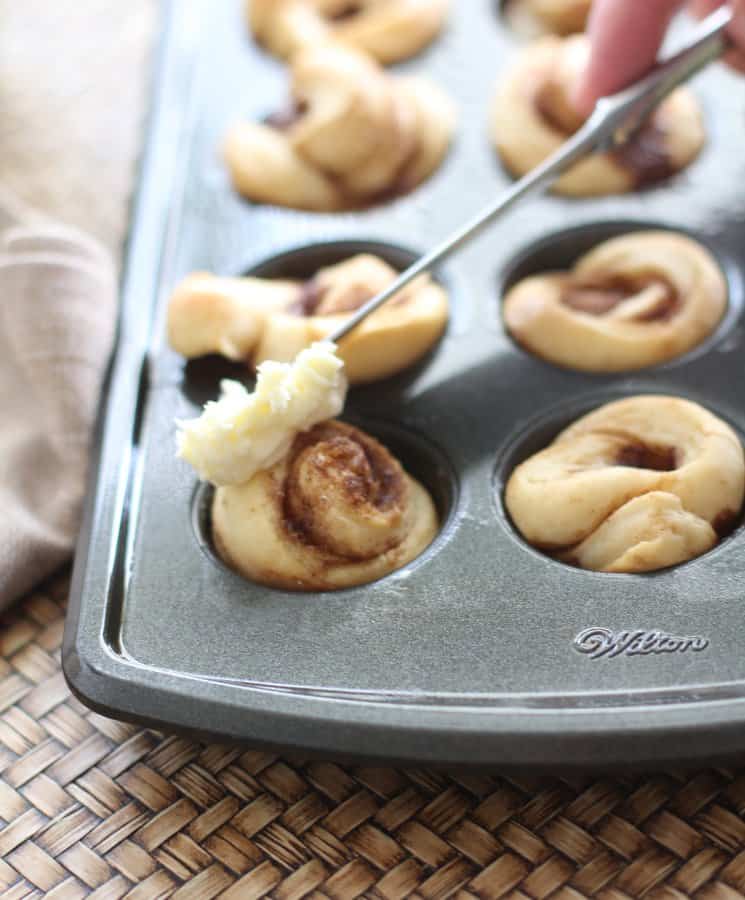 More Breakfast Recipes
Favorite Tools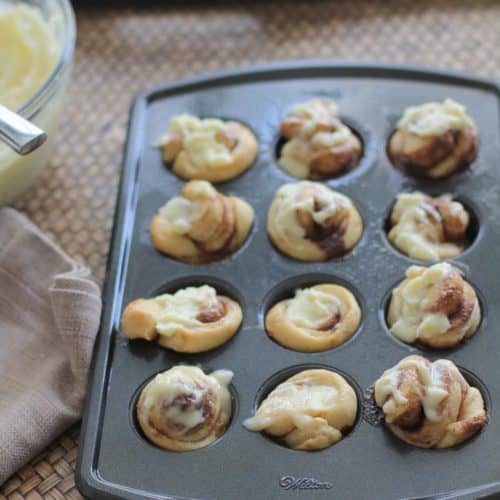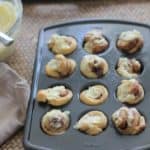 Print Recipe
Mini Cinnamon Rolls with Cream Cheese Frosting
A miniature version of this well-loved cinnamon roll recipe with gooey cream cheese frosting.
Equipment
Stand Mixer

Mixing Bowl

Rolling Pin

Serrated Knife

Mini Muffin Tin
Ingredients
For the Dough:
1

cup

Milk, room temperature

2

large

Eggs, room temperature

1/3

cup

Unsalted Butter, cut into cubes

4 3/4

cups

All-Purpose Flour

1 3/4

tsp

Salt

1/2

cup

Sugar

2 1/2

tsp

Instant Yeast
For the Filling:
6

Tbsp

Unsalted Butter, softened

1

cup

Light Brown Sugar, packed

3

Tbsp

ground Saigon Cinnamon
For the Frosting:
1

3 oz package

Cream Cheese, softened

1/4

cup

Unsalted Butter, softened

1 1/2

cups

Glazing or Confectioners' Sugar

1/2

tsp

Vanilla Extract
Instructions
Combine all of the dough ingredients in the bowl of an electric mixer fitted with the dough hook. Mix on medium speed until it comes together in a cohesive ball, about 4 to 7 minutes. Transfer the dough to a lightly oiled bowl, turn to grease all sides, cover with plastic wrap, and let rise until doubled, about 1 hour.

Transfer the dough to a lightly floured work surface, and divide it into two even balls. Roll each portion of dough into a 8 x 20-inch rectangle. Spread each piece of dough with 3 Tablespoons of butter. Stir together the brown sugar and cinnamon and sprinkle evenly over the dough.

Starting with the short end, roll each rectangle of dough into a log. Using a serrated knife, cut each log into 20 1-inch slices. Gently place the slices in a greased mini muffin tin. Let the buns rise at room temperature until they're nearly doubled, about 30 minutes. Preheat the oven to 400°F.

Bake the buns in a until they're golden brown, about 15 minutes. While the buns are baking, beat together the cream cheese, butter, sugar, and vanilla. Spread the frosting on the top of the buns while ether are still warm from the oven. Serve immediately.
*This post contains affiliate links*