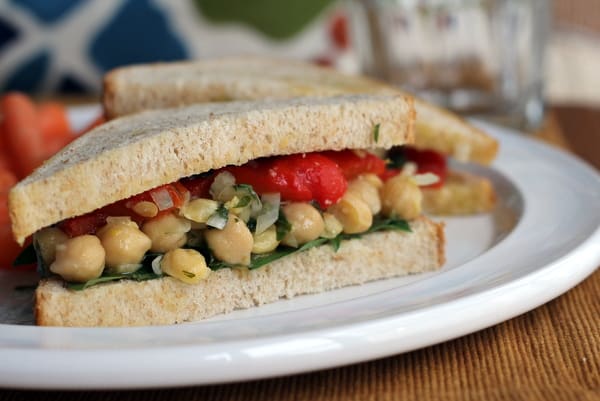 To say there was a lot going on in our little apartment in June would be an understatement. But having family here was really fantastic. Every amazing thing that we get to experience as a result of living in Bangkok is tempered by a moment of loneliness for our family and friends. It's a fun, but chill life for us 31-year-olds with no kids, living on the other side of the world from most everyone we know.
Things are wildly different with teenagers around. In June, with my three teenage sisters running the house, there was music playing, the washing machine was continuously running, and there was always something happening in the kitchen.
I loved that last part. I couldn't get enough of the extra hands and constant activity from the kitchen. In my family, the kitchen has always been the center of the house, and it was no different while they were all here in Bangkok.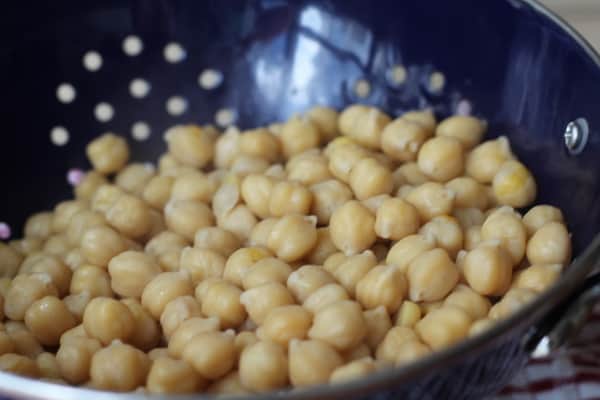 Despite all that action, it has not been a normal few weeks of cooking for me. I like to spend a couple hours over the weekend, making something new for the blog and stocking our fridge with healthy options for the week, but there were too many other fun things to do while we had visitors.
Last weekend, Frank and I relaxed and settled back into our two-person routine. Friday night we indulged in massages right after work and came home to relax with a movie night on the couch. Saturday I got in a great workout and ran errands in the morning. But Saturday afternoon, I got back in the kitchen, stocking us up on stock and other delicious things – but the star was irrefutably this bowl of marinated chickpeas.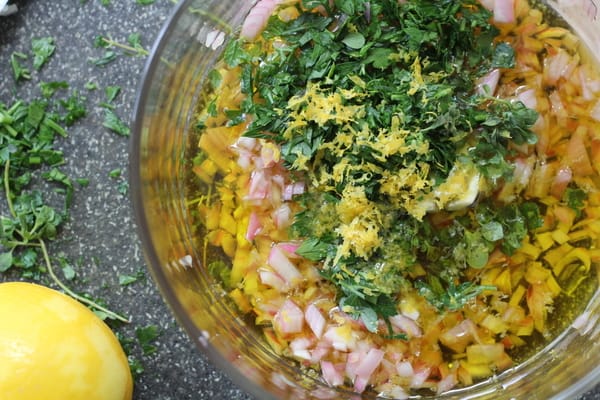 I found these chickpeas while hunting for something to spice up sandwiches in one of my favorite cookbooks, Tom Colicchio's 'Wichcraft: Craft a Sandwich into a Meal – and a Meal into a Sandwich. I've loved 'Wichcraft since spending the summer in New York and treating myself to a sandwich and a cold beer on steamy city nights at his restaurant by the same name.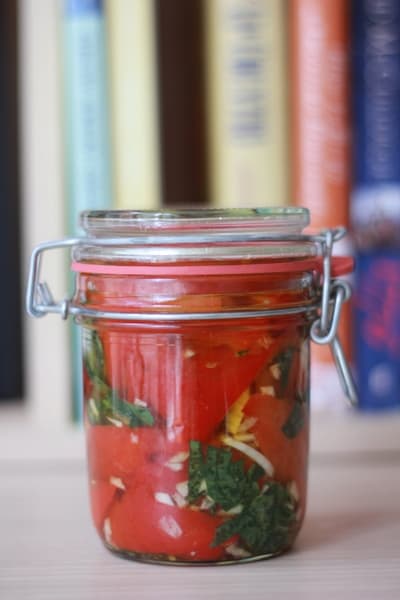 In New York, I never had the chickpea sandwich that is featured in the book, but I'm glad to have discovered it now. This is the third time I've made the 'Wichcraft marinated chickpeas, and this time I doubled the batch. Not only are these amazing on whole wheat bread with marinated red peppers (recipe below), but they are perfect all on their own.
During the week, I've been packing these chickpeas for lunch and eating them straight-up with a side of fruit. It's a brown-bagged lunch that I look forward to all morning.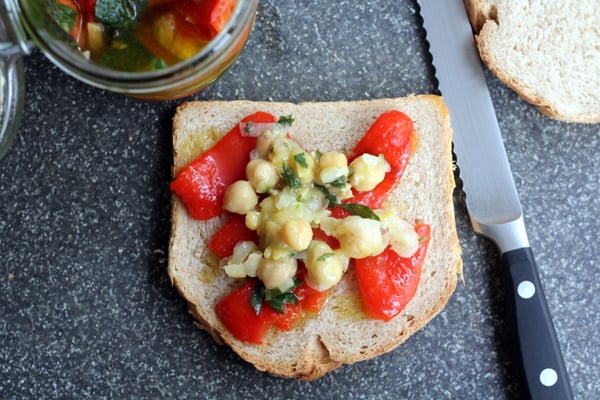 _____
*Note: To approximate Tom Colicchio's 'Wichcraft sandwich, combine the marinated chickpeas and the roasted red peppers below. In the sandwich pictured up top, I simply mashed the chickpeas a bit with a fork, but after finding this article with a picture of the original sandwich at 'Wichcraft, next time I will pulse them in a blender or Cuisinart for a smoother texture.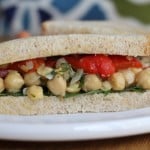 Print Recipe
Marinated Chickpeas with Marinated Roasted Red Peppers (for a 'Wichcraft sandwich)
Ingredients
For the Marinated Roasted Red Peppers:
3

large red peppers

1

clove

garlic, finely minced

10

leaves

fresh basil, thinly sliced

extra virgin olive oil (you will need enough to cover the peppers, usually about ½ cup in the jars I've used)
For the Marinated Chickpeas:
1

lb

dried chickpeas (soaked overnight and drained)

4

sprigs fresh thyme

4

sprigs fresh rosemary

1

medium yellow onion, peeled and quartered

2

medium carrots, halved

1

rib celery, halved

salt and pepper, to taste

1

medium red onion, finely chopped

½

cup

red wine vinegar

4

ribs celery, finely sliced

zest and juice from 1 medium lemon

2

cloves

garlic, minced

1

teaspoon

finely chopped rosemary

½

teaspoon

dried oregano

1

and ½ teaspoon finely chopped peperoncini

1

cup

extra-virgin olive oil

salt and pepper, to taste

¾

cups

finely chopped flat-leaf parsley
For the Sandwich:
sandwich bread

fresh basil leaves
Instructions
First, make the marinated red peppers. Turn on the oven's broiler. Line a baking sheet with foil and lighly spray or brush it with olive oil. Slice the red peppers in half from top to bottom, discarding the stem and seeds. Place the red pepper halves, skins facing upwards, on the baking sheet. Place the baking sheet under the broil and broil the peppers until the skins are thoroughly blackened on the top. Remove the baking sheet and, using kitchen mitts to protect your hands, enclose the roasted peppers in the foil on which you've baked them, pinching the foil closed. (Alternatively, you can transfer the red peppers to a plastic bag for a few minutes. Wrapping them allows them to steam and will make peeling them a cinch.) Allow the enclosed peppers to rest at room temperature until cool enough to handle. When cool, gently remove the blackened peels and slice the peppers into 1inch strips.) In a small jar or bowl, layer the pepper slices, sliced basil, and garlic so that they are tightly packed. Drizzle olive oil intermitently between the layers and cover the final layer of peppers with about ¼ inch of oil. Store, covered, in the refrigerator for up to 2 weeks.

At least 8 hours before cooking, soak the dried chickpeas in a large pot full of water at room temperature. Drain the chickpeas well before continuing with the recipe below.

To prepare the chickpeas, tie the thyme and rosemary sprigs with twine and set them aside.

In a large soup pot, heat the pure olive oil over medium heat. Add the quartered onion, carrots, and halved celery rib. Cook over medium heat, stirring occasionally, until the vegetables are golden, about 10 minutes. To the pot, add the pre-soaked chickpeas, herb sprig bundle, and enough water to cover by 2 inches. Bring the water to a boil. Reduce heat and simmer over moderately low heat until the chickpeas are very tender, about 1 and ½ hours. (Taste the chickpeas after 1 and ½ hours and continue to cook them if they do not easily give when you bite into them. The age of the chickpeas determines how long they need to cook, and some need as much as 2 hours to become really tender.)

To the simmering chickpeas, add a large pinch of salt and pepper and continue to cook for 10 minutes more. Remove from the heat and cool for 15 minutes. Drain the chickpeas and discard the onion, carrots, celery, and herb sprigs (see note below).

While the chickpeas are cooking, prepare the dressing. In a large bowl, soak the red onion in the vinegar for 15 minutes. Drain, discarding the vinegar. Return the onion to the bowl and add the diced celery, lemon zest, lemon juice, garlic, chopped rosemary, oregano, and peperoncini. Add the chickpeas and olive oil; season with salt and pepper. Cover and refrigerate for at least an hour and up to several days.

Just before serving, fold in the parsley.

To approximate Tom Colicchio's fantastic 'Wichcraft sandwich (pictured above), spoon marinated chickpeas over bread, top with marinated roasted red peppers and basil leaves.
Notes
Chickpea Broth: I reserve and freeze the liquid broth that remains after the chickpeas have simmered with onion, carrot, celery, and herbs. The broth that results is light and flavorful, perfect for risotto, sauces, or for using as the liquid in baked rice or quinoa.
Make Ahead: The marinated chickpeas can be refrigerated overnight or up to a few days. In fact, this is a great make-ahead dish as it gains flavor the longer the chickpeas are left to marinate.
Adapted from Tom Colicchio via Food and Wine.