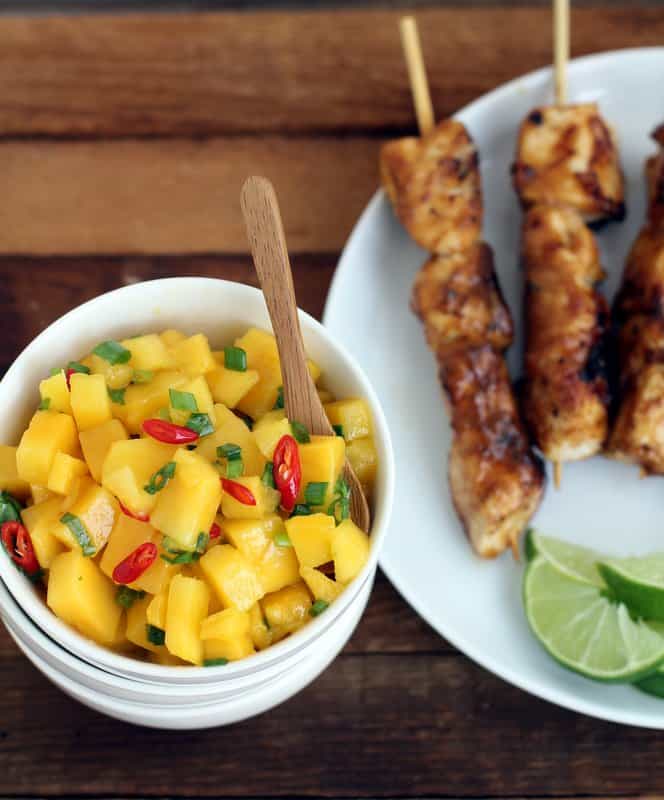 Chopped and tossed with chills, scallions, cilantro and lime, these Marinated Chicken Skewers with Mango Salsa are made for summer grilling.
I bought more mangos. Are we surprised?
The other day I fired up put my little grill pan and realized that this silly pan is one of my favorite kitchen tools. I bought the thing nearly 10 years ago for less than $20, and still to use it nearly as often as any other pan in our kitchen.
A grill pan certainly wouldn't get so much use in some other kitchens, but in my adult life I've never had a grill.
At 22 I lived in a concrete apartment in Romania with a balcony that was used exclusively for hanging laundry. At 23 I lived in DC with friends. I don't recall ever having a grill as I think we spent our extra money on curtains and overpriced cocktails. For the rest of my 20s I lived in a studio apartment with no outdoor space and then with Frank in DC and Bangkok where we've been living in equally un-grill friendly buildings in metropolitan neighborhoods.
It strikes me as a strange twist that a girl who feels that she is much more at home in wide open spaces can't seem to get herself enough outdoor space to cook a few chicken skewers over an open flame.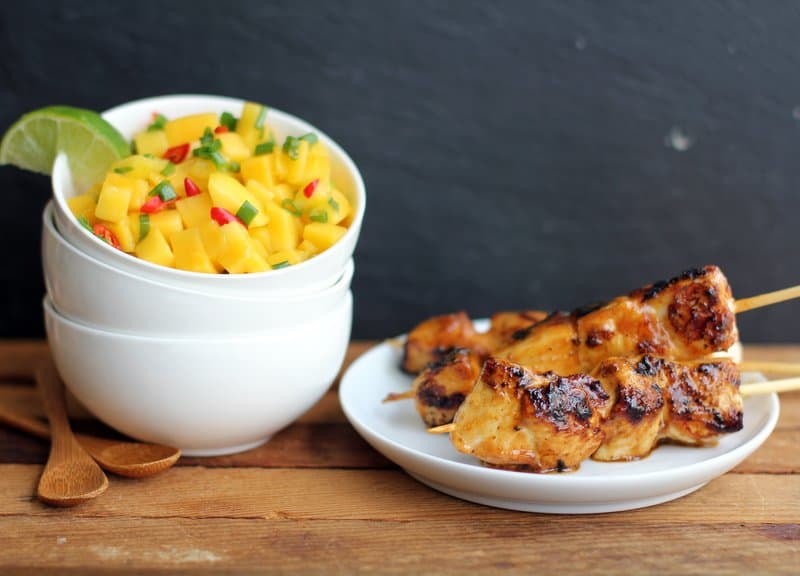 All I can say is that our next home will most certainly involve a yard. (Frank, who looks longingly at pictures of our friends' big yard-loving dogs on Facebook, is in agreement.) In the meantime, the grill pan does a surprisingly good job at approximating the satisfaction of cooking on a "real" grill.
These chicken skewers filled the apartment with that distinctive summer smell of meat on the grill and that spicy, sweet mango salsa made me think of summer nights and barbecues.
More Summer Recipes
Favorite Tools