Eating gougères makes me think of indulgent things – fancy dinners, good wine, Paris. Frank and I have been to California wine country twice. Both times our mutually favored vineyard has been a small, family-run spot in Napa – Robert Sinskey.
I love their wines, and the experience is made far more fun because they pair all their wines with little bites of food. On our honeymoon in Healdsburg, we joined the Robert Sinksey wine club. Every month a box came with two bottles of wine and recipes for pairing. Every month it was like we were there all over again.
This was one of the Sinskey recipes, and I'm surprised it took me so long to make it. The mere mention of these gougères by my Mom around Christmas this year had me thinking up an excuse to make them myself.
After a round of making gougères, I can't think of any reason not to have them frozen and ready-to-go at any given time. Who doesn't need flaky, golden, cheese-filled puffs at their fingertips?
Despite seeming wildly fancy (I swooned over a hot basket of these in an restaurant in DC years ago), the fact that they can be baked straight from the freezer makes them shockingly convenient.
I have to say that I doubted the claims that the freezer-to-oven method would really work, so I put it to the test last week. Weeks ago, Frank did the cooking, and cranked out a bag of fragrant gougère dough in a matter of minutes. We baked a few right away. They were divine – light pillows, with flakiness on the outside and a soft airy center. They disappeared fast, and we found ourselves simultaneously reaching for the last one.
Which brings me to this week, when, in an attempt to do a bit of a freezer clean-out, I came across the frozen gougères and remembered my initial curiosity. Would these really be as good as the original batch?
Here's the thing. They were better. Somehow the fact that they went from frozen solid directly to the hot oven just enhanced the contrast of the crispy shell and the tender insides.
Just remember to grease the pan well – those frozen gougères stuck to the pan like crazy.
Now that we've depleted our stash, I will absolutely be re-stocking it soon.
________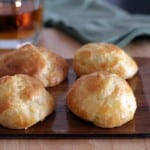 Print Recipe
Maria Sinskey's Gougères
Ingredients
1 ½

cups

water

1 ½

sticks unsalted butter

2

teaspoons

salt

1

teaspoon

rosemary, chopped

2

teaspoons

thyme, chopped

1 ½

cups

all-purpose flour

6

large eggs

1 ½

cups

Gruyère or other firm cheese, shredded

½

cup

Parmesan, grated

1

whisked egg, for brushing on top
Instructions
Bring the water, butter and salt to a boil in a medium saucepan. Add the rosemary and thyme. Remove the pan from the heat and add the flour. Return the pan to medium-high heat and stir until batter pulls away from the side of the pan. Scrape the batter into the bowl of a standing mixer and mix a few times with the paddle to cool the dough down a touch. This will prevent the eggs from scrambling when they hit the hot dough.

On low speed, add the eggs one by one; after each egg is added, increase the speed to medium and beat until the egg is incorporated. The eggs can also be beaten in by hand. Beat well after all eggs have been added. Add the Gruyère and Parmesan and beat until well incorporated.

On a parchment-lined sheet pan, using a pastry bag, pipe the batter into half dollar-sized rounds. The batter can also be scooped into mounds with a tablespoon. Freeze the puffs on the baking sheet. When frozen through, place in a tightly-sealed plastic bag and freeze until ready to use.

Preheat oven to 450°. Place the gougères 2 inches apart on a greased baking sheet. Brush the surface of each gougère lightly with the whisked egg. Bake for 25 minutes, then reduce heat to 400° and bake until puffed and golden (this was about 5 minutes in my oven). Serve warm.
Notes
Recipe by Maria Sinskey, shared by Food and Wine.
Note: The original recipe calls for 40 minutes of initial baking time at 450 degrees before reducing the temp until these are done. I found that my gougeres got puffy and golden long before that point and needed to be pulled out after just 30 (25 minutes at 450 and 5 minutes after reducing the heat to 400), which is what I've included in the recipe below. This may just be due to my unpredictable Thai oven, but keep an eye on them the first time you make them. In any case, I imagine it is hard to go wrong – once they become golden and crisp on the outside, I see no way for them to be anything but delicious!