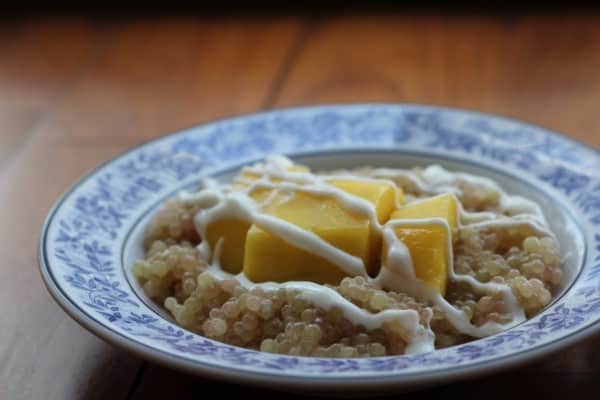 Bubble Tea. It's everywhere. You can find it in the Skytrain stations, busy street corners and every mall. Many Thai desserts feature elements that have a jello-like consistency, so I can see why it is so popular. What I can find on the web about the calorie count of bubble tea is mixed, but it is no surprise that it is not a terribly light or healthy treat. Much of this can be attributed to the fact that tapioca balls are often soaked in simple syrup or another sugar-rich liquid.
I bought a bag of tiny tapioca pearls (below) in shades of pretty green and pink and wanted to try making a lighter version of the deserts I've seen and tried. The first step is to boil a cup of the pearls in plain water. If you stir them frequently they won't stick and will come out shiny and smooth.
A word of warning – after these were finished cooking, I poured them into a strainer and discovered starchy, sticky pearl gel everywhere. It took a double dose of scrubbing to get everything clean. Tapioca is made of starch, so I'd recommend keeping it confined to the fewest number of dishes possible (particularly for those of you who, like me, do not have a dishwasher).
The result of this experiment was not overly sweet and brought out the flavor of the mango. The texture is not for everyone, but if you think you might enjoy the sensation of hundreds of smooth, rolly polly, mango-flavored treats on your tongue – this might be the dessert for you.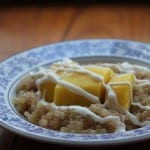 Print Recipe
Mango Tapioca Pearls
Ingredients
1

cup

small tapioca pearls

½

cup

light coconut milk

2

teaspoons

brown sugar

1

ripe mango, cut into 1-inch slices

(optional) plain or honey-flavored yogurt for drizzling
Instructions
Bring a medium pot of water to a boil. Add tapioca pearls and reduce heat to a simmer. Allow to simmer, stirring frequently until pearls are tender and transparent (25-30 minutes).

While tapioca is cooking, put half of the mango slices in a medium mixing bowl and mash with a fork until smooth. Add coconut milk and sugar and mix until combined.

Strain and rinse tapioca pearls with cold water. Add pearls to mango mixture and stir until pearls are evenly coated with liquid. Cover the bowl and allow to chill in the refrigerator for at least 30 minutes.

When serving, divide pearls between 4 bowls, top with slices of mango and drizzle a bit of yogurt over the top.