One of the greatest things about that long weekend at the beach is the sunny perspective that followed me home. I find it nearly impossible to spend three days soaking in the fresh air and sunshine without adopting a fresh, positive outlook on things. No matter how busy and overwhelmed I become, I know that somewhere out there is a beach with my name on it. (Okay, so it may not have my name on it, but it's a nice thought just the same.)
The relaxed state of the weekend carried me peacefully through a very hectic few days last week. A common Thai phrase, "mai pen rai," sort of sums up how I felt after we returned home. ("Mai pen rai" loosely translates as "let it go", "no big deal", "chill out".) So that's where my head was all last week and on through the weekend – blissfully "mai pen rai". I'm hoping I can stretch it out for at least another week.
Fortunately, nothing compliments a sunny outlook quite like a sunny breakfast. And let me tell you…these muffins, well they are about as sunny as a breakfast gets. I have been thinking about making lemon poppyseed muffins since my sweetheart sister-in-law brought me a bottle from the U.S. back in November. Baking with something that was generously packed and carried over through a 24-hour trip is daunting. There is so much pressure to make something good.
While looking around for the "best" lemon poppyseed muffin recipe, I stumbled across a great post that put two recipes up against together in a little head-to-head competition. As soon as I saw the winning muffins, I knew they had the potential to do justice to my well-traveled poppyseeds. And justice they did. These muffins were bright and lemony, with a perfect hint of sweetness, and a moist crumb that almost begged for a fork.
Oh, and don't miss out on that sweet, lemony glaze brushed on the top. It's truly the icing on the cake (er…muffin).
_______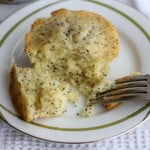 Print Recipe
Glazed Lemon Poppy Seed Muffins
Ingredients
1

and 1/2 cups all-purpose flour

1

and 1/2 tsp. baking powder

1/4

tsp.

baking soda

2

Tbsp.

poppy seeds

½

teaspoon

salt

8

Tbsp

(115 grams) butter, softened

1/2

cup

granulated sugar

1

tablespoon

lemon zest

1

large egg

3/4

cups

plain yogurt (low fat is fine)
For the glaze:
¼

cup

granulated sugar

¼

cup

lemon juice, freshly squeezed (from about 1 ½ to 2 medium lemons)
Instructions
Preheat oven to 375°F (190°C). Grease muffin tin or line with muffin tin liners. (These are so tender that they would be easier to handle if baked in muffin tin liners, although it's definitely not necessary.)

Mix flour, baking powder, baking soda, poppy seeds, and salt in medium bowl; set aside.

Beat butter and sugar with electric mixer on medium-high speed until light and fluffy, about 2 minutes. Add lemon zest to butter-sugar mixture. Add egg and beat well. With a wooden spoon, stir in half of dry ingredients, followed by one-third of yogurt. Stir in remaining dry ingredients in two batches, alternating with yogurt, until incorporated.

Scoop batter evenly in to prepared muffin tin cups. Bake until muffins are golden brown, 20 to 25 minutes. While muffins are baking, heat 1/4 cup granulated sugar and lemon juice in small saucepan until sugar dissolves and mixture forms light syrup, 3 to 4 minutes. Remove from heat and set aside.

When muffins are done baking, allow to cool in muffin tin for 5 minutes. Remove muffins from tin and place on a wire rack. Generously brush the top of each muffin with glaze. Serve immediately.
Notes
Adapted from The Tummy Train, original recipe from Cooks Illustrated
Note: I halved the original recipe with great success as the original recipe makes about 20 regular sized muffins. These were far too addictive for 20 of them to be sitting on the counter in our 2-person household. For original measurements click the link above.