Have I mentioned how much I love kaffir limes for their strange, bumpy exterior?  These are one of the delightful things that my life in Thailand has introduced me to.  And, in fact, kaffir lime leaves turn out to be useful and delicious.  The leaves pack a bright, citrusy punch.
Kaffir lime juice is another story – although you can use the zest from the peel, the juice is too bitter to cook with.  I'd been puzzling over new ways to use the leaves and the zest and got to thinking about limeade.  But, I have some bad news.  When I made "limeade" with kaffir lime leaves and zest, he result was not the tart, sweet combination that I wanted.  It came out as more of a citrus juice, and it was far too sweet to satisfy my limeade craving.
I could not admit defeat, particularly when I realized that I should jump on the bandwagon and make something green in honor of St. Patrick's Day.  (My Irish husband would not have it any other way.)
At the end of the day, I nixed the kaffir limes altogether and opted for the following recipe that used regular limes and came very close to the flavor that I remember from Kansas City's favorite purveyor of limeade.  Winstead's tops their limeade with a small scoop of lime sherbet and a cherry, both things that I highly recommend if you have them around.
Now, if only I could create my own perfectly crushed ice like the ice Winstead's uses to chill it….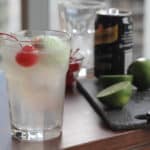 Print Recipe
Limeade
Ingredients
1/2

cup

(115 ml) water

1/2

cup

(110 g) granulated sugar

6

Tbsp.

fresh-squeezed lime juice (about 4 small limes)

3

cans of sparkling water

lime sherbet, for garnish (optional)

maraschino cherries, for garnish (optional)
Instructions
Heat the water and sugar over medium heat until sugar is completely dissolved. Remove from heat and allow to cool to room temperature. Add lime juice and stir to combine. Fill four glasses with ice and top each with 3/4 cup (170 ml) sparking water and 1/3 cup (80 ml) lime mixture. Top each glass with a small scoop of sherbet and a cherry.