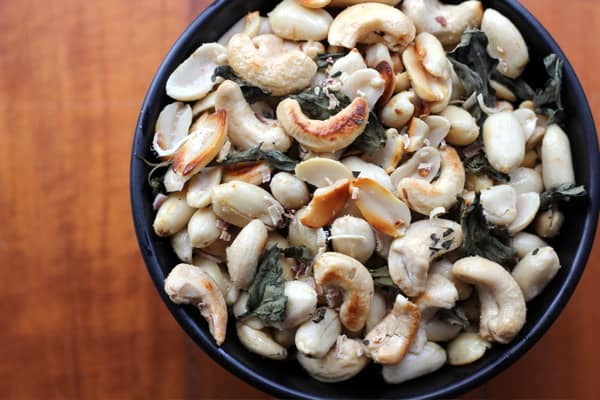 It's oficially Superbowl Sunday which means, well, pretty much nothing to us here in Bangkok. The reality is that, being 13 hours ahead of Dallas, our only option to see the game is to watch it at 6:30am Monday morning. Although there is an abundance of American-themed restaurants and bars that will be showing the game (here or here or here – sliders for breakfast?), when it comes down to it, eating 7 layer dip and drinking beers first thing in the morning is not high on my list. And really, without 7 layer dip and beers, much of the joy of the superbowl event is lost on me.
Therefore, on Superbowl "Monday" in Bangkok, Frank will be going to work, and I will be taking a class on making Panang Curry. I did, however, think we needed a Thai-inspired snack in honor of the annual American day of football-friendly junk food.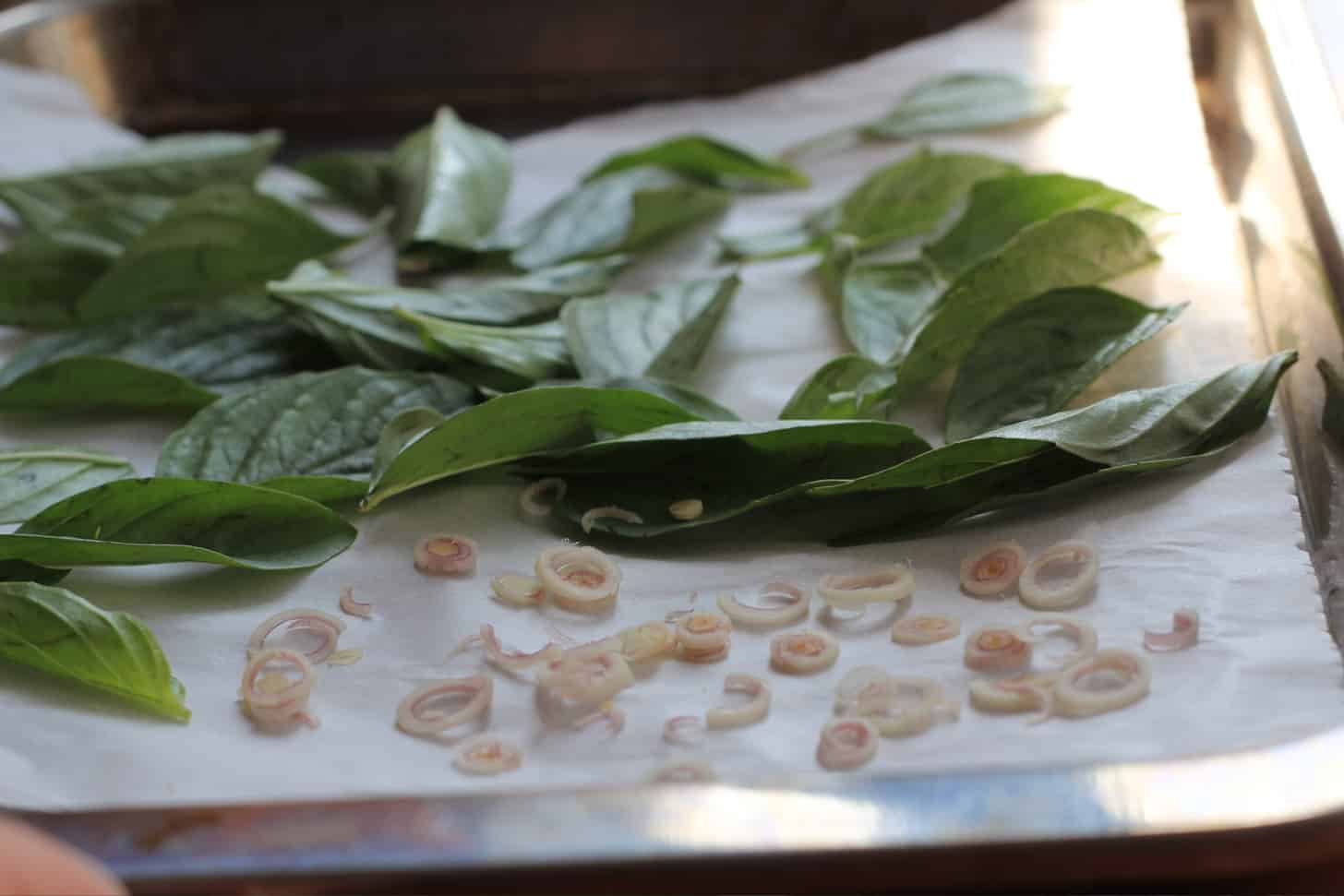 This snack mix was developed by yours truly through a highly specialized recipe research method…snacking while drinking cocktails in bars around Thailand. We were served this incredible combination in a restaurant across the street from our apartment in Bangkok and have since been served a small bowl of it at cocktail hour in other parts of the country. I imagine this mix was a natural development, since lemongrass and basil are both available in abundance in most kitchens in Thailand (including mine).
Although I suspect that some of the components may often be fried when I've had this out, I loved it just as much when made the way I describe below, with everything roasted or baked. The recipe uses a lot of basil and lemongrass (I had to do 3 rounds of the roasting in our miniature oven), but it is worth not skimping on them, as I feel certain you'll love having a bit of those flavors in every bite.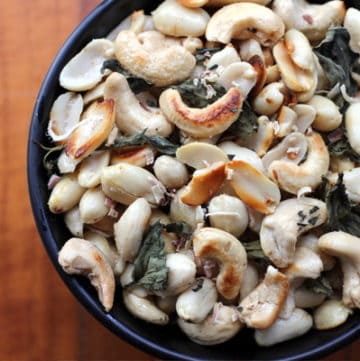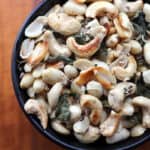 Print Recipe
Lemongrass Basil Snack Mix
Ingredients
8

stalks lemongrass, cut in half and top (green) half of stalk discarded

2

cups

lightly packed basil leaves (about 60 leaves)

1

Tbsp.

vegetable oil

1/4

tsp.

red pepper flakes (optional)

2

cups

raw cashews

1

cup

raw peanuts

2

tsp.

salt
Instructions
Preheat oven to 300 degrees.

Gently crush 1 of the lemongrass stalks with a rolling pin or pestle (from mortar and pestle) to break it open. Set aside.

Place the remaining 7 lemongrass stalks on a cutting board and cut off and discard the rounded end of each stalk. Remove the white, outer layer of the stalks and discard so that what remains is only the section of the stalk that is light purple in the center (see picture above). Thinly slice the lemongrass and break the pieces apart with your fingers. Spread the lemongrass pieces and basil leaves on a cookie sheet lined with parchment paper, insuring that the basil leaves do not overlap. Bake until basil is shriveled and crisp, 20-25 minutes, checking occasionally to insure that it does not burn. (If basil leaves are shriveled but are soft to the touch, they need to continue baking a few minutes longer.)

While the basil and lemongrass bake, heat oil over medium heat in a large pan. Add the crushed stalk of lemongrass and red pepper flakes to the oil, stirring until lemongrass is fragrant, about 1 minute. Add cashews and peanuts to the oil, tossing to coat. Continue cooking, stirring frequently, until the nuts become golden brown, about 8-10 minutes. Remove from heat and add salt, tossing to combine. Remove and discard lemongrass stalk.

When lemongrass and basil are crisp, remove from the oven and add to the nut mixture. Stir all of the ingredients together. Serve immediately or store in a cool place for up to 1 week.

Note: I recommend storing this mix in the refrigerator if you will not use it within 24 hours. Because the oil is flavored with fresh ingredients it will be prone to spoil if left at room temperature for more than a day.