Lemongrass Tea
Published Feb 01, 2011•Updated Nov 08, 2023
Having always been somewhere cold in February, there is inevitably a point in its 28 (29) days when I feel that winter must be done taking its icy grouchiness out on me. By February the novelty of the snow will have worn off, and I'll think increasingly of tulips, barbecues and warm days.
I am so grateful to be free of the cold this year, but I figure it still couldn't hurt to add a little pizzaz to this typically chilly month. (Might as well be certain that I have sent any sign of the February blues running for the hills.) And that is why I am deeming February to be the Month of Thai Goodness here at Inquiring Chef. A month of Thai-inspired recipes are coming out of this very kitchen! If you are snowed in somewhere, I hope that these Thai treats will bring you a little warmth (and spice).

The first thing I planned to do when we moved to Bangkok in November was enroll in Thai cooking classes. And enroll I did…immediately…and haven't been able to stop. I have been thrilled with the number of options, the range in price and the variety that English-language cooking schools in Bangkok offer. I have learned so much, but have only begun to scratch the surface of the techniques and ideas behind this vibrant cuisine. If you happen to be passing through Bangkok, I highly recommend taking a cooking class. Any of the classes I've written about are worth the money and time, but there are many more that I haven't yet tried. (In addition to the class, you get to take all of the recipes home. Of course, I won't be re-posting any of those recipes here – you'll have to visit the schools to see for yourself).
In honor of this Month of Thai Goodness, I am going to make Thai-inspired recipes all throughout February. I will share with you the best of what I learn, doing my best to maintain the authenticity of these lovely dishes. As you know, I am not a professional chef, nor am I Thai…so you'll have to forgive me when these clear limitations creep in. In the process of learning about Thai cooking I have been devouring Thai cookbooks, happily embraced being the overly-enthusiastic question-asker in class, and have done lots of eating out (after all, I have fantastic Thai food everywhere I look these days). All the while, my patient husband has been happily indulging lengthy discussions about the flavors and ingredients of everything we eat and giving me invaluable feedback on the dishes I make at home. I cannot thank him enough his support and, of course, for his shared love of food.
And now, how about a glass of tea?! I thought I'd kick off the month in the same way that many Thai cooking classes begin a lesson. With a glass of lemongrass tea. Lemongrass tea is sunshine in a glass – lemony, earthy and sweet. Its flavor will forever make me think of Thailand.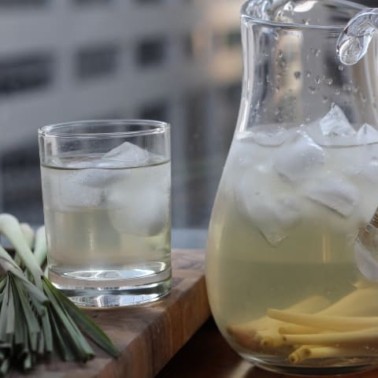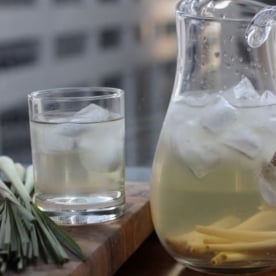 Ingredients
6

stalks lemongrass

5

cups

water

2

Tbsp.

sugar (additional sugar can be added, to taste)
Instructions
Cut the lemongrass stalks in half, discarding the green tops. Smash the lemongrass with a rolling pin (or pestle from mortar and pestle) just until the bulbs break open. Combine the smashed lemongrass and water in a small pot over high heat. Bring to a boil and add sugar. Reduce heat and allow to simmer for 10 minutes. Remove from heat and allow tea to cool to room temperature. Serve over ice.
Nutrition information is automatically calculated, so should only be used as an approximation.