Good morning and happy Tuesday! I am back at work this morning, but I bet some of you are still out enjoying Halloween festivities! We debated whether or not we could carve this kabocha squash into a jack-o-lantern, but decided we would be better off eating it instead…while watching Sleepy Hollow.
It took nearly a year of living in Thailand and seeing these earthy, round squash at markets before I finally decided to pick one up and find a way to use it. As it turns out, although we are lacking in many of the types of squash I knew from home, we are blessed with their tasty, and versatile cousin – kabocha.
Once I figured out what these little guys were called, I started googling up a storm, and discovered an endless variety of recipes calling for kabocha squash. Jackpot! Although I am so partial to butternut squash risotto that I was hesitant to try this alternate version, I think that this Kabocha Risotto may actually be my new go-to. Particularly when it includes sage and crispy pancetta.
One of the surprisingly wonderful things about this recipe is its use of Sherry wine vinegar. Something about the slight punch of the vinegar complimented the other rich and savory ingredients so well that I daresay this was one of the best risottos I have ever had. (And I am the daughter of a risotto aficionado – my dad can whip up a batch of risotto with his eyes closed!)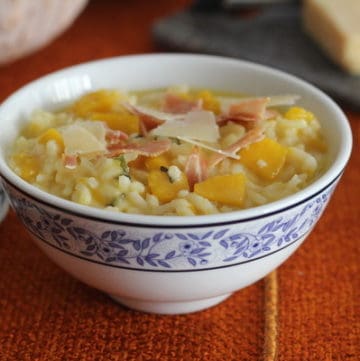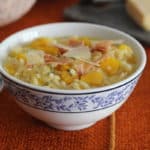 Print Recipe
Squash Risotto with Sage and Pancetta
Ingredients
4

cups

good-quality canned chicken broth

4

tablespoons

olive oil, divided

1 2 ½- to 3-

pound

kabocha or butternut squash, peeled, seeded, cut into ½-inch cubes (about 6 generous cups)

Sea salt

1

tablespoon

finely chopped fresh sage

1

tablespoon

Sherry wine vinegar (I used white wine vinegar)

2

onions, chopped (about 3 cups)

1 ½

cups

arborio rice or medium-grain rice

Shaved parmesan cheese

4

ounces

thinly sliced pancetta, cooked until crisp and broken into small pieces
Instructions
Warm liquids. On a back burner, heat 31⁄2 cups water and chicken broth in large saucepan. Cover and keep warm over low heat.

Cook squash. Heat 2 tablespoons olive oil in heavy large nonstick skillet over high heat. Add squash; sprinkle with sea salt and sauté until beginning to brown, stirring often, about 5 minutes. Reduce heat to medium, add chopped sage, and cook until just tender, stirring often, about 8 minutes. Sprinkle Sherry wine vinegar over; toss to incorporate. Transfer squash to plate, and return skillet to burner.

Prepare risotto. Heat remaining 2 tablespoons olive oil in same skillet over medium heat. Add onions and sauté until soft and slightly golden, about 6 minutes. Add arborio rice to pan, stirring until rice begins to turn translucent, about 4 minutes. Add 1 cup warm broth mixture and stir until nearly all liquid is absorbed, about 5 minutes. Continue adding broth mixture 1 cup at a time when the liquid in the pan is nearly all absorbed, stirring frequently. After 15 minutes, add the squash, stirring vigorously so that the squash begins to soften. Continue cooking and stirring the risotto, adding broth mixture about a cup at a time until the rice is tender but still firm to bite and the risotto is creamy. (In my case, it took about 30 minutes total for the rice to reach the perfect consistency. I used all of the liquid and the squash became soft and began to break down.)

Transfer squash risotto to large wide serving bowl. Top with parmesan and pancetta. Serve immediately.
Notes
Recipe adapted from Bon Appetit, February 2011. The original recipe calls for using Sherry or Marsala as the liquid for the risotto, but I opted to flavor mine entirely with stock, and loved the creamy, rich result. This is easily adapted for vegetarian preferences by using vegetable broth and using Bon Appetit's recommendation to top the finished risotto with toasted pine nuts instead of crispy pancetta.