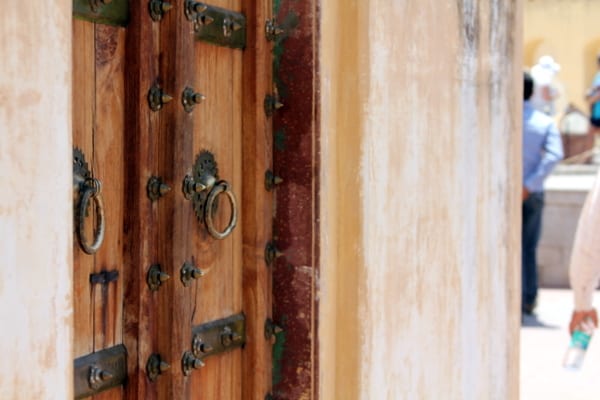 I'm back with just a few more pictures and stories from our trip to India. It's Sunday morning here in Bangkok, and we've been home nearly a week. More Sunday nights than not, Frank and I order Indian food for dinner. Will we be up for our usual Indian order tonight? The jury is still out.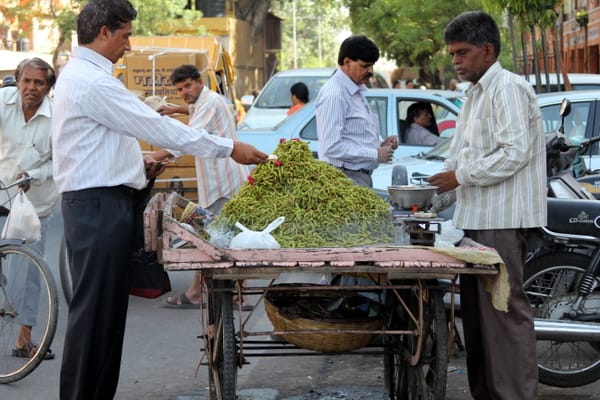 On our trip to India, the best guide we had was a man named Farooq who took us around Jaipur. I imagine that his excellent guiding was responsible for making Jaipur one of the places we visited that I would return to in a heartbeat.
Jaipur was painted pink, which I loved straight away.
It is also home to a spectacular castle that you could reach by way of elephant. Touristy, but nonetheless fun.
Here are the elephants waiting for riders in the elephant "parking lot".
Jaipur, being in Rajasthan, has a desert climate. And there were moments there that it definitely looked like an appropriate spot for camels to be crossing in the sand. Come to think of it, we did see camels. Mostly they were pulling carts right through the middle of the city.
And it was hot there...very hot. But it was a "dry heat", which we convinced ourselves was much more pleasant than the humid heat of Bangkok.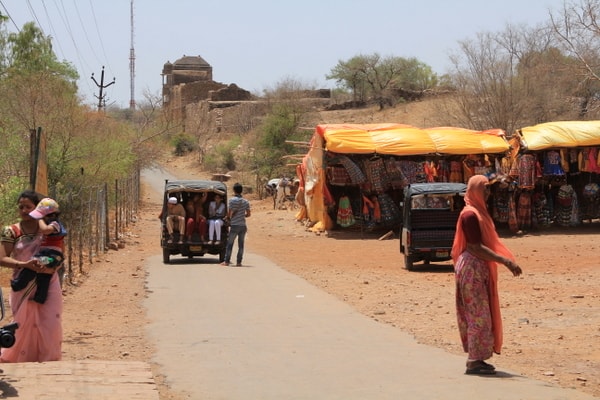 Jaipur was also home to butter naan.
Wait, scratch that.
We ate butter naan everywhere.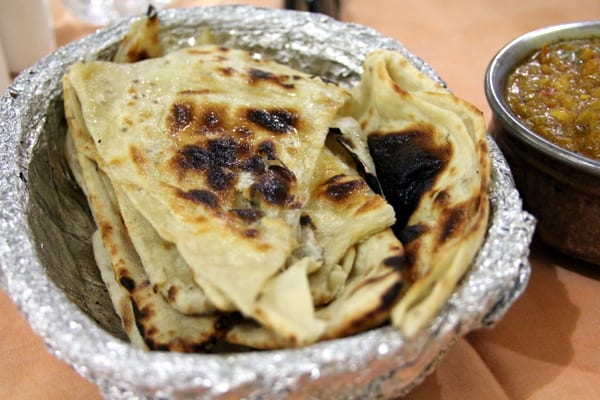 On our first morning in Jaipur, I asked Farooq if we could sample some local snacks, and he was happy to make it happen. He thought about it all morning before coming up with a suggestion that rocked my food-loving world.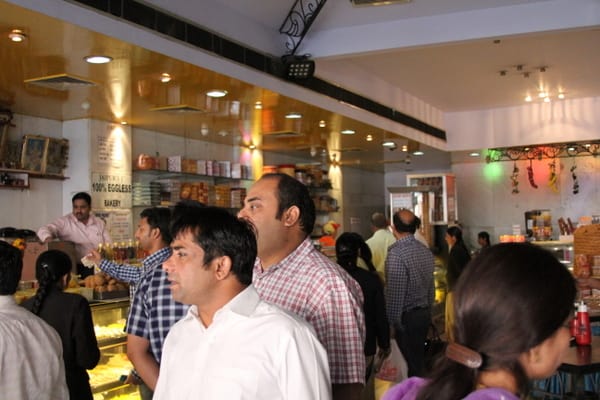 He took us to a sweets and snacks shop called TMB LMB (Lakshmi Mishthan Bhandar - thanks for the correction, Ashima!) that, though we got different reports on its inception date (our travel book said nothing about the 1727 date below and placed it in the early 1900s), it's certainly been around for a long long time.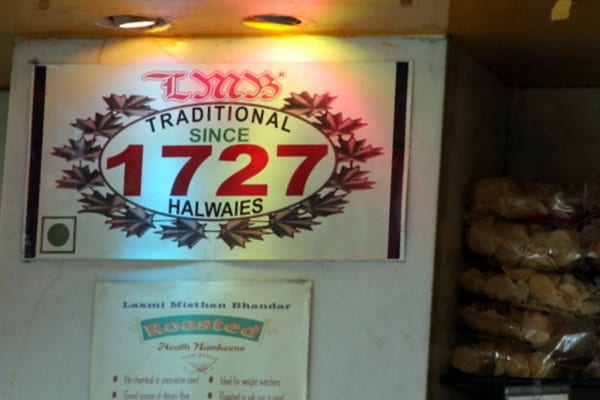 Once Farooq knew that we weren't messing around and wanted to try everything he recommended, he engaged in an in-depth discussion with the saleswoman to get us a deal on a sampling of impressive proportions. I could have stood at that tall round table for hours, watching ladies in brightly colored sarees dig into platters of sweets I never knew existed. It was delightful.
Particularly fun were the "party samosas", which Frank and I joked about all week and finally had at our resort in Darjeeling. As far as I can tell, they're just regular samosas, miniaturized...for parties.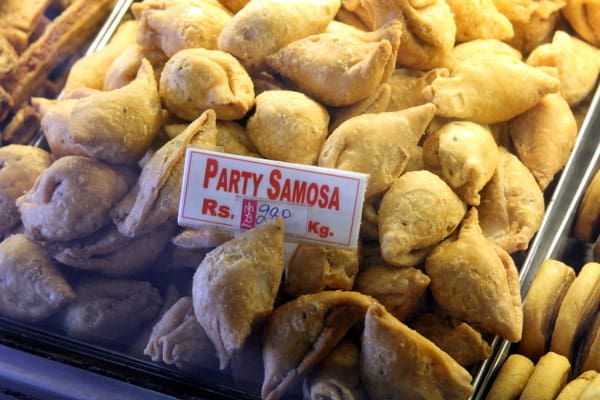 We took our sample of sweets and snacks back to the hotel, and I dug in later that night while drinking a gin and tonic under the twinkling white lights of the courtyard at our hotel.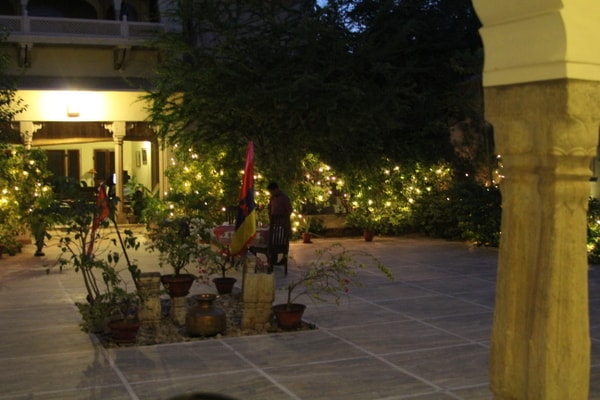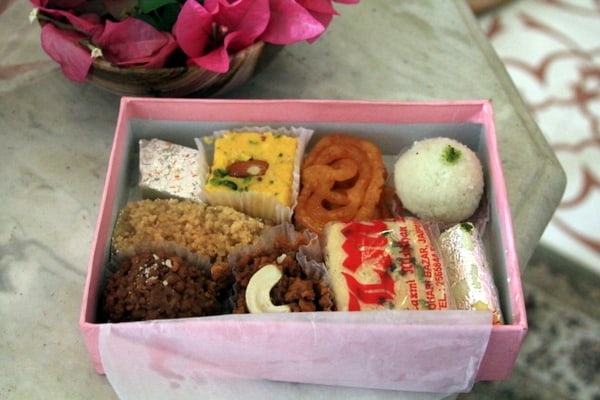 In Jaipur, we spent two nights at the charming Dera Mandawa Hotel. The "hotel" is actually a home that has been owned by a prestigious local family for generations. When we arrived we were greeted by the wife of the owner and her daughter-in-law who live on the property and have converted a few beautiful spaces into eco-friendly suites. Although it was right in the heart of the city, the walled garden was a quiet oasis.
We really did feel as if we were guests rather than customers. (Guests with a whole team of kind staff ready to bring a tray of tea by first thing in the morning or pack us a lunch for the road.)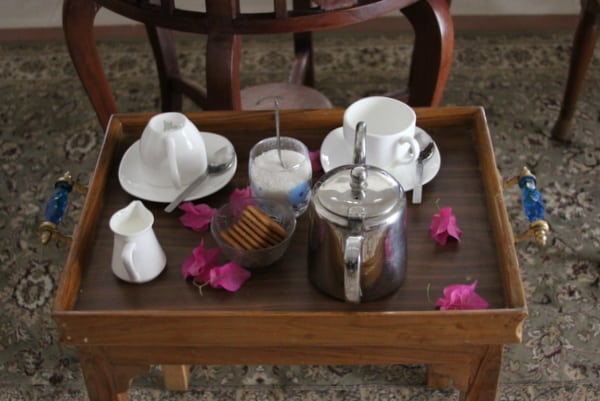 Farooq, our guide, also introduced me to bangles in Jaipur. Oh the bangles. Can't you see why this shop drew me in from the start?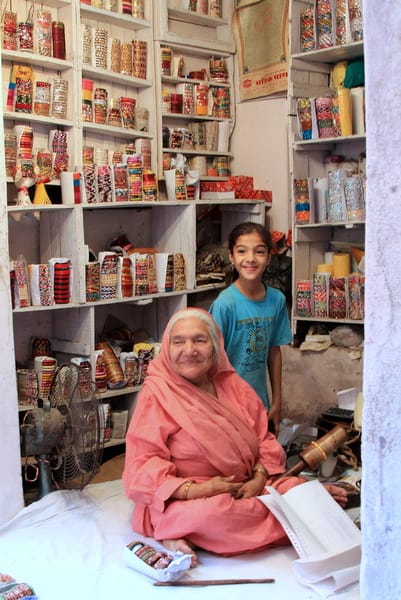 Finally, there were the trains. In the end, I loved that we decided to ride trains in India. Although I'm certainly one to opt for a bed with four legs firmly rooted on the ground, traveling India by train shows you a side of the country that you wouldn't otherwise see.
We rode one overnight train from Dehli to Udaipur, and the Darjeeling Mail overnight train from Kolkata to the foothills of the Himalayas.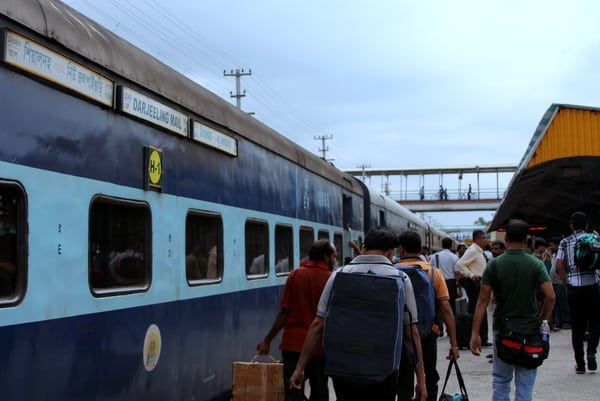 Each morning on the train, we looked out and watched the countryside roll past. And at every crossing, we saw local people gathering, waiting for the train to pass.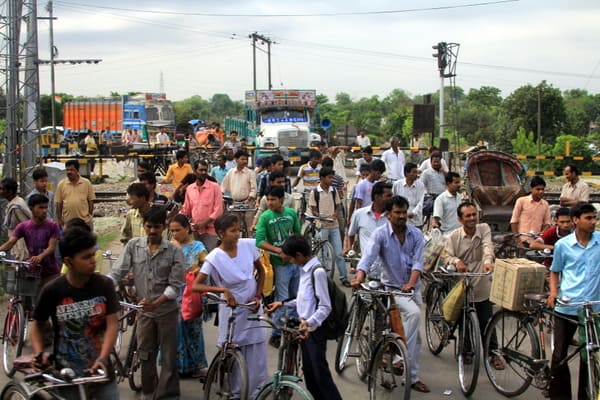 From the masses that pressed themselves into the chaotic 3rd class cars, to the melodic sound of a man selling tea in our 1st class sleeper ("ChaiChaiChaiChaiChaiChai"), it was something I'll never forget.
The train stations felt chaotic and overwhelming, but like all of India, it was a vibrant chaos.
From the train, I got a sense of how diverse this country is, and how much more beauty there still is to discover when we next return.