Until this week, when I though of homemade ice cream, I thought of hot summer evenings by my grandparents' swimming pool. Surrounded by cousins, I would watch my grandparents as they pulled out a wooden barrel with a metal handle and filled it with ice cream fixins. We would take turns cranking the creamy concoction until it became cold, melty ice cream. (Best served on top of my mother's chocolate cake, but that's a post for another day.)
I loved the hand-cranking then, but it's not exactly the type of thing that I find my grown-up self wanting to undertake on my own.
Fortunately, for a mere $50, I bought a machine that does all the cranking by itself and sits, well-behaved, on the kitchen counter while it churns.
The only downside to having this little American ice cream machine (with its American voltage) in my apartment in Bangkok is that operating it requires the following electrical monstrosity. I feel it is worth adding that, despite the help of this machine, I managed to blow several fuses in the house while churning the ice cream, which is why it is not quite all the way frozen in the picture you see at the top of the post. (Sigh.)
Anyways, after several weeks of anticipation, today I fired up the ice cream maker, plugged in all of these crazy cords, and crossed my fingers.
For my first ice cream undertaking, I went straight to the top.
Jeni's Splendid Ice Creams at Home has been sitting on my kitchen counter, taunting me since it arrived weeks ago.
In case you've missed the buzz around this book, let me tell you that the reviews have been excellent, and the cookbook itself is delightfully easy to use.
Years ago my friend Allison took me to try Jeni's ice cream in the Columbus, OH downtown market. We hummed and hawed over which of the creative flavors to choose, and oohed and ahed over our cones once we tasted them.
We stopped by again for a few more scoops on our way out of town. It became a trip-to-Columbus ritual.
Jeni's ice cream is unforgettable and, thanks to my friend Allison, it has stayed on my radar from the point when they started offering shipping around the country (in dry-ice packed boxes), to this summer's debut of the cookbook in which she shares her favorite recipes and a method for recreating them at home.
Although it was hard to know where to start with recipes like Roasted Strawberry and Buttermilk Ice Cream or Watermelon and Lemonade Sorbet, there was one Jeni's flavor I always remember the most vividly. Salty Caramel. As it turns out, the Salty Caramel Ice Cream makes up 20% of Jeni's sales, and for good reason.
The creamy, tangy caramel swirled into a smooth syrupy texture and combined with sugar and a touch of salt…oh my…I need to go get myself another scoop.
Allison – thanks for the tip. Next time I see you, we'll have to make this. You can even lick the bowl.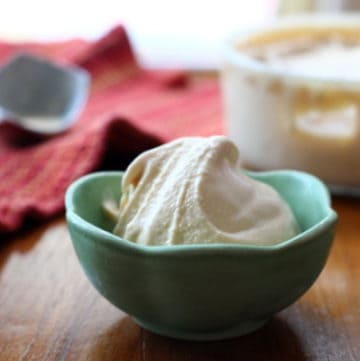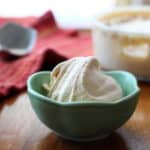 Print Recipe
Salty Caramel Ice Cream
Servings:
6
(makes 1 quart)
Ingredients
2

cups

whole milk

1

tablespoon

plus 1 teaspoon cornstarch

1 ½

ounces

(3 tablespoons) cream cheese, softened

½

teaspoon

fine sea salt

1 ¼

cups

heavy cream

2

tablespoons

light corn syrup

⅔

cup

sugar
Instructions
Danger! This is the dry-burn technique. I don't add water to the sugar before putting it on the heat, as some chefs do. Caramelizing sugar dry means it goes faster, but you have to watch it more closely and be ready with your cream. Here is an overview of what you are going to do:

Stand over the pan of sugar with a heatproof spatula ready, but do not touch the sugar until there is a full layer of melted and browning liquid sugar on the bottom with a smaller layer of unmelted white sugar on the top. When the edges of the melted sugar begin to darken, use the spatula to bring them into the center to help melt the unmelted sugar. Continue stirring and pushing the sugar around until it is all melted and evenly amber in color--like an old penny. When little bubbles begin to explode with dark smoke, give the sugar another moment and then remove from the heat. Immediately but slowly pour about ¼ cup of the cream and corn syrup mixture into the burning-hot sugar. Be careful! It will pop and spit! Stir until it is incorporated, then add a bit more cream and stir, then continue until it is all in.

Mix about 2 tablespoons of the milk with the cornstarch in a small bowl to make a smooth slurry.

Whisk the cream cheese and salt in a medium bowl until smooth.

Mix the cream with the corn syrup in a measuring cup with a spout.

Fill a large bowl with ice and water.

Heat the sugar in a 4-quart saucepan over medium heat until it is melted and golden amber in color (see note above). Remove from the heat and, stirring constantly, slowly add a bit of the cream and corn syrup mixture to the caramel: It will fizzle, pop, and spurt. Stir until well combined, then add a little more and stir. Keep adding the cream a little at a time until all of it is incorporated.

Return the pan to medium-high heat and add the milk. Bring to a rolling boil and boil for 4 minutes. Remove from the heat and gradually whisk in the cornstarch slurry.

Bring back to a boil over medium-high and cook, stirring with a heatproof spatula, until slightly thickened, about 1 minute. Remove from the heat. If any caramel flecks remain, pour the mixture through a sieve.

Gradually whisk the hot milk mixture into the cream cheese until smooth. Pour the mixture into a 1-gallon Ziploc freezer bag and submerge the sealed bag in the ice bath. Let stand, adding more ice as necessary, until cold, about 30 minutes.

Pour into frozen canister and spin until thick and creamy.

Pack the ice cream into a storage container, press a sheet of parchment directly against the surface, and seal with an airtight lid.

Freeze in the coldest part of your freezer until firm, at least 4 hours.