I thought I owed my husband a dinner that fell firmly on the side of things that he loves. In true Irish-form, most of his favorites include potatoes. (In this particular recipe, bacon and butter are added bonuses.) In truth, he's always oh-so-good to me, but over the past couple weeks I realized that he has been extra tolerant, allowing me to indulge in unlimited control of the television in order to observe this event that took precedent over all other "actual" news in the world and indulging me in endless complaining about my humidity-crazed hair. (The second matter was finally resolved, as I gave into spending several hours with my head coated in Brazilian Keratin goop while allowing stylists to flat-iron it into submission).
I believe that after one bite of these super-easy, loaded smashed potatoes, he forgot all about the royal wedding and the hair-drama that comes with living with this girl.
Now that I've distracted him with buttery, cheesy, bacon-topped potatoes, I am thinking I may be able to nab the remote and sneak in a bit of this…and, if I'm extra sneaky, maybe even a bit of this.
Frank has already requested that we have this dish for a second time in one week. Come to think of it, I may need to run out and get more potatoes….
Happy Tuesday friends.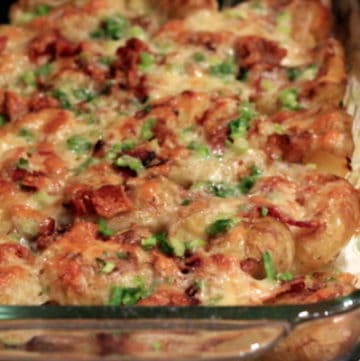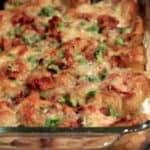 Print Recipe
Smashed Loaded Potatoes
Ingredients
1

pound

(450g) small, unpeeled Yukon Gold potatoes

4

strips bacon

2

Tbsp.

unsalted butter, softened

salt and pepper

1

cup

shredded cheddar cheese

2

Tbsp.

finely sliced green onions (about 4-5 green onions, green and white parts)

sour cream, for topping
Instructions
Preheat oven to 350 degrees. Scrub potatoes under cool water and set aside to dry. Cook bacon strips over medium heat in a large pan until crisp. Set on paper towels to cool. When cool, crumble bacon into small pieces.

Bring a large pot of water to a boil. Add potatoes and cook until just tender, about 12-15 minutes, depending on size. (Alternatively, pierce potatoes with a fork and microwave on high for about 8 minutes.)

Spread 1 Tbsp. butter on the bottom of a small baking dish that will hold all of the potatoes while allowing space between them (for me, this was a 9x13 inch baking dish). While the potatoes are still warm, place them in the baking dish and gently smash them into the bottom of the dish with the palm of your hand. If the potatoes are too hot to handle, place paper towels or a dish towel between your palm and the potatoes. Dot the top of the potatoes with the remaining butter and sprinkle with salt and pepper. Bake at 350 degrees until the tops of the potatoes become crisp and deep golden brown, about 45 minutes.

Sprinkle the top of the potatoes with the crumbled bacon, cheese and green onion. Return to the oven and bake until the cheese is completely melted, about 5 minutes more. Serve immediately, with sour cream on the side.