This time of year in Thailand it's supposed to be hot. Really hot. We had an uncharacteristic break from the heat in the past few weeks, but now it has arrived in all its sticky, humid glory. Just in time for this week's Songkran celebrations when the heat is accompanied by people spraying strangers with water. Despite the heat outside, I still found myself craving soup for lunch this week. Corn chowder seemed like the perfect fit – tastes like summer, but brings back nice winter memories for me.
A few years ago I was in Santa Fe, New Mexico in December. If you have not been to Santa Fe in December, I highly recommend it. It is cold, and the air is brisk and clear. Everywhere you go there is a roaring fire – in some places you can even sit outside and sip a warm drink while warming your hands over an outdoor fireplace. The air spells like pinon and quaint paper lanterns line the roofs of all of the buildings. It is a winter holiday wonderland. When I was there a few years ago it snowed all week, and I was tempted to hibernate there for the winter. (See what a few months in Thailand does to a Midwestern girl…I have daydreams about snow.)
Of all the incredible meals I had in Santa Fe, my favorite was a simple bowl of corn chowder I had in a little café while watching the snow come down outside. The beauty of corn chowder, for me, is that it is a perfect burst of sunshine when it is not corn season. That's because I (again, likely owing to the Midwestern roots) don't like to mess with fresh corn on the cob. I am corn purist. When it is in season, I tend to like it– straight off the cob, slathered with butter and salt.
For me, fresh corn is too good for soup, which means that this chowder is a great way to use canned or frozen corn any time of year. It is utterly simple and spiced with cumin and chili powder, just the way I remember it from Santa Fe. Although the term "chowder" might be questioned in the case of this particular dish as it does not include potatoes or shellfish or any of the other elements that are often associated with a classic chowder. However, calling this rich, thick, slightly creamy dish a soup doesn't really do it justice.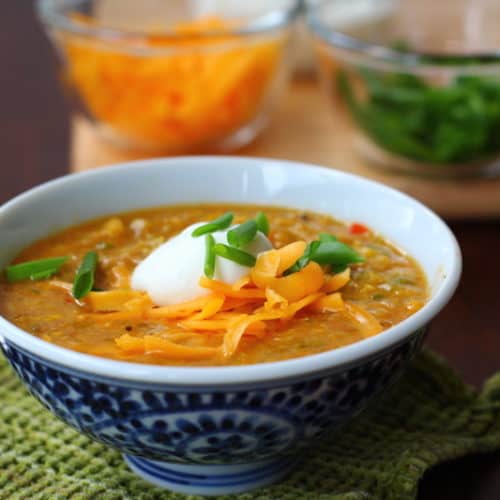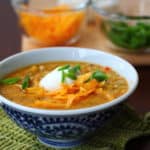 Print Recipe
Sante Fe Corn Chowder
Ingredients
2

Tbsp.

butter

1

cup

finely chopped bell peppers, about 1 large pepper (I used a mix of red, yellow and green, but any one color will do)

1

small onion, finely chopped

2

Tbsp.

flour whisked into 1/4 cup of water

1

and 1/2 cups low-sodium chicken or vegetable stock

2

tsp.

cumin

2

tsp.

chili powder

2

cans (15.25 oz) canned sweet corn, drained (or 3 cups frozen, thawed)

1/2

cup

half and half

1

cup

sharp cheddar cheese, shredded

salt and pepper, to taste

for garnish:

1/2

cup

sharp cheddar cheese

1/2

cup

sour cream

3

Tbsp.

green onions, sliced into 1/2 inch lengths
Instructions
Melt butter over medium heat in a medium saucepan. Add bell peppers and onion and saute gently until they begin to soften and onion begins to turn transparent, about 3 minutes. Add flour/water mixture and stock, stirring to combine. Increase heat to medium-high and cook until liquids begin to boil gently. Add cumin, chili powder, corn, and half and half. Cook until soup again comes to a low boil. Using an immersion blender, puree the chowder slightly, just until no large pieces remain. (The goal is to break down large pieces of corn and pepper, but not to reduce it to a perfectly smooth puree.) Remove immersion blender and add cheese, stirring to combine. Continue heating until cheese melts, about 5 minutes. Add salt and pepper, to taste. Serve immediately, topped with extra cheese, sour cream and green onions.
Notes
If you are serving this all in one sitting, add the cheese to the chowder as described below. However, if you plan to refrigerate or freeze any of the chowder, I recommend leaving the cheese out and stirring it into individual portions right before serving them. I find that chowder takes on a grainy texture if chilled with the cheese already mixed in.