Honey-Roasted Carrots with Poppy Seeds
Published Aug 24, 2012•Updated Apr 19, 2022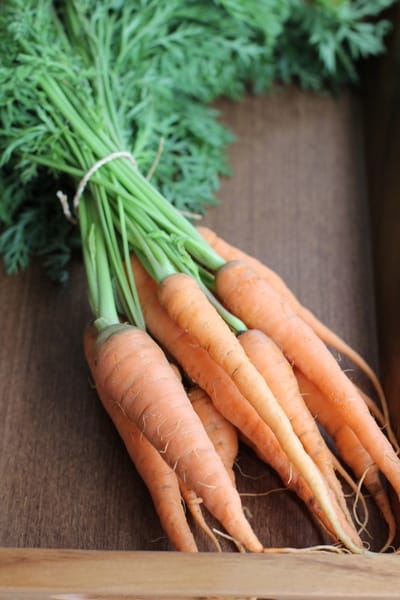 Because I am a 93-year-old woman, trapped in a 31-year-old body, I have yet to meet a bedtime that is too early for me. If it weren't for so loving the company of a man who thrives on night far more than morning, I'd probably tuck myself into bed with a good book around 8 every night and no one would be the wiser.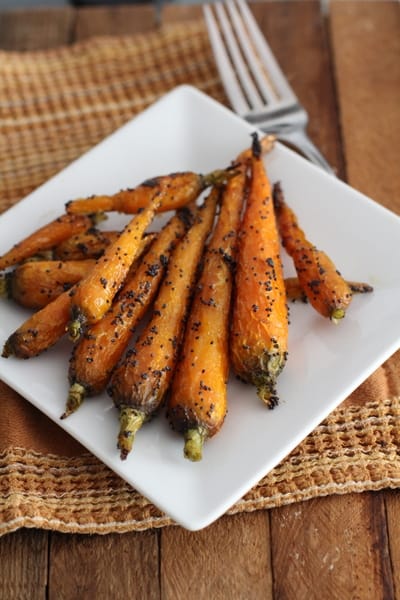 Which is why it was shocking that dinner out with friends last Friday turned into 3:30am around Anne and Ben's kitchen counter, while Natalie laced big batches of popcorn with ground chili and herbs. 3:30. I don't think my sleepy 93-year-old self has seen that hour in years. But it was so fun that I didn't even notice I'd overshot my preferred bedtime by 7 hours. Woops.
Of course, thanks to my preferred early-to-bed status, no amount of late night red-wine drinking could convince my brain to sleep in. At 8:30am on Saturday, bleary-eyed though I may have been, I was up and ready to crack into our CSA delivery right when the doorbell rang.
Here was our tasty haul this week (clockwise from the left).
2 guavas, the biggest avocado I've ever seen, 10 free-range eggs, kabocha squash (which I roasted in slices with honey and soy sauce), lemongrass (which I'm planning for lemongrass tea), cilantro, green onions, khae flowers (had to look them up, and still not sure what to do with them), thumb-sized sweet green peppers, and Daikon radish (which will be pickled and put atop some sort of banh mi next week).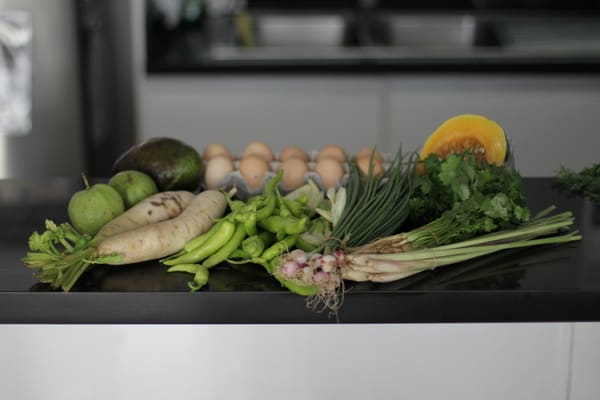 But that's not all! There was also an enormous pile of organic greens, including spinach (which went into that delicious Tortellini soup, and those beautiful carrots that, even at 9 in the morning on a Saturday, went promptly into the oven for honey-roasted carrots with poppy seeds.
The carrot dish was inspired by our tasty dinner last week at Quince.
The crunch of poppy seeds over caramelized carrots is an indescribably great combination.
Though my small carrots roasted quite evenly, whole at 350 degrees, if you use larger carrots, it would be a good idea to cut them down into smaller pieces.
This is a show-stopping, yet very simple, side dish.
We get a weekly delivery of fruits and vegetables from Bangkok's Raitong Organics.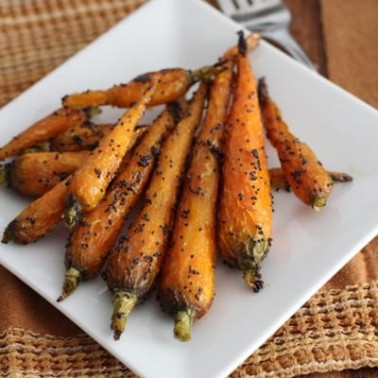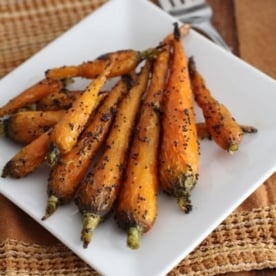 Honey Roasted Carrots with Poppy Seeds
Ingredients
1

Tbsp.

olive oil

1

Tbsp.

honey

2

tsp.

poppy seeds

1

tsp.

coarse salt

1

lb.

carrots (if the carrots are large, cut them into even slices)
Instructions
Preheat the oven to 350 degrees F.

Whisk together the olive oil, honey, poppy seeds, and salt. Toss the carrots in the mixture until evenly coated. Roast in an 8x8 glass baking dish, stirring every 15 minutes to prevent burning, until the carrots are tender and golden, 45 minutes to an hour.
Nutrition information is automatically calculated, so should only be used as an approximation.