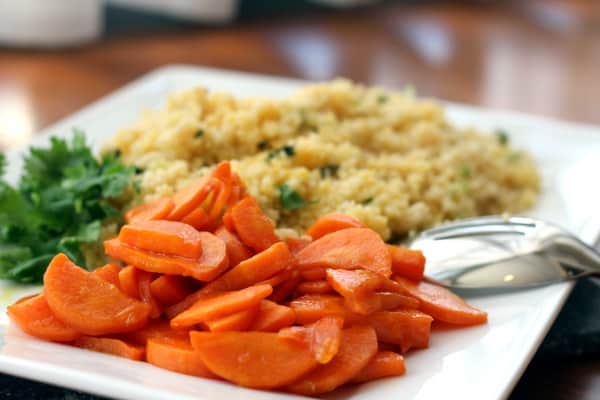 A simple vegetable recipe is not terribly flashy, but it is one of the most valuable things to have around. A couple years ago, I started making world's greatest broccoli, and even after serving it to friends on repeat visits, it still gets requests. The broccoli is really easy and tasty, which is why I was so excited to add this super simple recipe for sautéed carrots to my vegetable side dish arsenal.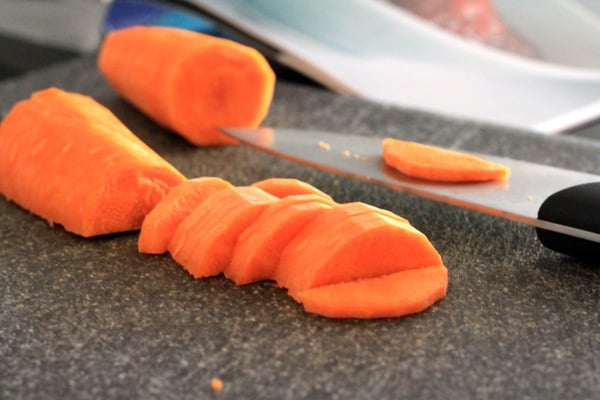 Sautéed carrots made in this way are the first step in my annual Thanksgiving sweet potato puree, but let me tell you – as good as the sweet potatoes are, I dare you to resist these sautéed carrots that precede them.
The greatest things about this little recipe is that it requires only a few ingredients. The flavor of the ginger is subtle, so it won't overwhelm the final dish in any way. However, you can absolutely leave it out if you prefer, or add some more to give it an even more gingery boost. Honey and ginger are always so nice together, and when added to carrots to produce a light and slightly buttery glaze…dreamy.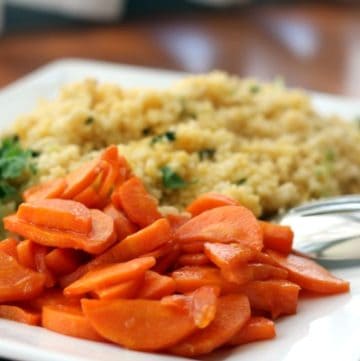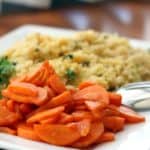 Print Recipe
Honey Ginger Glazed Carrots
Ingredients
1

Tbsp.

butter, unsalted

½

tsp.

freshly grated ginger

2

cups

carrots, cut in half lengthwise and sliced in ¼ inch pieces

2

tsp.

honey

½

tsp.

salt (to taste)
Instructions
Melt butter in a large skillet over medium heat. Add ginger and stir until becomes fragrant. Add carrots to pan and stir to evenly coat in butter. Reduce heat to medium-low and continue cooking, stirring occasionally, until carrots begin to sizzle, about 15 minutes.

Add honey and salt and stir to evenly coat carrots. Continue cooking, reducing heat if carrots begin to brown on the side touching the bottom of the pan. Continue cooking until carrots are tender and golden, about 15 minutes more. Taste and adjust seasoning, adding additional salt if preferred. Serve warm.