Frank and I got married in June 2010 and moved to Bangkok the following November. As a result, our first holidays as a married couple were celebrated far away from our families and friends. Being so far away made it all the more important that we create some new traditions while maintaining all of those that are special to us and our families.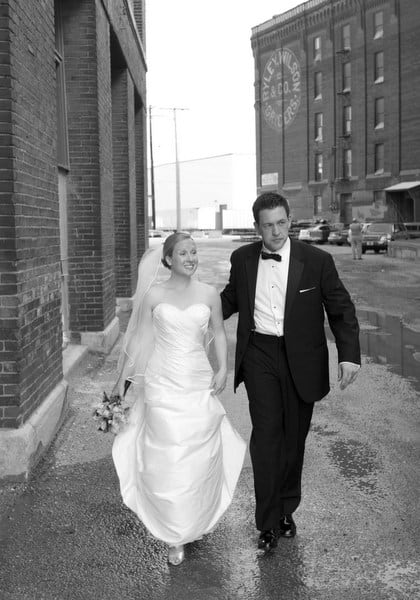 Living in Thailand has made this a fun challenge. We try to weave the Thai holidays (what we know of them) into our American celebrations.
2010
Arriving in Bangkok only a week before Thanksgiving in November 2010, we were distinctly disoriented. We had left the golden leaves and crisp, cool weather in Washington, DC to be greeted by downtown Bangkok in all its steamy, humid glory. We moved into a furnished 2-bedroom apartment, but had only the bags we had carried with us on the plane. Cooking was out of the question (we had neither a roasting pan or any hope of finding a turkey), so we had Thanksgiving brunch at the Sheraton hotel. I remember very little of our first Thanksgiving in Bangkok, but the food was so darn good that the next year we went back to the Sheraton for Thanksgiving and even brought friends! Frank and I did follow up that first Thanksgiving with a Thai cooking class. Chicken satay was not an unwelcome alternative to roast turkey.
Christmas is by far the hardest time to be away from family. Frank and I both love the traditions leading up to Christmas. We love the tree and the food, the winter weather, and the chance to hang out with the people we love.
By Christmas 2010 we had received a small shipment of our belongings that we sent over by plane. In that shipment, we had included Christmas decorations and a (somewhat scrappy) fake tree. We made sugar cookies and painted ornaments of flour-water dough thanks to a great care package from Frank's mom. Christmas was quiet, but special, and we made our own little feast for after Christmas Eve mass, complete with two kinds of pies.
I'm not much of a New Year's girl, preferring to stay at home with a glass of bubbly and a movie than to ring it in with the crowds, so we had a relaxing New Year at home, listening to fireworks reverberate off the buildings in Bangkok at midnight, and waking up to 2012 with Apple Butter Sticky Buns.
(I canned the apple butter before we left the U.S. – good thing, since apples cost a small fortune in Thailand.)
2011
Waking up on January 1, 2011 in our sun-filled apartment in Bangkok felt strange and exciting. We had no idea what 2011 would hold, but we hoped to make good friends in Bangkok, travel as much as possible, and come to know this place that we were slowly starting to see as our temporary home. This was the year that we first experienced the full range of holidays in Thailand.
January 2011 started off with an amazing weekend in Chiang Rai. It felt like Christmas Part II when our shipment of household goods arrived from the United States, and I was able to fully stock our little apartment's kitchen. Along with our Bangkok neighbors, we tried to celebrate the "cool season" (although it always still feels very hot to us), with picnics in the park and fun outside.
Chinese New Year, a big holiday in Bangkok due to a large Thai-Chinese population, was one of my favorite first celebrations in Thailand.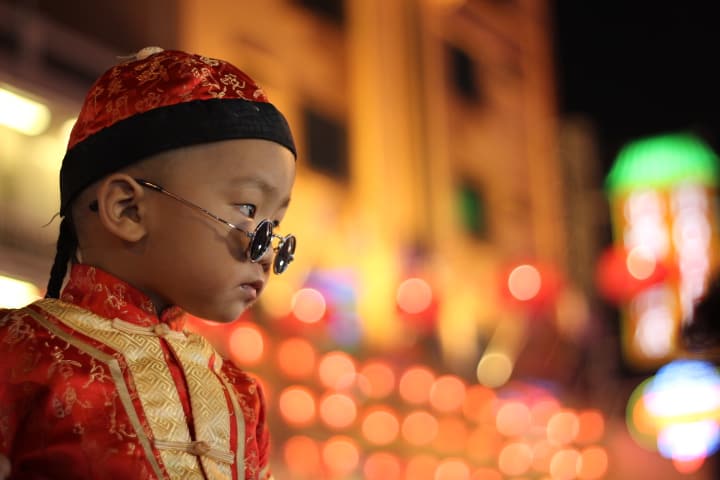 For Valentine's Day, we had a bit of both Western and Eastern tricks up our sleeve. Frank took me out for an amazing Italian dinner, and I treated him to both mochi ice cream (Japanese) and Mango with Sticky Rice (Thai).
April brought with it our first Songkran (Thai New Year). Even after the warnings, I was still a bit surprised to find myself in the midst of four days of nation-wide water fights and encountering strangers on the street who wanted to smear my cheeks with paint. We figured we might as well join in, and took ourselves straight into the heart of the celebration in the Silom neighborhood of Bangkok.
Frank and I celebrate our birthdays in April, and April 2011 was the year we both turned 30. It seemed fitting that we should celebrate in a big way, so we headed off to Beijing for a week. It was glorious spring weather there, and we found there was more to do than we could possibly fit into the week.
In May, I was surprised by a minor Thai holiday, Labor Day, that I didn't know was coming, and got to celebrate all of my family's April and May birthdays back at home in Kansas. While in Kansas I brought a little Asia back with me and cooked Thai food for my family, but I also did some serious damage on a burger and a few plates of barbeque while there.
When I returned to Bangkok from the spring weather of Kansas, it was hotter than hot, so Frank and I escaped to Koh Samui and spent some time at the beach with my mom (who came to Thailand after my Kansas visit). In June, the Bangkok opening of The Hangover II seemed to give expats a cause to celebrate this city that we temporarily call home. (Although the movie, as you surely could surmise, does not portray Bangkok or Thailand in a terribly positive, or accurate way.)
We got to see a much more "real" side of Thailand in July when national elections took Bangkok by storm. The result was Thailand's first female Prime Minister.
After the excitement of elections The Fourth of July, slipped past quietly and with minimal fanfare. I enjoyed my last few weeks of freedom before beginning a new job on the first day of August. (Clearly, I was still in denial as I did my first Bangkok work commute that morning.)
We celebrated the new job with a quick getaway to the beach in Khao Lak.
From the sunshine, we came back to Bangkok and were plunged into the peak of rainy season. It rained and rained and rained, which I thought might be good for my balcony garden. (Unfortunately, even the rain couldn't keep that little "garden" growing.)
In October, the result of that rain became very clear as we were all wrapped up in interpreting the predictions that all of Bangkok would flood. We made the best of it, and stocked up on canned goods and water, doing little more for Halloween than baking pumpkin cookies and decorating the apartment.
By November, much of Bangkok had been inundated with water, and sandbags were a part of the terrain.
Fortunately, our apartment was in a part of town that remained safe and dry. Frank and I were both caught up in flood recovery efforts at work when we celebrated the one-year anniversary of our arrival in Bangkok and the start of this blog!
For Thanksgiving, though we were far away from most of our family and friends, we got to celebrate with my sister-in-law, Ellen, who came to Bangkok to spend it with us. We celebrated in-style, with five days in a spectacular condo on Koh Samui and an enormous dinner with friends at the Sheraton (for the second year in a row).
December is always a big month of celebration around here. Even in Bangkok, we decorate the tree and make traditional foods from home.
December is also a big month for Thai holidays. It begins with the King's Birthday, and we took in the celebratory fireworks from high over the city.
In December 2011, we also found some new ways to celebrate the holidays with lots of travel. On a bit of a whim, we booked a weekend in Singapore and got tickets to Wicked. At home, seeing live musical and theatrical performances was one of our favorite ways to celebrate the season, so we also saw The Nutcracker while spending Christmas in Japan.
2012
After such a fun and packed December, January offered a welcome opportunity to slow down, reflect on the year, and catch my breath. Even Chinese New Year was more relaxed than our first year in Bangkok. We celebrated at home with a small gathering of friends and good food.
Valentine's Day was a welcome chance to bake up sweet things, and do our usual celebration at home with a good bottle of red and pizzas we make together.
Though March brought with it not a single holiday, Thai or American, I was thrilled to celebrate the fact that one of my food photos was featured on Gourmet Live. It was a good month to relax before a busy April.
April began with two four-day weekends in a row. The first long weekend fell over Easter, and we took the holiday south with friends, to a rental house on the beach in Rayong.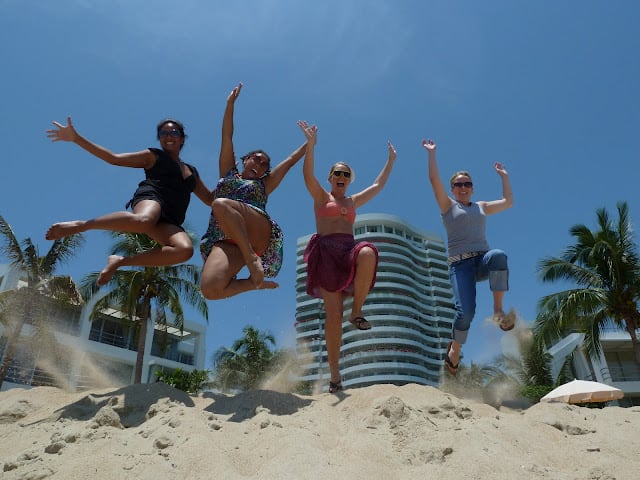 We were back in Thailand just in time for Frank's birthday and the start of the Thai New Year, Songkran.
Although I had thought that I would avoid the crowds and water fights on our second year, I couldn't resist joining the fun. Frank and I hosted a brunch at our apartment, complete with champagne and the traditional brightly colored floral shirts, and got a big group together for a day in Silom.
Before I knew it, the month was almost over, and we were celebrating my birthday at home, with an amazing dinner, and world's best chocolate brownies.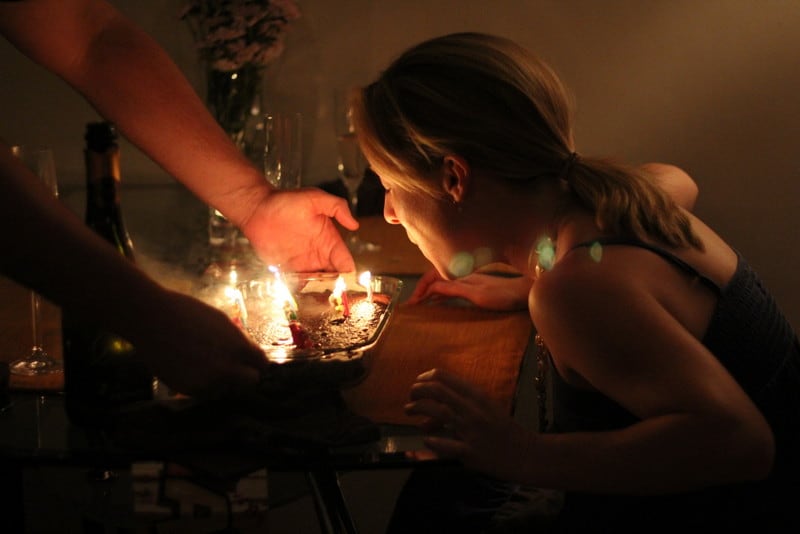 Our favorite way to celebrate birthdays is through travel, so we saved our pennies and made a 10-day vacation in India the big birthday event at the end of April. We even rode an elephant (of course).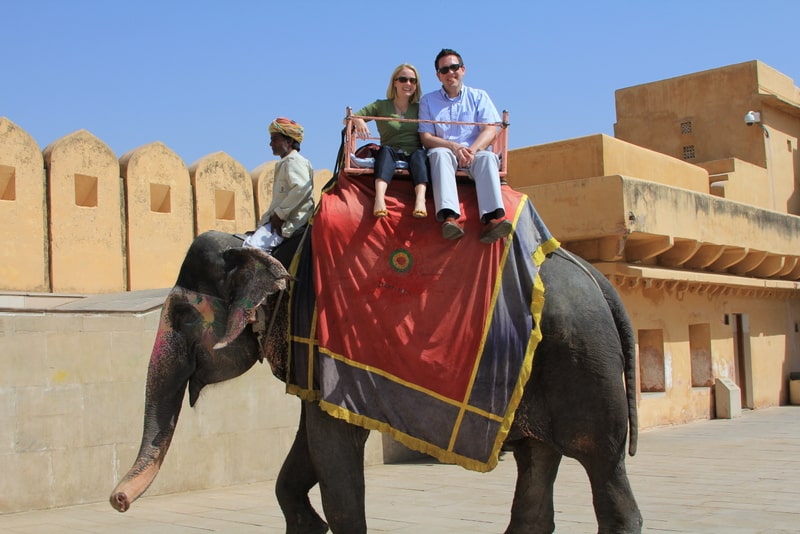 Summer brought with it the best reason to celebrate – the arrival of my family! With my family here for much of June, we rented a beach house for part of their stay, and Frank and I rung in our 2nd anniversary surrounded by some of our favorite people.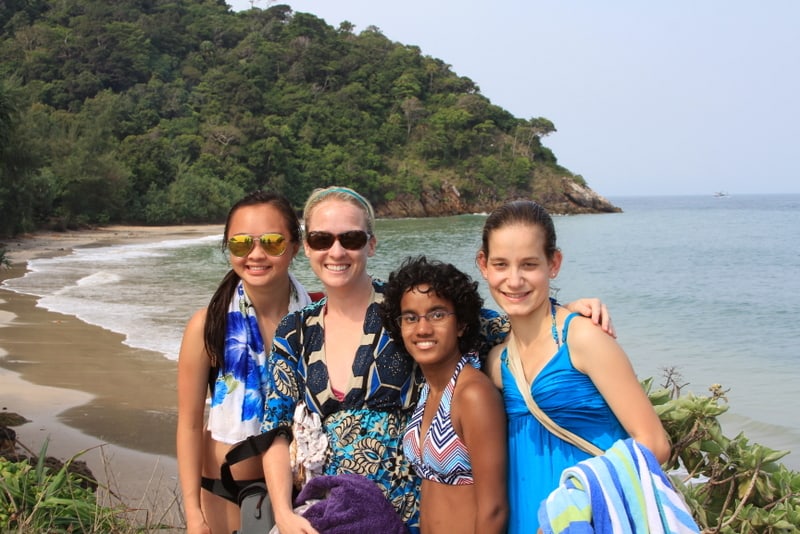 Of course, we had to celebrate with food and drink, so we had a belated 2nd anniversary brunch at the Four Seasons in Bangkok.