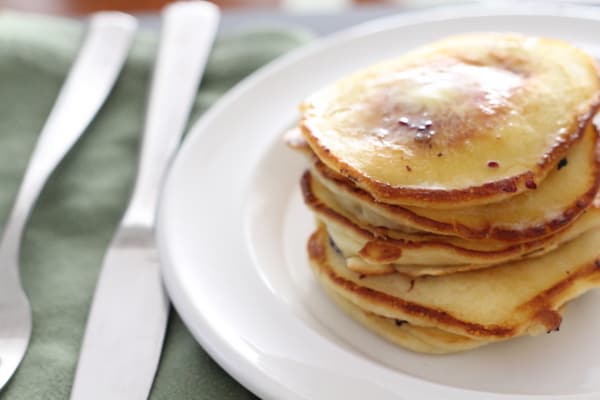 I always love breakfast, but the chance to have warm french toast, waffles, or pancakes first thing in the morning makes me feel like I'm on a vacation.
On our recent vacation, at a rental house at the beach, I dreamed of having big family breakfasts with vacation-worthy things like pancakes and bacon. I imagined we would whip these things with magically little effort, while sipping OJ and looking out at the waves.
This was the view from the rental kitchen –
Homemade pancake mix seemed like the perfect solution. (No chance was I dragging baked fixins' and measuring cups down to Koh Lanta, an hour's flight south of Bangkok.)
Certainly there are lots of pre-made pancake mixes on the market, but making your own has several advantages. 1) It's cheap – pennies on the dollar versus buying a prepared mix. 2) It's adaptable – add a bit of extra sugar, increase or decrease the salt, or substitute a bit of whole wheat flour for the all-purpose. 3) You know everything that is in the mix an where it came from – no processed junk here!
Below is the pancake mix ready-to-go in our beach house kitchen. And underneath it – the recipe for the pancakes it makes, with what appears on the back to be a note I left for my sisters when I went out running one morning.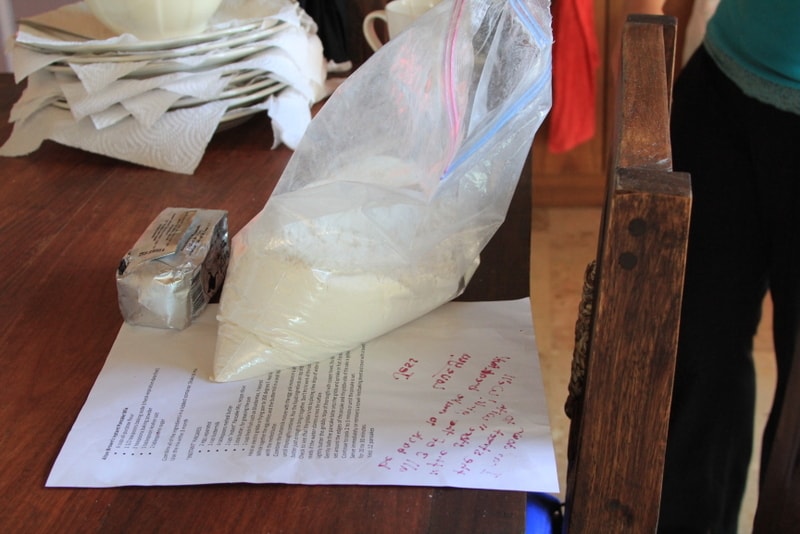 I was all the more happy to have this mix ready to go when we arrived at the beach house and discovered that its "kitchen" came with nothing more than two burners and only one pan.
I had to flip the pancakes with a wooden spoon.
Despite the rental kitchens's distinct shortcomings, I still managed to make pancakes in a matter of minutes (while sipping OJ and looking out the waves, as hoped). All thanks to this pre-made mix.
In fact, due to our lack of bowls and utensils, I didn't even really use the recipe. I just added milk and eggs directly to the plastic bag with the prepared mix and used my hands to combine it inside the bag. I snipped a corner off the bag and squeezed the pancakes right into the hot pan. One dish less to wash!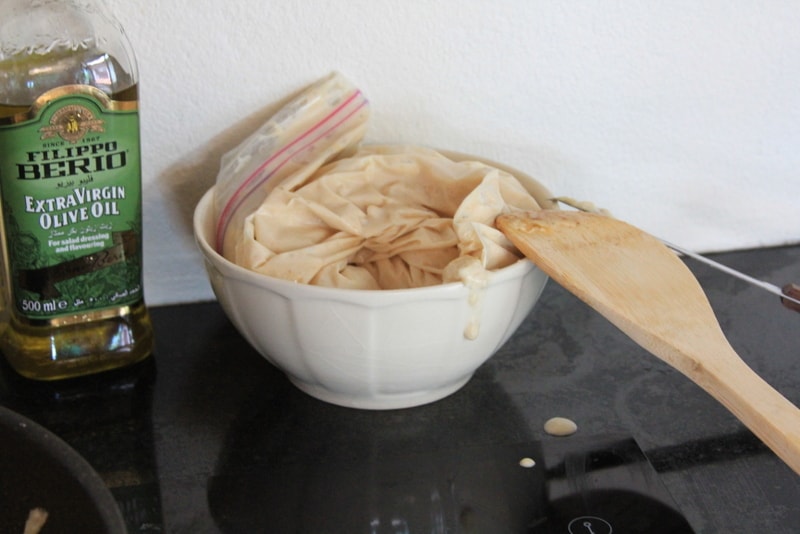 The pancakes came out plump, but were still a huge hit.
(Below are the pancakes at the beach, and at the very top of the post is what the pancakes looked like when I made them at home, with a bit more attention given to following the recipe.)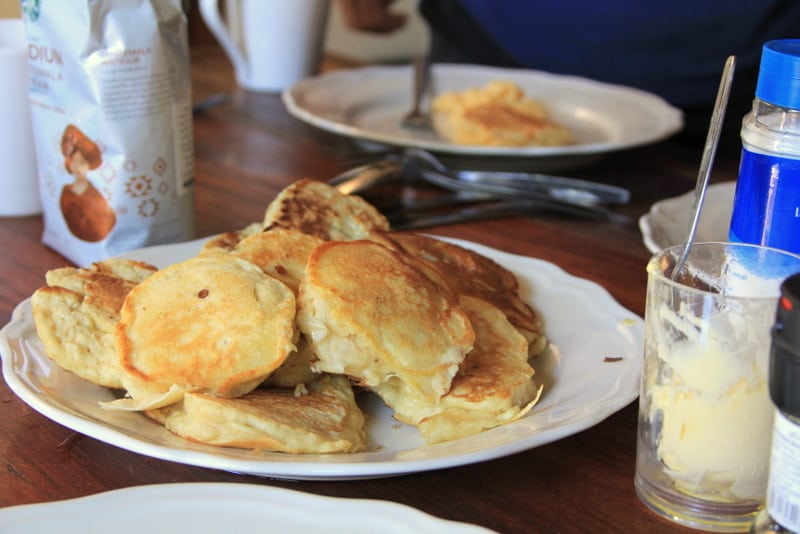 Since we came back from the beach, I've made a batch of the mix for our pantry for quick weekend breakfasts. I love the convenience of skipping a few steps, not to mention that the recipe makes some of the best pancakes I've ever made at home.
To make the mix combine:
6 cups All-Purpose Flour
2 Tbsp Sugar
1 Tbsp Baking Powder
1 ½ tsp Kosher Salt
1 ½ tsp Baking Soda
Tuck this away in the pantry until you're ready to use it. See below for the full, printable recipe!
Oh, and no need to use my plastic bag "shortcut" at home. For less mess (and easy storage for leftover batter), put the batter in a pitcher and pour it straight onto the hot griddle!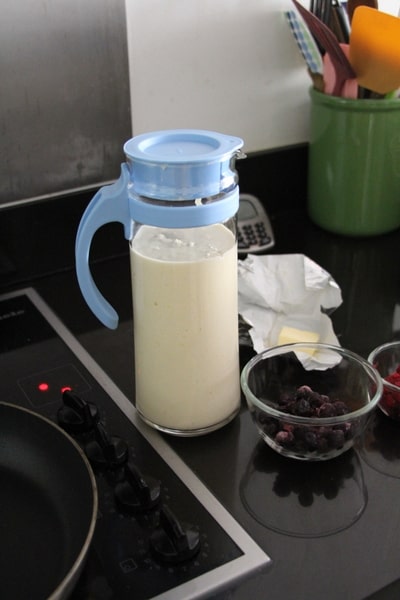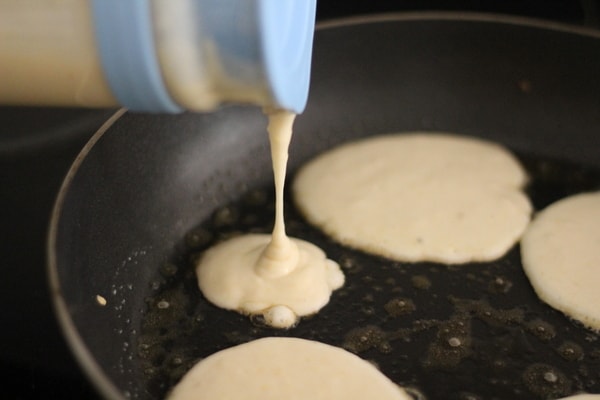 Mini pancake!
_______________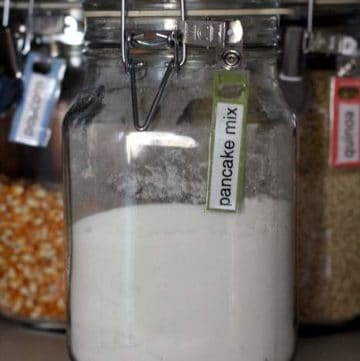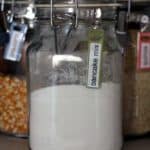 Print Recipe
Homemade Pancake and Waffle Mix
Forget the store-bought stuff and stir up a batch of this homemade pancake and waffle mix to keep in the pantry. Delicious homemade pancakes and waffles are always just a few minutes away.
Ingredients
6

cups

All-Purpose Flour

2

Tbsp

Sugar

1

Tbsp

Baking Powder

1 ½

tsp

Kosher Salt

1 ½

tsp

Baking Soda
Instructions
Combine all ingredients in a bowl or container with a lid and stir well. Store at room temperature for up to 3 months.
Notes
To make pancakes or waffles to serve 2-3:
1. Whisk together:
2 Tablespoons Melted Butter
1 cup Low-fat Buttermilk (sub ¼ cup plain yogurt combined with ¾ cup milk)
1 Large Egg
2. Add 1 cup Dry Pancake and Waffle Mix.
3. Stir until combined (don't worry if there are small lumps).
4.

Ladle onto a buttered hot griddle for pancakes or into a hot buttered waffle iron. Heat until both sides are golden and cooked through.
Printable Recipe Card - Print the label below and attach it to the container with the dry mix so the instructions are right at your fingertips!