Happy Sunday everyone! It has been a quiet weekend here with lots of time for kitchen projects.
Lots of my Sunday afternoons are spent making a few things for us to throw in lunches throughout the week. There is nothing that makes my weekday mornings feel more smooth than being able to reach in the fridge and grab something delicious and healthy to look forward to later in the day.
Now that I'm back at work, I've been playing around with lots of different salads for lunch. Back in the US, it was usually a green salad of spinach or kale. I packed a bunch of them up on Sunday afternoon, and took them in lunch all week. Over the past year, the "Jess salad" has evolved, and now lunch has got a whole new thing going on. I make sure that there is a protein-packed element to get me through the afternoon. Chickpeas and quinoa are some of my most favorite bases.
Although my weekday salads aren't always worthy of sharing, I've been fine-tuning this little one for a while now. Although I highly recommend this packed in lunches, it would also be delicious as a side with this or this or this.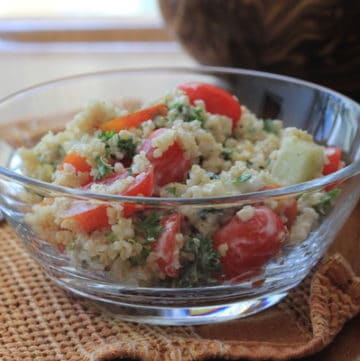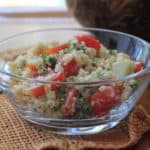 Print Recipe
Greek Quinoa Salad with Creamy Lemon Dressing
Ingredients
4

cups

vegetable broth

2

cups

quinoa, rinsed

juice from ½ lemon

1

cup

low-fat plain yogurt

⅓

cup

fresh parsley

¼

of a small red onion, finely chopped

1

cup

chopped cucumbers

1

cup

cherry tomatoes, halved

3

oz

feta, crumbled
Instructions
Bring broth to boil in a medium saucepan. Add quinoa, reduce to a simmer, and cover tightly. Simmer, covered, for 15 minutes. Remove from heat and let rest, covered for 10 minutes. Remove the lid and allow to cool to room temperature.

In another bowl combine the lemon juice and yogurt. Stir parsley, red onion, cucumbers, tomatoes and feta into the quinoa. Top with the yogurt mixture and mix until well combined. Season with salt and pepper. Serve at room temperature or slightly chilled.