Last Friday's vegetarian dinner was a tough act to follow. I suspect that we could eat those tostadas every Friday until Easter without a word of complaint from Frank or myself. But where's the fun in that?
When eating vegetarian tostadas, the vegetarian-ness disappears into bites of crunchy tortilla, sharp cheese, and creamy guacamole. This week, the vegetarian roots of our Friday dinner are not as thinly veiled, but I assure you, this dinner is no less satisfying for it.
The idea for this dinner that puts to good use a handful of my favorite Asian flavors didn't begin with the tofu or the avocado. It began with the miso.
Miso is an entirely new addition to my cooking repertoire. Actually, before this dinner I had never bought or cooked with miso. I don't think that I totally "got" it. Truth be told...I'm still not sure that I totally get it. Despite some serious internet reading about the different types and how it is made, it still strikes me as a puzzling ingredient. Puzzling, but delicious.
Over Christmas in Japan, I got on a miso kick that involved a bowl of miso soup with breakfast and another small bowl alongside at least one other meal during the day. It was partly because the simple, salty broth was such a perfect compliment to the chilly weather, and partly because it was just so. darn. good. On our last morning in Japan, I poured my miso soup into a paper coffee cup, topped it with a lid, and drank in its salty warmth while we ran all over Shinjuku station searching for our train to the airport.
I don't know how I went so long without miso, but I will never go back.
📖 Recipe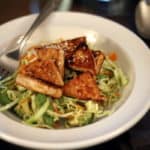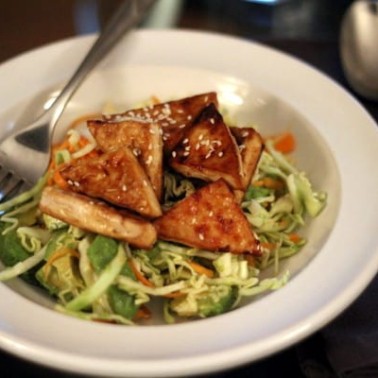 Print Recipe
Glazed Sesame Tofu and Avocado Salad with Miso Dressing
This tasty sesame tofu and avocado salad with miso dressing is so good that you'll forget it's an easy vegetarian meal!
Ingredients
For the Miso Dressing:
¼

cup

golden miso*

¼

cup

honey

¼

cup

water

1

tablespoon

fresh lemon juice

1

teaspoon

oriental sesame oil

1

teaspoon

soy sauce

1

teaspoon

minced peeled fresh ginger

2

tablespoons

vegetable oil
For the Salad:
16

oz.

extra firm tofu

oil for greasing the pan (sesame, vegetable, or canola will all work)

2

Tbsp.

hoisin sauce

1

Tbsp.

soy sauce (or tamari)

2

tsp.

rice vinegar

1

tsp.

Sriracha (Thai hot sauce), optional

1

head cabbage, very thinly sliced

2

large carrots, shredded

2

avocados, cut into bite-size pieces

1

recipe of miso dressing (recipe below)

1

Tbsp.

white sesame seeds
Instructions
Combine miso, honey, ¼ cup water, lemon juice, sesame oil, soy sauce, and ginger in blender; blend until smooth. With machine running, gradually add vegetable oil. Season miso dressing to taste with salt and pepper.

At least 30 minutes (and as much as several hours) before you start cooking, rinse and drain the tofu. Place it between several layers of paper or cotton towels and weigh it down with something heavy. (I sometimes use a heavy saucepan.) After the tofu has had a chance to drain, cut it into triangular wedges that are about ½-inch thick. Depending on the shape of your block of tofu, you want to have about 24 small wedges of tofu.

Preheat the oven to 350 degrees F. Lightly spray or brush a baking sheet with oil.

In a small bowl, whisk together the hoisin sauce, soy sauce, rice vinegar and Sriracha until evenly combined. Spread the tofu wedges evenly on the prepared baking sheet. Brush half of the hoisin mixture over the tops of the tofu. Bake until the tofu becomes crisp and dark brown, 15- 20 minutes. Remove the pan from the oven, flip the tofu and brush the remaining hoisin mixture over the unbaked sides. Return to the oven until the second side is crisp and dark brown, 15-20 minutes.

In a large bowl gently toss the cabbage, carrots, and avocado in miso dressing (you may not need all of the miso dressing). Divide the dressed salad between four large bowls. Top each salad with a fourth of the baked tofu. Sprinkle with white sesame seeds. Serve immediately