This salad is perfect for transitioning seasons. Even here, there is something that feels transitional about this time of year. Every few days we get this strong, solid soak of water. There has been terrible flooding all around Thailand, and it isn't hard to imagine what it must be like when it rains this hard in places with dirt roads and low lands meant for growing rice. Even here in Bangkok, the roads flood with a bit of rain and the taxis start looking like hot pink submarines. (Have I mentioned how much I love pink Bangkok taxis?!)
The salad personifies summer meets fall – bright and crisp from slivers of celery yet earthy with mushrooms and creamy, tart cheese . It is so simple, and yet is one of those things that absolutely. just. works.
It's really too good to have kept to myself for so long. And I owe the finding of it entirely to my mother-in-law who made it for us one year on a late summer visit. In true Giada style, I can certainly imagine this salad being made while standing in a Tuscan garden, entertaining friends, and sipping a glass of wine. It's also good for dinner at home on a Tuesday night. Win win.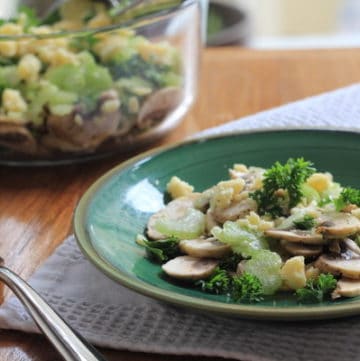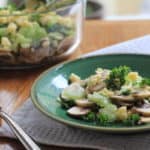 Print Recipe
Mushroom and Pecorino Salad
Ingredients
recipe by Giada de Laurentiis and shared at the Food Network's website

1

pound

white mushrooms, thinly sliced

¼

cup

extra virgin olive oil, plus 1 tablespoon

1

tsp.

salt, more to taste

½

tsp.

freshly ground black pepper, plus more to taste

4

large celery stalks, thinly sliced crosswise

½

cup

chopped fresh parsley leaves

1

cup

(about 5-ounces) shaved Pecorino Romano
Instructions
Place the mushrooms in a medium bowl and toss with ¼ cup of olive oil, 1 teaspoon salt, and ½ teaspoon pepper. Layer the mushrooms on the bottom of a straight-sided glass salad bowl. Place the celery in the same medium bowl used to toss the mushrooms. Toss with 1 tablespoon olive oil and a pinch of salt and pepper. Layer the celery on top of the mushrooms. Sprinkle the parsley over the celery. Sprinkle the crumbled cheese over the parsley. Serve.