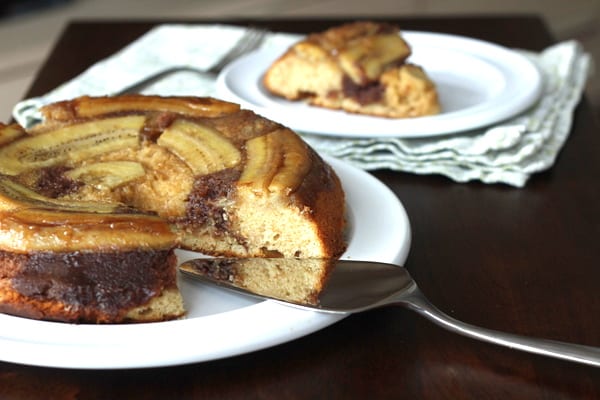 It's impossible for me to think about the combination of peanut butter, chocolate, and banana without thinking about Elvis. I don't know all that much about Mr. Presley, but I think often of his infamous love of those flavors, and, of course, Fluffernutter sandwiches. (Incidentally, I had to google fluffernutter to insure accurate spelling and discovered that there is a National Fluffernutter Day. October 8th – mark your calendars, friends.)
I, like The King, enjoy peanut butter and banana. *See here and here for supporting evidence.
This cake was fantastic – moist and pretty. Although, it would be hard to go wrong with anything that combines these…
This cake was originally published in Food and Wine as "Chocolate-Peanut-Butter-Banana Upside-Down Cake", but phew is that a mouthful! I made a few minor adjustments to the recipe, including halving it and baking it in a pie dish to jazz it up a bit. And I substituted Nutella for chocolate, because….well, do you ever really need a reason for Nutella? Just note that the Nutella results in a more moist consistency in the chocolate parts of the cake than would the bittersweet chocolate called-for in the original recipe.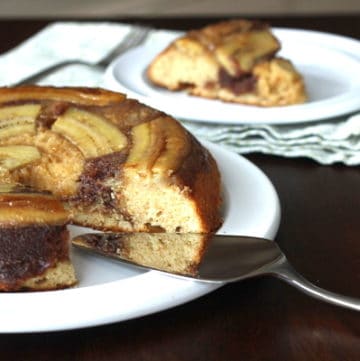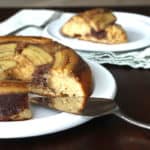 Print Recipe
Elvis Upside-Down Cake
Ingredients
for batter:

1

and ½ cups (225 g) all-purpose flour

1

and ½ tsp. baking powder

¼

tsp.

salt

1

sticks (115 g) unsalted butter, softened

1

cup

(220 g) granulated sugar

2

large eggs

½

tsp.

vanilla

½

cup

(120 mL) milk

⅓

cup

(80 g) Nutella

⅓

cup

(80 g) creamy peanut butter

for topping:

½

cup

(125 g) lightly packed dark brown sugar

½

stick (55 g) unsalted butter, melted

2

ripe bananas, sliced lengthwise and cut in half
Instructions
Preheat oven to 350 and place a clean, dry baking sheet on the bottom of the oven (to catch brown sugar drips that will spill over the pie plate while the cake is baking). Grease the bottom and sides of a 9-inch glass pie dish.

Whisk the flour, baking powder and salt together in a bowl. In a standing mixer, beat butter and sugar together until very fluffy, about 5 minutes. Beat in the eggs, one at a time. Add vanilla and mix just until combined. Alternate adding one third of the flour mixture followed by one third of the milk, mixing slightly after each addition, until all of the flour and milk have been incorporated.

Transfer one-third of the batter to a small bowl and gently stir in nutella. Add peanut butter to the remaining two-thirds batter in the standing mixer and mix to combine.

Mix brown sugar and melted butter together. Pour mixture into pie dish. Arrange bananas evenly over the sugar, sliced sides down. Drop alternating spoonfuls of peanut butter and nutella batter over bananas until all of the batter has been used. Gently drag a kitchen knife through the batter to swirl the peanut butter and nutella batters together.

Position the cake on a lower rack in the oven, insuring that the baking sheet is underneath to catch spills. Bake until slight cracks appear in the surface of the cake and a toothpick inserted in the middle comes out clean, 40-45 minutes. Let the cake cool for 10-15 minutes. Invert the cake onto a plate before cutting into slices.
Notes
adapted from Grace Parisi's Chocolate-Peanut-Butter-Banana Upside-Down Cake, published in Food and Wine, November 2010