Every morning this long weekend I have come in from the gym and felt the need for a change of scenery. The thought that we may still end up stuck in the house makes it all the more appealing to get out and run around while we still can. Most of our local spots are open for business despite the threat of flooding, so at the moment F and I are loading up on caffeine at a local coffee shop. It is so utterly urban to be sitting amidst trendy Bangkokians, all of us drinking lattes and typing away on our Macbooks, but I find it hard to accomplish anything with so much people-watching potential. It turns out that it's a great environment for trolling the internet for new recipes, though. I'm on the hunt for a good layer cake after the one I made earlier this week came out beautiful but not as tasty as I had hoped. (Not that we complained as we helped ourselves to slices last night, but the pictures came out better than the cake.) This was an Inside-Out German Chocolate Cake from Gourmet – maybe you will have more luck with it than I did.
The underwhelming cake makes me glad that I have a different, and much more satisfying, recipe to pass on. A couple months ago I had to psyche myself up to confront the whole head-on shrimp that are delicious, but daunting to prepare. I'm happy to say that I've come a long way since then. I peel and devein those shrimp with abandon. But the other night, after a hot yoga class, F and I were divide-and-conquering the grocery store aisles when I found myself facing the fresh fish section. There they were – beautiful, fresh-caught, Thai shrimp staring up at me from a bed of ice with their heads intact. In that hungry, post-90-minute yoga moment, I just didn't have the energy to think about preparing those shrimp. And that's when the universe sent me a gift. The seafood man approached, and in the most pleasant of Thai ways, used hand signals to ask if I wanted those shrimp, and if I wanted him to devein and peel them FOR ME. Thank you, kind sir – you just made my night!
Things continued in a promising way when I returned home and threw those shrimp right in the pan. They ended up atop these creamy black beans that are certain to become a favorite in our house. I loved that the dish combined all the elements that Thais infamously seek in a flavor profile. With a bit of sweet from the pinneaples, bitter from lime, a hint of spice all atop the creamy, savory black beans, this is a healthy, easy dinner that I'm already looking forward to making again.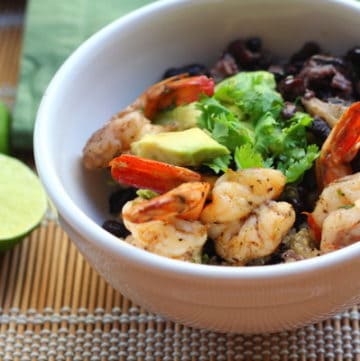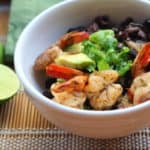 Print Recipe
Black Bean Bake with Shrimp and Avocado
Ingredients
1

and ½ cup cooked black beans

¾

cup

(6oz) finely diced pinneaple

⅓

cup

(1 ½ oz) finely chopped red onion

2

Tbsp.

minced jalapeno pepper

1

Tbsp.

grated fresh ginger

½

tsp.

ground coriander

1

and ½ tsp. ground cumin, divided

8

oz

raw, medium sized shrimp (peeled and deveined)

½

tsp.

chili powder

salt and pepper to taste

2

tsp.

vegetable oil

2

Tbsp.

fresh lime juice

2

tablespoons

chopped cilantro

½

avocado, diced
Instructions
Preheat the oven to 350 degrees.

Bake the black beans. In a lightly greased 8x8 baking dish, combine the black beans, pinneaple, red onion, pepper, ginger, ground coriander, and 1 teaspoon cumin. Stir well to evenly encorporate the ingredients and bake, uncovered, until the mixture is heated through and bubbling, about 25 minutes.

Cook the shrimp. When the black beans have about 5 minutes left to cook, toss the shrimp in the remaining ½ teaspoon cumin, chili powder, and salt and pepper. Heat the vegetable oil in a large pan over high heat. When the oil begins to steam, add the shrimp. Cook the shrimp until pink and cooked through, about 2 minutes on each side.

Add finishing touches. When the black beans are done cooking, remove from the oven and pour the cooked shrimp over the top. Top the dish with lime juice, cilantro, and diced avocado. Serve immediately.
Notes
Recipe adapted a bit from Cara's Cravings. (I tweaked this recipe from Cara's original grilled foil packets (linked above) to make up for the fact that I don't have a balcony or a grill (grrr). Her flavors are, as always, spot-on, and the dish had a sort of Carribean comfort food vibe. I served the black beans and shrimp over pineapple-spiked quinoa, but it would be amazing scooped directly onto tortillas and topped with taco fixins' like cheese, lettuce, or sour cream.)