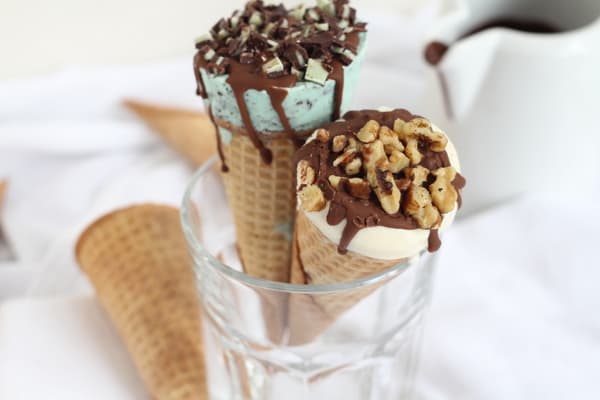 August. Where did you come from?
I had about a hundred fun summery projects I wanted to do over the past few months, but I accomplished virtually none. I guess that's the beauty of summer. It's a blank slate for inspiration, even if that inspiration never materializes into anything edible. Most of my summer projects were happily sacrificed in the name of riding elephants, late-night dinners with friends, and general merriment.
But this little summer project was the one that I just couldn't let go. I saw these drumsticks on Pinterest months ago, and was so excited to make them.
Last weekend, we put that hard shell to use and made our own drumsticks – 2 varieties.
His – Classic Vanilla (with toasted walnuts)
Hers – Mint Explosion ("he" has still not bought in to the magic of the mint-chocolate combo)
My mint explosion drumstick cone was a perfect vehicle for bright green mint chip ice cream and these little beauties. Andes mints. Be still my heart.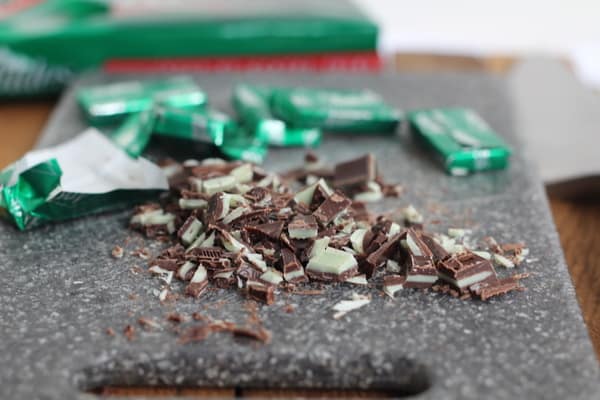 Last Friday I went to get a massage with peppermint-scented oil. For 90 minutes, I dreamt I was cocooned inside an Andes mint. It was heavenly.
These DIY Drumsticks were easy to make, and every bit as fun as I expected. This would be fun for a crowd of kids or adults. Put out a spread of melty ice cream, chocolate hard shell, and toppings and let people go to town.
To make these, first remove the ice cream from the freezer to let it soften a bit. Meanwhile, wrap and tape the cones in wax paper and set them upright in glasses.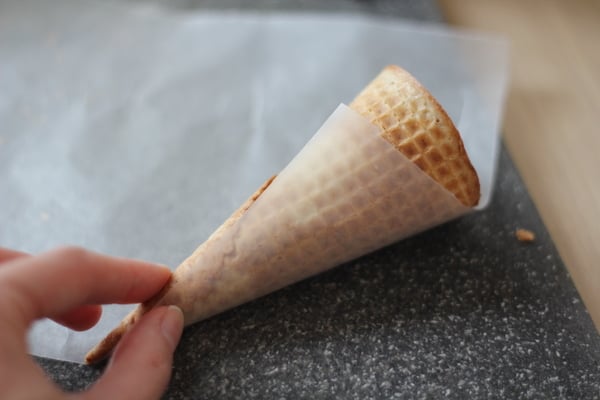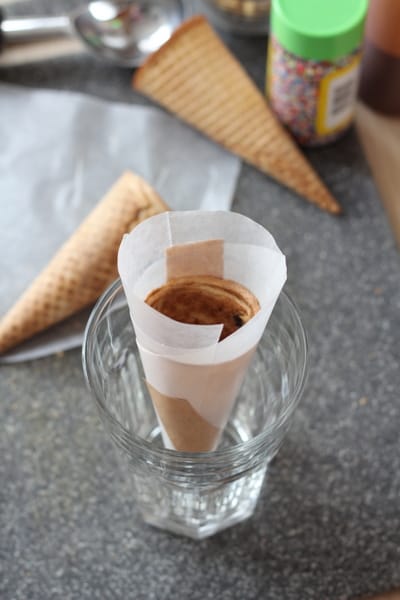 Fill the bottom of the cone with something fun (Andes mints for me/walnuts for him).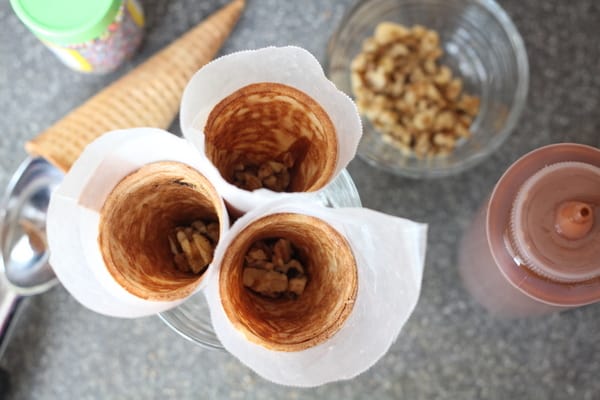 Add hard shell, just to cover.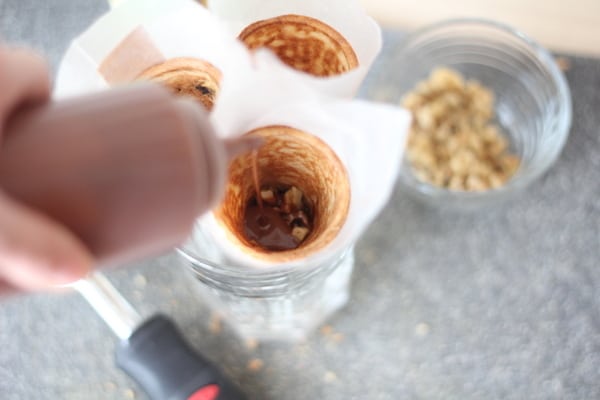 Top with softened ice cream to roughly 1.5 inches over the top of the cone (the wax paper helps to hold its shape). Freeze for 20 minutes, until the ice cream is firm.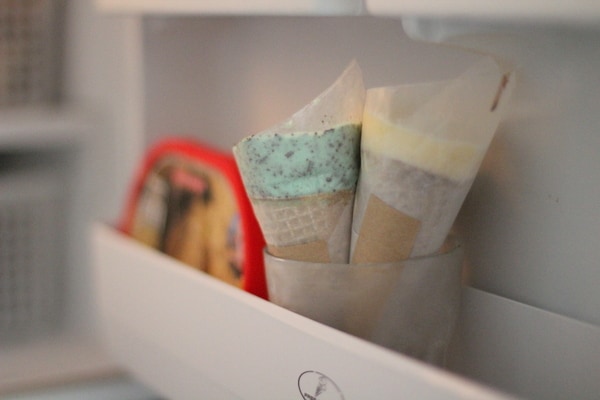 Remove the wax paper. Pour hard shell in a shallow bowl and dip the top of the frozen cone in the chocolate and then in toppings.
Freeze until you're ready to eat!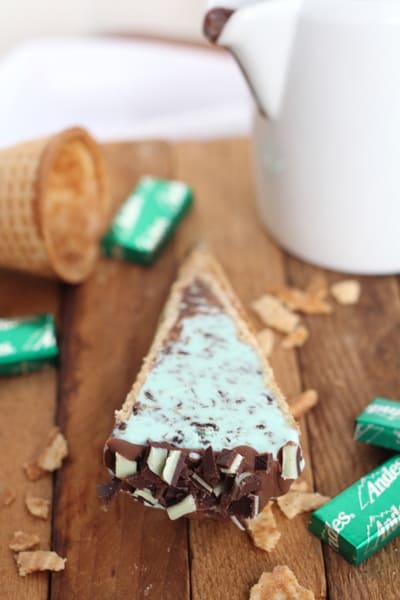 Is there anything left on your summer list that you're still hoping to get to?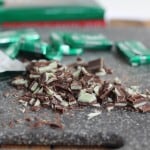 Print Recipe
DIY Ice Cream Drumsticks
Ingredients
2

pint

ice cream (any flavor)

8

small sugar cones

favorite toppings (toasted nuts, candy, sprinkles, dried fruit)

½

cup

chocolate hard shell topping (make your own or use store-bought "Magic Shell")
Tools:
wax paper

tape

water glasses (to hold the cones upright)
Instructions
Before you begin, remove the ice cream from the freezer to allow it to soften a bit.

Cut wax paper into 8 (approximately) 8-inch squares. Working with one sugar cone at a time, wrap wax paper around the cone and secure with tape. Place each cone upright in a water glass.

Sprinkle toppings to fill the first inch of each cone. Fill with chocolate hard shell just until the toppings are covered. Fill the cone with softened ice cream, pressing gently to pack the ice cream in. Continue adding ice cream to reach about 1.5 inches over the top of the cone (the wax paper will hold the ice cream in place). Place the glass, holding the cone upright, in the freezer until the ice cream is solid, about 20 minutes.

Fill one shallow bowl with hard shell topping and another with the topping you want on the top of the cone. When the ice cream cones are frozen, remove them from the freezer and unwrap the wax paper. Dip each cone, first in hard shell and then in the topping. Turn upright, allowing a small amount of the hard shell to drip down the sides of the cone.

Eat immediately or keep in the freezer until ready to serve.