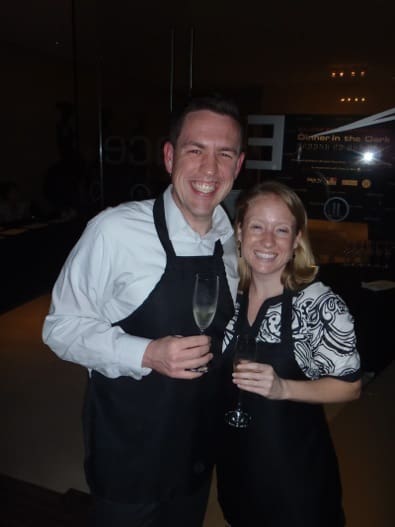 My very favorite thing about the blogs I read every day is the pictures. As a person who likes to cook there is something so fun about watching all of the elements of a great plate of food come together on the pages of a blog...without the need to wash a single dish.
However, there are no pictures to go along with this post. If you know about this event, or made an obvious conclusion based on the title of the post, you can understand why. Over the weekend my husband and I had a three course dinner served, literally, in the dark. And not just "dark", friends. No, I'm talking about DARK. This was the kind of pitch-black can't-see-your-hand-two-inches-from-your eyes kind of dark.
It was an absolute blast, and I highly recommend it if you ever have the chance. There are permanent restaurants in Paris and London offering this dark dining year round, but the event was in Bangkok for only a week as part of a month-long celebration of arts called La Fete. In addition to being a lot of fun the event also raised funds for the Thailand Association of the Blind. All of the servers at the event were blind, insuring that those who served the meal were far more capable of finding their way around the pitch black ballroom than those of us who were eating it.
We were directed to our table via a conga line which started with my enthusiastic husband and ended with a Thai couple who clearly felt thrown the moment we walked into the pitch black room and started sending messages through the conga line - "cha cha" (slowly)! Once seated, our soft-spoken server brought around the wine and guided our hands through a tour of the place setting in front of us. Unfortunately, she came by only after I proceeded to stick my hand directly in the middle of the plate...which was already covered with a dressed salad.
I had read that dining in the dark results in a heightening of the other senses. For me, this was true on some fronts. I was hyper aware of the discussions of others who sat nearby and was truly, much more aware of the flavor combinations in the food and wine. However, I also was oddly unable to identify what I was eating. I somehow became convinced that the protein in my salad was steak when it was, in fact, tuna. (That was the worst of the confusion.) I mistook leeks for fennel and couldn't identify the fish served during the main course (turned out to be monkfish). Oddly though, my nose seemed to be working overtime to make up for my floundering taste buds. I could smell the subtle mushrooms in the main course before tasting it and picked up a hint of chocolate in the dessert that ended up being just a thin sliver of dark chocolate decoration on the top.
Although the food was good, I wouldn't say that it was worth seeking out on its own. The experience, however, was one that I would happily repeat. Everything from donning an apron before the event (to protect dinner clothes from inevitable spills), to trying to pour wine into a glass in the dark and succeeding only in getting it all over the table, to my husband telling me hours later that he had abandoned his fork and knife and eaten the first course with his fingers, make me laugh even now.
As much as I thought the experience might be stressful because there are so many unknowns, I had a surprisingly opposite response. I don't know that I've ever felt quite so relaxed at a dinner out. There were no neighbors to watch and distract us from conversation, no concern over signaling the waiter across the room, and no thought about the pacing of the meal or the amount of food left on my plate when I was finished. I felt far more comforted by the pitch black around me than disoriented.
When we moved to Bangkok, I knew it would give my husband and I the chance to do all kinds of things that we never would have been able to do elsewhere. There are plenty of adventures that we anticipated we might get to have while living in Asia, but there have also been a handful of wonderful surprises. This was one of them.