If there is one thing I find myself frequently needing in this American expat household in Thailand, it's a good dipping sauce. There are hundreds of types on the shelves at our local grocery store, and they all taste great, but I'm always a bit suspect of bottled sauces. (They have too many ingredients for something that should be, in my opinion, quite simple.)
I have experimented with all sorts of dipping sauces to use with Thai-style dishes that we eat at home. Most only have a few ingredients. In the case of my favorite Thai dipping sauce, it contains only five things. When the ingredients up above are combined, they simply sing. I'm not sure I have yet encountered something that doesn't go fabulously with this basic Thai dipping sauce, but here are a few of my favorites.
Baked Vegetarian Spring Rolls (that's a spicy version of the dipping sauce in the picture)
Thai Shrimp Bites (this sauce is a good alternative, or addition, to the peanut-cilantro sauce pictured below)
Baked Crab Rangoon (and again, that's the dipping sauce – but a less spicy version)
I have used Thai dipping sauces with a number of recipes on this blog, and the recipe below has become my go-to. After much experimentation, I find this version tastes the best.

It's better than anything I can buy at the store, even here in Thai-dipping-sauce wonderland.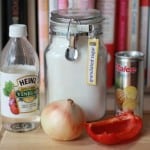 Print Recipe
Sweet and Spicy Thai Dipping Sauce
Ingredients
¼

cup

finely minced onion (about a quarter of a regular-sized onion)

⅛

cup

finely chopped fresh red pepper

1

and ¼ cup white vinegar

1

and ¼ cup pineapple juice

¼

cup

water

¾

cups

white sugar

2

teaspoons

red pepper flakes (to taste)
Instructions
Combine all of the ingredients, except the red pepper flakes) in a small saucepan over medium-high heat. Bring the mixture to a boil and then reduce to a simmer. Allow the sauce to simmer until reduced by half, 20 minutes. Pour the sauce into a bowl through a small sieve to remove the onion and pepper. If you want the sauce to have some spice, return the strained sauce to the pan over medium heat. Add red pepper flakes to taste and heat for 1 minute more.) Chill the sauce in the refrigerator until ready to use.
Notes
Although I mince/chop the onion and red pepper by hand (largely because I don't own a dishwasher and the Cuisinart produces extra dishes), you can also pulse the onion and red pepper in a blender or food processer until they are nearly a paste. Simply combine the onion/red pepper paste with the other ingredients and cook them down - no need to strain the sauce at the end as the recipe calls for.
This sauce can be stored in the refrigerator for several weeks.