If there is one thing about living in Bangkok that never ceases to amaze me, it's the sense of life and activity that come with even the simplest run to the store or stroll down the street. Bangkok is full of life – colors, chatter, sounds, and scents. Even after all this time, I can never quite take it all in.
When I go out to run errands or pick something up for lunch, there is one particular street that I alway seem to find myself on. It is not a street that one can dart through quickly, as the sides are lined with umbrella-topped stalls, every one of which begs for attention. There are hot woks sending off savory sweet smells that fill the air with tumeric, corriander, curry, and hot peppers. (The last of which is detectable only by the hint of tears it brings to your eyes.)
Running through the entire length is the buzz of happy talk that occurs between vendors and buyers and people relaxing over bowls of food at bright plastic tables. It is the sound of pleasant small talk that happens over shared meals in Thailand, particularly in the muted heat of a warm, sunny afternoon. It is the sound of lunch being eaten…and life being lived.
This creamy, vegetable-rich soup embodies the type of eating (and cooking) that I am becoming increasingly drawn to. It is satisfying, and lively enough with its curry kick and coconut milk base that I found myself craving the leftovers the way I crave the sounds and smells of the busy lunch street nearby.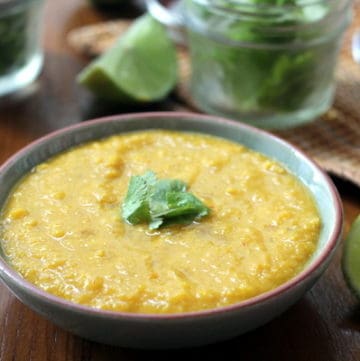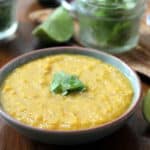 Print Recipe
Curried Squash and Corn Soup
Ingredients
For soup:
2

tablespoons

olive oil

1

medium onion, coarsely chopped

¼

cup

finely chopped fresh cilantro stems (reserve leaves for garnish)

2

garlic cloves, coarsely chopped

2

tsp.

red curry paste (more or less, depending on how spicy you like it)

1

(2 ½-pound) whole kabocha squash, peeled, seeded, and cut into ½-inch pieces (6 cups)

4

cups

water

1 ¼

cups

well-stirred canned unsweetened coconut milk (12 ounces)

2

cups

corn kernels, frozen thawed

2

teaspoons

salt

juice squeezed from 1 lime, for topping

chopped cilantro leaves, for garnish
Instructions
Heat oil in a 4- to 5-quart heavy pot over moderately high heat until hot but not smoking, then sauté onion, stirring occasionally, until beginning to soften and edges are browned, about 4 minutes. Add cilantro stems, garlic, and red curry paste. Cook, stirring until the past begins to break apart and the garlic softens, about 3 minutes. Add squash pieces and cook, stirring frequently, 3 minutes. Stir in water, coconut milk, corn, salt, and cayenne and simmer, uncovered, stirring occasionally, until squash is very tender, about 15 minutes. (Add additional water if needed to keep the squash pieces largely submerged in liquid.) Purée soup with a hand blender (or in small batches in a standing blender) until smooth. Serve immediately, topping each serving with a squeeze of fresh lime juice and cilantro leaves.
Notes
I used kabocha squash for this recipe, but you can easily substitute any other type of squash - butternut comes to mind as a certain winner. Red curry paste is available at most grocery stores in the international (or sometimes in the refrigerated) aisle. The level of spice in the paste can vary, so adjust to fit your taste.