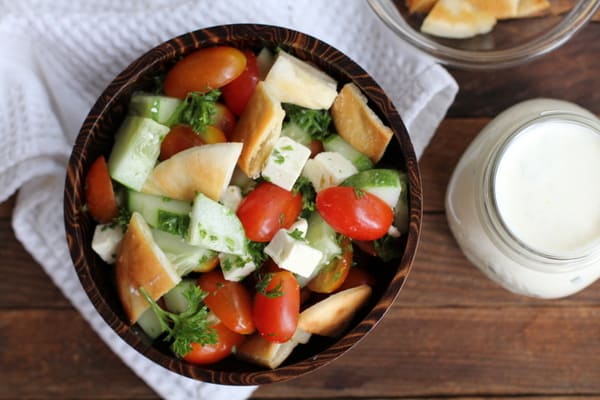 This time of year is the time that I most miss the seasons of home. People back in the U.S. are already shifting to fall, which makes me miss crunchy leaves and apple pie. Meanwhile, I'm still recovering from the recent round peach pics and recipes from all over the web. Just when I was finally over the fact that I went the entire summer in this tropical place without as much as a blueberry, I started noticing that every single. blog. I read. featured. peaches.
I know, I know, woe-is-me, I live in a country where it's summer year-round, palm trees grow in my yard, and I'm always an hour's flight away from this. But darned if I don't want a big juicy peach about now.
All the perfect peach pics have forced me to console myself with ice cream … and cookies. And all that ice cream and cookie-eating has reminded me that I need to supplement with a salad or two.
What is it about adding something crunchy to a salad that makes it more than the sum of its parts? Is it just me? Back in my days in New York City (when, as I've already mentioned, I was surviving primarily off of Trader Joe's salsa and salmon), I was happy to have a big green salad for dinner…as long as it contained golden crutons or some other crunch-yielding ingredient.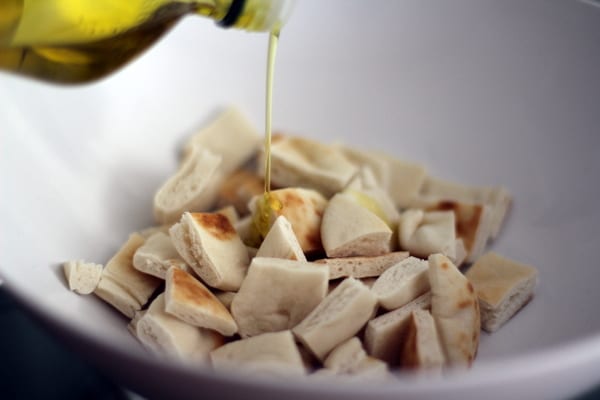 I'm not terribly picky when it comes to the item that brings a crunch to my salads. In college I went through a phase in which I thought that goldfish crackers were the salad topping of the gods. This week, though, I went a slightly less cheesy route and used crispy pita pieces.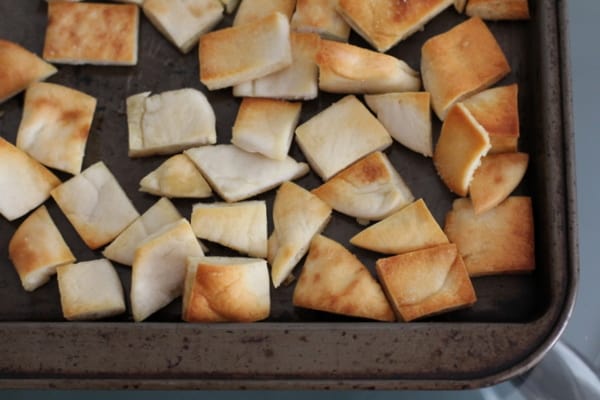 I saw the host of a Food Network show make Fattoush for a crowd. She tossed crumbled pita crisps into a big green salad and then doused the whole thing with a generous squeeze of fresh lemon juice.
Officially, Fattoush contains sumac, but there's no hope for getting my hands on it in Bangkok. To my way of thinking though, the only element not to be skipped in this salad is the crispy pita bread. It is that great crunch that would make anything in the Fattoush-realm worth your while. Drizzle it with a bit of creamy feta dressing, and it's a late summer salad that could easily be considered a meal entirely on its own.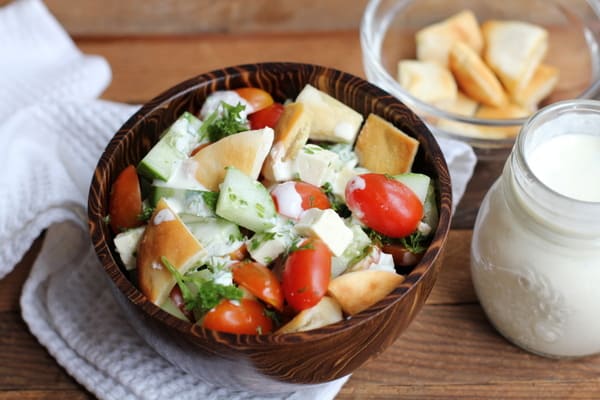 I promise I'll be satisfied with a big bowl of this Crispy Pita Salad for dinner, but if you happen to have a handle on where a girl can get a juicy peach in Southeast Asia, drop me a line.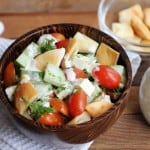 Print Recipe
Crispy Pita Salad with Yogurt-Feta Dressing
Ingredients
For the Dressing:
3

ounces

feta cheese

½

cup

Greek whole-milk yogurt

¼

cup

olive oil (plus up to an additional 3 Tbsp., as needed)

Zest and juice of 1 lemon

Freshly ground black pepper.
For the Salad:
Instructions
For the dressing, blend all ingredients together in a blender or food processor until smooth (adding additional olive oil if needed). Add salt and pepper, to taste. Refrigerate until ready to serve.

Preheat oven to 350 degrees F.

Toss together the pita bread pieces, olive oil, and salt. Spread the pita pieces evenly on a large baking sheet. Bake until golden brown and crisp, 12-15 minutes. Allow the pita to cool completely before preparing the salad.

In a large salad bowl, combine the tomatoes, cucumber, parsley, and feta. Just before serving, add the pita chips and toss the salad in the olive oil, lemon juice, and salt. Serve immediately, with Yogurt-Feta Dressing drizzled over the top or served on the side.