Thoughts of August coming to an end, lazy summer evenings, swimming pools, popsicles, and picnics (along with a bag of baby potatoes in my kitchen that are looking for a home) have had me on the hunt for a potato salad recipe.  After having barely resisting licking the bowl after making this tangy, light vinegar salad, I fell in love with this creative take on the standard mayo sort.
The great news is that this salad, although certainly falling in the creamy potato salad camp is so very different from my memories of potato salads from the deli section at the grocery store.  It is light with the combination of Greek yogurt and mayo, fresh with herbs and tangy from lemon zest.
Come to think of it, the only thing that would make this better is if it was served with this barbecued chicken…wonder if we have any of the sauce left from my trip to Kansas City…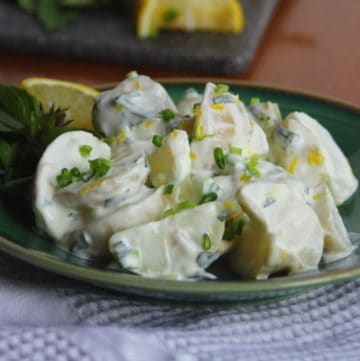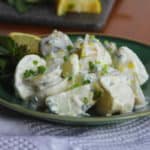 Print Recipe
Creamy Potato Salad with Lemon and Herbs
Ingredients
3

pounds

baby red or gold potatoes, boiled in water and cooled to room temperature

3

Tbsp.

unseasoned rice vinegar

1/2

cup

mayonnaise

1/4

cup

plain Greek yogurt

3

green onions, thinly sliced

1

celery stalk, cut into 1/3-inch cubes

1/4

cup

chopped fresh parsley

1/4

cup

chopped fresh basil

2

tablespoons

chopped fresh dill

1 1/2

teaspoons

finely grated lemon peel
Instructions
Cut potatoes into bite-sized wedges and place in a large bowl. Drizzle with vinegar and season with a pinch of salt and pepper. In another small bowl, whisk together mayonnaise, Greek yogurt, and all remaining ingredients. Add to potatoes and toss until combined. Refrigerate until ready to serve.
Notes
I took the advice of several people who commented on this recipe on the Epicurious website and replaced some of the mayo with plain Greek yogurt. The original recipe calls for 3/4 cup mayo and none of the Greek yogurt, but the combination lightens the dressing and adds a nice flavor. This can be made up to a day ahead.