Sometimes I get an idea in my head, and get pulled in to looking for the precise recipe that will live up to all the expectations of that original idea. This quest for "the" recipe can, at times, be all-consuming. And when I say all-consuming, I don't just mean for me. Many a night, Frank twiddles his thumbs patiently for a delayed 9pm dinner while I hunt for "the" thing. This recipe that follows is an example of a very rare situation in which the finished product really did turn out to be "the" thing I imagined. It was not even one that I intended for the blog, but it is too irresistable not to share.
I started looking for this recipe as something to bring for a team meeting at work. In Thailand, snacks at gatherings are fundamental. Never have I been to a meeting in this country where I wasn't offered at least coffee or tea, usually served with something to eat. Even though I read about it before I moved to Bangkok, it didn't take long to become indoctrinated to the snackish way of doing things. At every hour of the day, vendors line the sidewalks offering bit-sized snacks to much on. In the mornings I make my way down the gauntlet of snacks on my street, reminding myself that the last thing I need is a bag of fried dough, a banana crepe, or deep-fried sour rice sausages (my absolute favorite) before I've even reached my office. So when we agreed that we needed snacks at our monthly meeting, I offered to be the first contributor, and one thing came to mind. It wasn't a particularly unique snack, but I just couldn't shake the thought of it.
Frankly, I'm not brave enough to make a Thai-style snack to serve to my Thai colleagues (I'm way out of my league there), but I felt confident that I could bake something for the early morning meeting that would satisfy our entire crew, American and Thai. Thus ensued an internet hunt that stretched out over an entire week. What I wanted was a two-bite not-too-sweet cinnamon roll recipe with brioche as the base. I wanted tiny swirls of cinnamon wrapped in a light, buttery dough. I wanted these to be easy to pick up, easily transported (in Bangkok, all treats must be public-transportation friendly), and most importantly, delicious. I had started to lose hope that "the" recipe existed, when I stumbled on this discussion at The Fresh Loaf that saved the day. Many thanks goes out to "Joe V" who left awesome instructions and pictures within that discussion. The recipe below is adapted from the recipe he generously shared.
And how did the cinnamon brioche pinwheels (as I decided they should be called) go over at the staff meeting? Judging by the empty plate, free even, of crumbs, they were an enormous hit. It was impossible to eat just one. Fortunately their diminutive size made that easy to justify.
If you are a perfectionist looking for miniature cinnamon rolls made with a brioche dough (there must be others out there), save yourself a few hours of searching and make this addictive recipe.
And, for another sweet breakfast bread (although definitely not bite-sized) I would also highly recommend these No-Knead Pumpkin Rolls with Brown Sugar Glaze.
____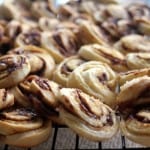 Print Recipe
Cinnamon-Brioche Pinwheels
Ingredients
for the dough:
5

cups

bread flour

½

cup

sugar

½

tsp.

salt

3

tsp.

instant active dry yeast

2

eggs, room temperature and beaten

½

cup

butter, softened

1

cup

milk, at room temperature

¼

cup

water, at room temperature

1

tsp.

pure vanilla extract
for filling:
2

cups

firmly-packed brown sugar

4

Tbsp.

ground cinnamon

¾

cup

very finely chopped walnuts or pecans (optional)

½

cup

butter, softened
for topping:
1

egg, lightly beaten

¼

cup

turbinado sugar (large granules of natural sugar)
Instructions
Make the dough. Whisk together the flour, sugar, salt and yeast in a large mixing bowl. (You can also do this in a stand mixer using the dough hook, which will make it easier to mix the wet and dry ingredients together.) Set aside. In another bowl, whisk together the eggs and butter until smooth.; gradually add the milk, water, and vanilla, whisking the wet ingredients together until evenly combined. Pour the wet ingredients over the dry ingredients and stir with a wooden spoon (or mix in the stand mixer) until they come together to form a shaggy dough. Turn the dough out onto a lightly floured surface. Knead the dough, adding a bit of flour to prevent the dough from becoming sticky, until smooth and elastic about 10 minutes. Cover the dough lightl with a dishtowel and leave on the counter to rest for 20 minutes.

Make the filling. Sift together the brown sugar and cinnamon (use a hand-held flour sifter or gently push the ingredients through a small sieve to get rid of lumps). Stir in the nuts, if using.

Preheat the oven to 375 degrees F.

Assemble the rolls. Divide the dough into four portions. Working with one portion at a time, roll the dough out on a lightly floured surface until it measures roughly 8'x12'. Lightly brush the surface of the dough with softened butter. Fold the dough into thirds (as you would a letter), then fold it into thirds again so that you have a small rectangle with uniform sides. Gently roll the dough back out into an 8'x12' rectangle (it will be a bit slippery thanks to that layer of butter inside…but it will be worth the effort in the finished product). Again brush the surface of the dough with softened butter and dust the top with a fourth of the sugar-cinnamon mixture. Starting with the 12' side, roll the dough tightly into a log. Using a bread knife, cut the log into 14 even slices (about ½ inch wide). Place the slices on a lightly greased baking sheet with an inch of space between them. Brush the surface of each with egg and sprinkle with a pinch of turbinado sugar. Bake until puffy and golden brown, 12-15 minutes. (While they bake, start rolling and preparing another section of dough.) Cool completely on a wire rack. Serve immediately or store, covered, for up to a day.
Notes
Note: I baked most of these immediately, but froze a few to bake for breakfast this past weekend. To freeze, make the recipe all the way through the step where you slice the rolled logs of dough into ½ inch slices. Place the slices on a parchment paper-lined baking sheet and freeze for at least an hour. Pop the frozen pinwheels off the parchment and freeze in a plastic bag until ready to bake. When you take them out of the freezer, place them on a lightly greased baking sheet and allow to come to room temperature before proceeding with the recipe to brush with egg, top with sugar, and bake in a 375 degree F. oven.