Oddly enough, it's strawberry season in Thailand. When Frank and I were up north the other weekend (the only area of the country that could possibly get cool enough to grow them) we heard servers mentioning the availability of strawberries. And sure enough, they have popped up in our local grocery store in the past couple weeks. Strawberries, of course, are not native to Thailand, but they taste like spring and are a nice change from pineapples and bananas. (I also made a chocolate-mandarin filling in case spring has not yet arrived where you are.)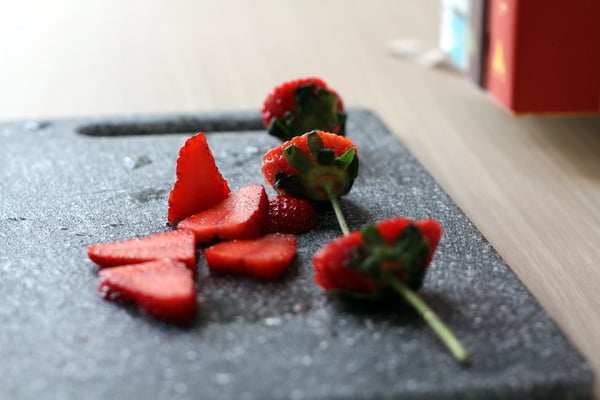 How wonderful that, in true synchronicity, in the heart of Thai strawberry season, my mother-in-law sent a link to a great strawberry dessert. And because today is her birthday, I tucked it away until now, to make in celebration of her.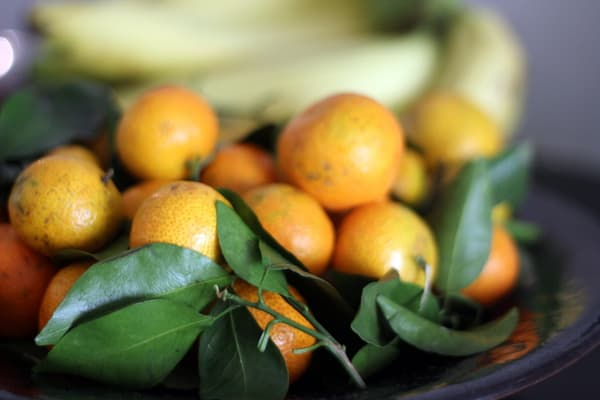 It has been a whirlwind of a few days here. The inquiring kitchen got a serious boost with the arrival of every last one of our belongings. For those of you who don't have the back-story on this, let me give it to you in brief. On November 16 a team of movers entered our apartment in DC and, in a tornado of packing paper and duct tape, wrapped up and shipped out everything we own on a boat destined for Thailand. This was both exciting and traumatic. We had a kitchen stocked with wedding gifts from our generous friends and family which had barely been broken in. Over the past couple months I have had fleeting thoughts of our knives and cookware at the bottom of the Pacific.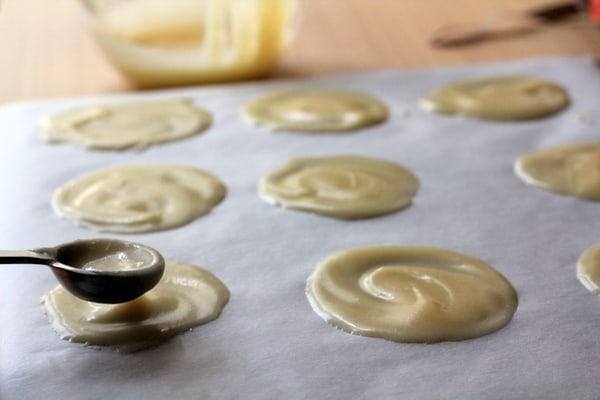 But after today, I am joyously here to report that every last item arrived intact. The 40 some-odd pieces of stemware that were packed with 8 pounds of wrapping paper on top of the KitchenAid? Not even a scratch.
Then it all arrived today, and I had the surreal experience of watching my kitchen unfold from a sea of paper while checking everything off a list provided by the moving boss. Our kitchen, in particular, is home to several items that I think caused the Thai movers to ponder. Among the boxes…
stemware enough to host our entire building for cocktail hour (anyone want to come over for a glass…or four?)
numerous sticky and well-loved Silpat mats
78 kitchen gadgets that get used each for one very specific recipe or another
canning supplies to use in stocking up for the "winter" (ha ha)
1 large block of Himilayan sea salt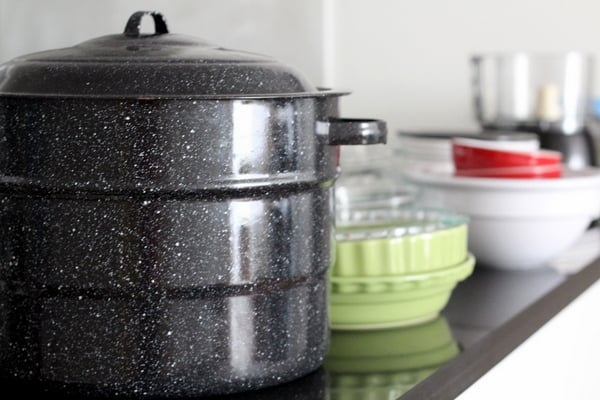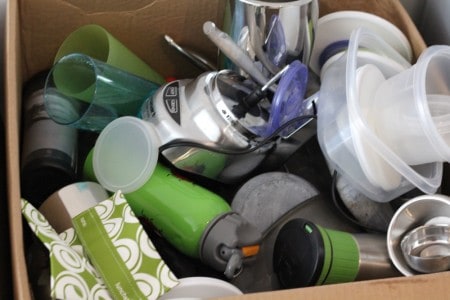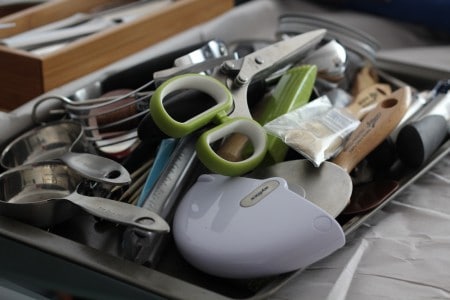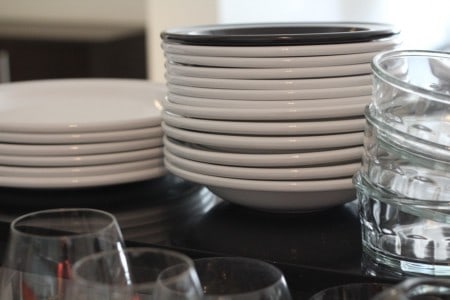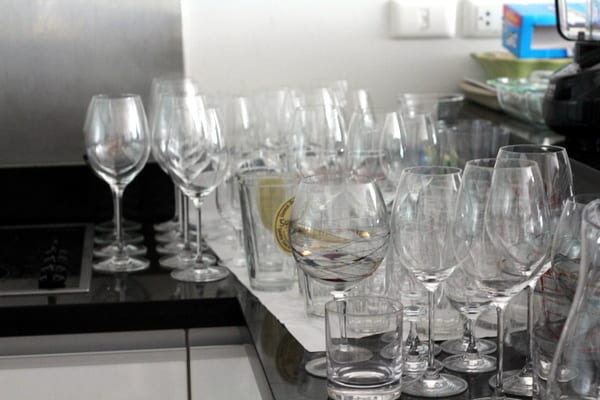 And for a moment, after counting and checking off no fewer than 59 boxes and items, I found myself thinking I might have to stand at the door of the apartment and proclaim that there was no room left at the inn. We're all good here – thank you very much.
But of course I did not, because more overwhelming than my concern over where it would all go, was the pure delight I felt at seeing our kitchen intact. And intact it is friends! We are really in business now – get ready for some serious cooking! Even the KitchenAid is here. What more could a girl ask for? And the pièce de résistance – one giant Starbucks cup with its crazy Christmas straw…oh how I missed you….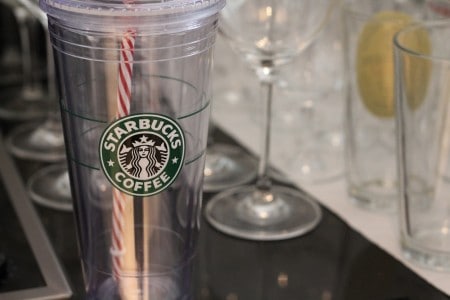 Although there were many "highs" today with the unveiling of the kitchen, there were also a few lows that I am sad to report. Among them was the discovery that my gorgeous roasting pan (I love it, Aunt Lorie) will not fit in the absurdly small Thai oven.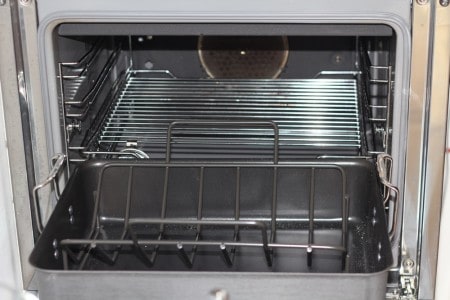 Same for the lasagna pan…just an inch too wide…
But most everything else can, and will, be put to good use. Even the mini Cuisinart got to go for a spin today as I decided to take the original tartlet recipe in a different direction and add to it a dollop of cheesecake-inspired filling.
With plenty of kitchen tools to play with, it was a perfect day to make these tartlets. They were a challenge to shape, but fun just the same. I found that I had to work quickly, tucking the shells from the oven straight into the holes in a mini muffin tin. It was worth the trouble, and how could I complain? 24 hours ago, I didn't even have a mini muffin tin.
Happy birthday M2! We love you!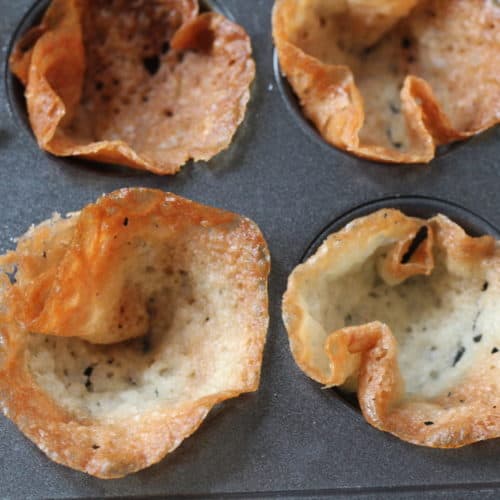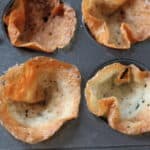 Print Recipe
Tartlet Shells
Servings:
4
(about 15 tartlet shells)
Ingredients
1

cup

powdered sugar

1/2

cup

all-purpose flour

2

Tbsp.

unsalted butter, melted

4

Tbsp.

orange juice or water (both work just fine, but the orange adds nice flavor)
Instructions
Preheat oven to 375 degrees. Set a mini-muffin tin out for shaping the shells.

Sift sugar and flour together into a small bowl. Add butter and juice (or water) and whisk until even and smooth.

Flip a large backing sheet over and place a piece of parchment paper across it. Spoon a heaping teaspoon of batter onto the parchment paper and, using the back of the spoon in a circular motion, spread the batter into a circle, 2 inches in diameter. Make 6 circles on the baking sheet, leaving space between them. (You will need to do several batches of the shells, baking them 6 at a time.) Bake until the edges begin to turn brown, 7-9 minutes.

Remove the baking sheet from the oven. Working quickly, use a small spatula or butter knife to lift one of the shells off the baking sheet and directly into a hole in the muffin tin. Gently press the center of the shell to form an indentation for filling. Continue with the remaining shells. Note: The shells will harden almost immediately after you lift them off the baking sheet. Work quickly, and don't worry too much about making uniform shapes – part of the fun is that the shells come out in a variety of different shapes.

Continue baking and forming shells until all of the batter is gone. The shells can be removed after a minute in the muffin tin and placed on plate to cool while preparing the filling.

Fill tartlets with the following combinations and serve immediately (I found that they lose some of their crunch if not served immediately after being filled).
Strawberry Cheesecake Filling
Author:
Prep time:
Total time:
Ingredients
3 oz. cream cheese
1 Tbsp. powdered sugar
2 tsp. milk
10 strawberries, thinly sliced
Instructions
Beat cream cheese, sugar and milk together until smooth. Fill tartlet shells with 2 teaspoons each of cream cheese mixture, topped with 4 slices of strawberry.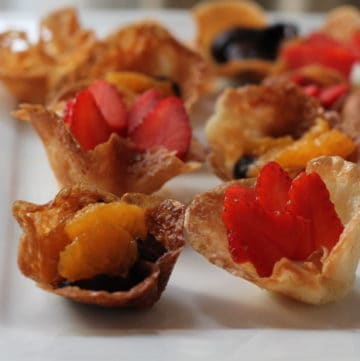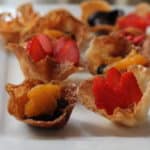 Print Recipe
Chocolate Mandarin Filling
Ingredients
3

oz

heavy cream

6

oz

semi-sweet chocolate (between 50%-60% cocoa), finely chopped

4

medium mandarin oranges, cut into segments (or 1 small can of mandarin oranges, drained)
Instructions
Heat the cream in a small pan over medium heat until it begins to bubble. Remove from heat and add chocolate, whisking until smooth. Fill tartlet shells with 2 teaspoons each of chocolate, topped with 3 slices of mandarin orange.