If ever there was an ice cream for true chocolate addicts, I am certain this is it. When I came across the recipe in Bon Appetit this summer, two things struck me. First, the description that the ice cream turned almost truffle-like as it melted, and second, that the recipe took six years to develop. SIX. I had to make it straight away. If only to see what six years of ice cream testing produces.
Before the "ice cream" was even frozen, I could tell it was going to be good. Before it goes into the ice cream maker it becomes this amazing, creamy, chocolate custard that was hard not to just eat right out of the bowl.
I don't want beat around the bush on one thing though. This ice cream is a project with a capital "P". There are lots of steps…lots. The original recipe calls for a total of five days of waiting (2 for the custard, 3 after the ice cream is frozen), but I didn't pay much attention to this. I noticed not a bit of difference between the servings that were in the freezer for a couple hours versus those that were in the freezer for a couple weeks.
In the end this was the probably the most satisfying ice cream I have ever had, and definitely the most creamy of the homemade variety I ever encountered. Unlike other ice creams and yogurts I've been making all summer that get icy after a few days in the freezer, this one didn't change a bit. Even after a couple weeks, it retained its smooth, creamy texture. It is so custardy that it almost has a slight…chewiness. A half a cup serving, as suggested below, is absolutely perfect – not overwhelming, but oh-so-satisfying. I love the richness and the deep, dark, chocolate flavor.
Frank thought it was too rich. I told him not to worry. I would eat his.
______
Note: In addition to about 1 and ½ hours to prep and "cook" the custard in this recipe, it recommends that you refrigerate the custard for 2 days before freezing it for an additional 3 days. (In my opinion, both can be shortened substantially…to as long as you can stand it before you stick a spoon in and call it "done".)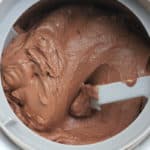 Print Recipe
Creamiest Rich Chocolate Ice Cream
Ingredients
7

oz

dark chocolate (70% to 75% cacoa), finely chopped

2

cups

plus 2 Tblsp. whole milk

⅓

cup

unsweetened cocoa powder

6

large egg yolks

13

tablespoons

sugar, divided

¼

cup

heavy whipping cream
Instructions
Place chocolate in a medium metal bowl. Set bowl over a saucepan of barely simmering water. Stir chocolate until melted and smooth. Set melted chocolate aside; let cool slightly.

Whisk milk and cocoa powder in a medium heavy saucepan over medium heat until mixture begins to boil; set aside.Using an electric mixer, beat egg yolks and 7 tablespoons sugar in another medium bowl until very thick ribbons form, about 2 minutes. Whisking constantly, gradually add hot milk mixture to egg yolk mixture. Return mixture to saucepan. Add melted chocolate and whisk to blend. Stir over low heat until slightly thickened and an instant-read thermometer registers 175°, about 5 minutes. Transfer chocolate custard to a large bowl and place over another large bowl of ice water. Stir until chocolate custard is cool.

Bring remaining 6 tablespoons sugar and 2 tablespoons water to a boil in a small heavy, deep saucepan over medium-high heat, stirring until sugar dissolves. Boil, occasionally swirling pan and brushing down sides with a wet pastry brush (do not stir), until a dark amber color forms, about 5 minutes. Gradually whisk in cream (mixture will bubble vigorously). Whisk caramel into chocolate custard.

Strain into a large container; cover and chill for 2 days.

Process custard in an ice cream machine according to manufacturer's instructions. Transfer to another container; freeze for 3 days before eating.