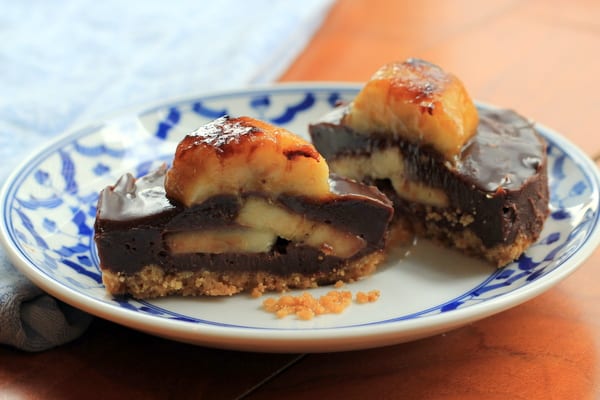 Yesterday was my friend Kristine's birthday (technically still is where she lives), so I wanted to make a sweet treat in her honor. These combine ganache and bananas, a pairing that is hard to beat. In particular, I thought the bananas would be appropriate since Kristine and I tried and observed many bananas when we were in Southeast Asia together several years ago. We particularly enjoyed the sight of the little finger bananas we saw being sold everywhere in Laos and Thailand. (Not all were sold by such adorable kids as this bunch shown below.)
I made these tarts in miniature a) because they're so rich that you only need a bit and b) because who doesn't love little individually portioned desserts?
The caramelized bananas on top are not a necessary step. You could do without a topping altogether, or use raw bananas. (If you top the tarts with raw bananas just be sure to do it right before serving, or they'll turn brown.)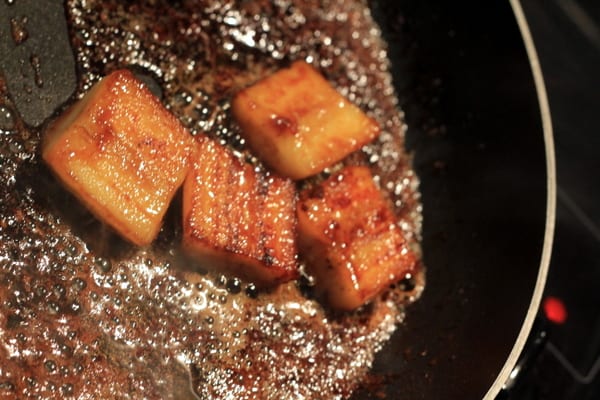 It's incredibly easy though, so worth trying if you have a few minutes. I felt pretty confident I could pull it off after seeing so many vendors in Thailand whip them up in a wok atop their cart as people pass on the sidewalk. Below are the bananas glazed in their butter/sugar combination.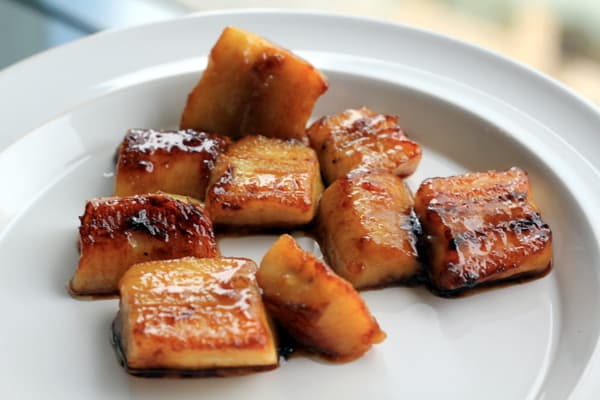 Here are the tarts in each step of their development – a crunchy crust, a layer of ganache topped with banana, another layer of ganache, and finally – the whole dessert chilled with a caramelized banana on top.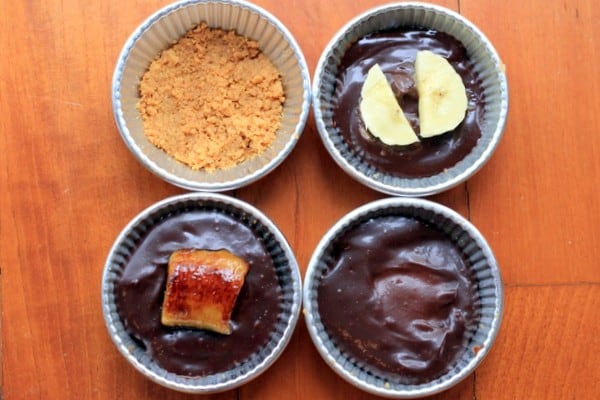 These are surprisingly easy and the richness of the ganache is softened by the addition of fresh banana. The shot at the beginning of this post gives a glimpse of the delicious layers of the tart, but I served them in miniature dishes like these below.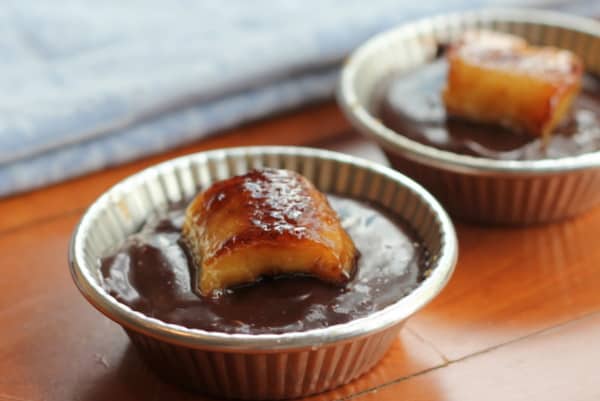 Happy Birthday Kristine!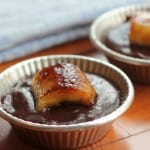 Print Recipe
Chocolate Banana Tarts
Ingredients
Crust
1

cup

finely ground cookie or graham cracker crumbs

3

tbsp.

unsalted butter, melted
Ganache
1

cup

heavy whipping cream

12

oz.

good quality chocolate, roughly chopped (any combination will work – for this recipe I used 6 oz. milk and 6oz. dark)

1

tsp.

vanilla

1

ripe banana
Banana Topping
2

tbsp.

unsalted butter

3

tbsp.

dark brown sugar

2

ripe bananas
Instructions
Preheat oven to 350 degrees. Mix the cookie/graham crumbs in a small bowl until the mixture forms a paste. Press paste evenly into the bottom (not up the sides) of 6 individual or 1 large tart pan. Bake the tart crust(s) for 15 minutes or until golden. Remove and allow to cool on wire rack.

Heat whipping cream in a small saucepan over medium heat, stirring frequently to avoid burning. When the cream just begins to boil, remove from heat and add chocolate. Stir vigorously until chocolate is melted and ganache is smooth. Add vanilla, stirring to combine. Allow ganache to cool at room temperature, while you prepare the bananas.

Prepare the topping by slicing 2 bananas in half lengthwise and cutting the halves into 1-inch pieces. Melt the butter over medium high heat in a small pan. When butter is melted, add brown sugar and stir until small bubbles start to form. Add the bananas and allow to cook (be sure to add the bananas right away or the sugar will start to burn), without touching them, for about 40 seconds (they should brown on the bottom). When caramelized, flip bananas over and caramelize the other side for 40 seconds. Remove bananas from the pan when done and place on a plate to use for topping tarts.

Pour a 1/4 inch ganache over the crust in cooled tart pans. Peel the uncooked banana and cut 1/4 inch slices of banana over the top of the first ganache layer. Arrange banana slices so that they do not overlap, but fully cover the ganache layer. Pour the remaining ganache over the bananas. Top with caramelized banana slices. Refrigerate tarts until ganache is fully set, about 1 hour. Tarts may be kept in the refrigerator overnight or served immediately after ganache sets.