Something about it being October gives me an instant sweet-tooth. Is that a holdover from childhood?
It used to be that I would be kept from sleep some nights by the stress of my job or the never-ending to-do list that I would need to tackle in the morning. These days, it seems that the things that keep me up the most are related to cooking. Sometimes I close my eyes at night and all I see is ingredients dancing before me (very plum fairies-esque) and I get to thinking of all the different ways that I might put them together. It is simultaneously lovely and annoying.
In the morning some of those dream-state ideas do not look quite so appealing and, most of the time, they never actually come to life in my kitchen. But sometimes, I wake up and think that I've had a stroke of genius. Such was the case earlier this week when my half-dreaming drifted towards camping and to thoughts of s'mores. I had had a very tempting week in the s'more category, thanks to coming across
this
and
this
, so it wasn't terribly surprising that I was craving some sort of graham, marshamallow, chocolate concoction.
My late-at-night mind eventually pieced those elements together and came up with a S'mores/Rice Krispie Treat marriage that nearly had me up out of bed and in the kitchen making it as a middle-of-the-night-snack. In the light of day, I was no less motivated to satisfy my s'more craving with these treats that would require no campfire and only a few minutes to make. I thought of them all day, smiling to myself at my inspiration. Surely I should pitch this recipe to Hershey's, I was thinking. They'll eat these up! (ha ha!)
I immediately got into the kitchen to make them. And let me tell you, they came out every bit as heavenly as I had imagined they might. They tasted just like s'mores, but were a bit easier to handle, and had this great added crunch from the Rice Krispies. I was thrilled!
And then I sat down to type this out to you. I wanted a good name to go with these good treats, so I went into google, typed the ingrediets, and hit search.
And…can you imagine what I found? A hundred different varieites of my "original" dessert. I am obviously not the first person to think of throwing chocolate and graham crackers into a Rice Krispie Treat. 😉 Duh. The Rice Krispie people themselves have a version in their website.
Although there are a million varieties already out there, I still must tell you that these are incredible, and absolutely worth making this very weekend.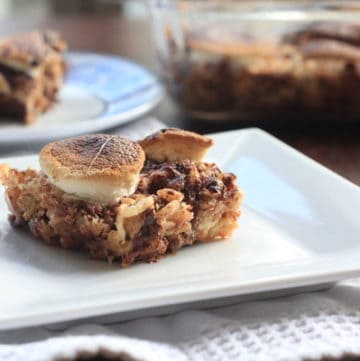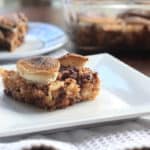 Print Recipe
S'mores Krispie Treats
Ingredients
3

Tablespoons

butter

1 10

oz

bag of regular marshmallows

4

cups

Rice Krispies cereal

4

graham crackers, broken into pieces (roughly about ¼ inch square each)

1

cup

mini chocolate chips

Cut 8 marshmallows in half and set aside.
Instructions
Heat the butter over medium heat in a high-walled pan. When the butter is melted, add the marshmallows and heat, stirring occasionally, until the marshmallows are melted and smooth. Remove from heat and allow to cool for about 1 minute. Add Rice Krispies and graham cracker pieces, stirring until evenly incorporated. Add mini chocolate chips and stir until just combined (maybe you'll be better at that step than I was and manage to stir them in before they all melt). Press into a lightly greased 8x8 pan.

Turn the broiler on in the oven and place a rack just beneath it. Top the Krispie treats evenly with the 16 marshmallow halves. Place the pan under the broiler until the marshmallows are cooked to the same degree you like them off the fire. (I like mine slightly burned and crisp. 😉 )

Allow to cool completely before serving.